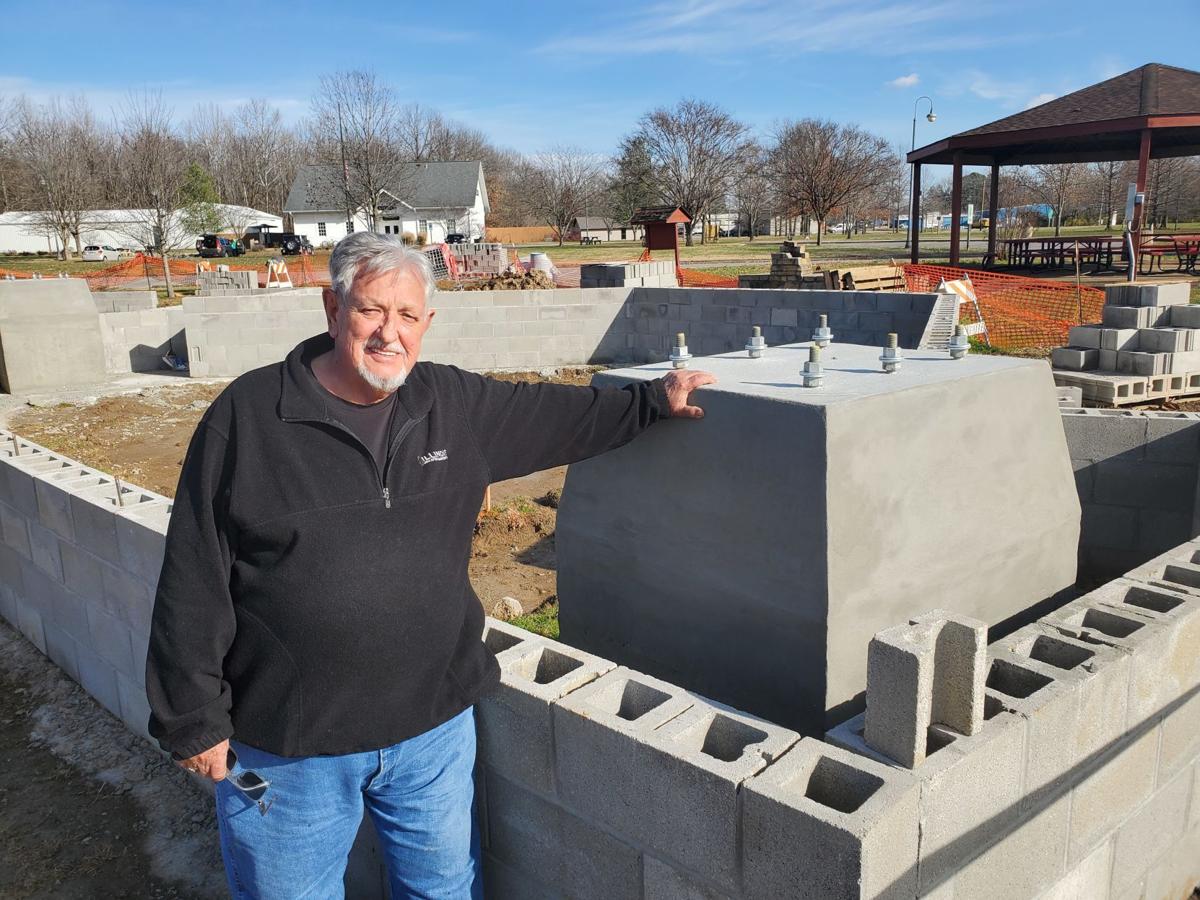 A ribbon cutting ceremony is set for noon Saturday for the newly constructed amphitheater in the Vienna City Park, featuring a guest performance by 14-year old Golconda singing sensation Mason Ramsey.
Also speaking will be Sen. Dale Fowler and Vienna mayor Steve Penrod, plus a keynote address will be delivered by Phil Morris.
The $440,000 project includes the 1,000 square foot theater and a separate structure with restrooms and showers, which will be used by the adjoining Tunnel Hill Bike Trail.
"It's awesome to finally see shovels going into the ground. It will make be a tremendous economic engine for the entire region," Fowler said, shortly after breaking ground in October. "Phil has been fighting for this for a long time."
Morris says the battle has been raging for 21 years.
Exploring methods to finance the work, Morris says he discovered a fund created by the federal government where, essentially, rent money companies pay to park their off-shore oil rigs. The money is then divided up and given to each state.
Since 2000, Morris appeared before a committee requesting money for the amphitheater. His plea was repeatedly denied and the money flowed towards the northern part of the state.
Last year, with the help of Fowler, the funding was approved.
"It takes more than one mule to pull a wagon. I kept it going and wouldn't let it die, but I had a lot of good people that helped through the years," Morris says.
In honor of the relentless two-decade pursuit by the 78-year old community activist, the facility will be called the "Phil Morris Amphitheater."
"I didn't know they were going to put my name on it. It was a shock to me," Morris says.
Morris urged anyone planning on attending the dedication of Saturday to bring a lawn chair for seating, and maybe boots. He says with heavy rain expected Wednesday and today, the ground may not be very dry.
For the most part, Morris says the project is complete. All that remains is a little painting and landscaping.
The event will open with the national anthem, sung by Julia Hall of Lick Creek, who was crowned Anna-Jonesboro's Prom Queen last month. After words by Penrod, Fowler and Morris, additional entertainment will be provided by Hall and Ramsey.
Ramsey and Morris have a long history.
Morris was the owner/operator of Kornbread Junction in Tunnel Hill before the building was destroyed by fire several years ago. The venue hosted live gospel, traditional country and bluegrass performances and even a show by Hee-Haw star LuluRoman.
Regulars at the club included a couple from Golconda that would bring their three-year old grandson with them every week.
"This kid would bring his toy guitar with him and strum it all night long. We finally let him get on stage and sing. His name was Mason Ramsey," Morris says. "You could tell right off he was going to be an amazing talent. He had rhythm and timing, plus an incredible personality."
Ramsey spent countless hours in his grandpa's man cave, memorizing all the words to every Hank Williams song, earning the nickname "Little Hank." He perfectly duplicated Williams' nasal vocal style and was even invited to sing at festivals honoring the Williams legacy.
A few years back, when a shopper at the Harrisburg Walmart posted a video of Ramsey singing a Williams song acapella while stretched out in a shopping chart, the video went viral and Ramsey's career exploded.
Overnight, he was appearing on network television and at major music festivals, on stage with Florida Georgia Line and chatting it up with Justin Bieber. He signed a record deal and reached No. 4 on the Billboard chart with debut single "Famous."
A hard core traditionalist, Ramsey enjoyed cross-over success in 2019 when he recorded the wildly popular duet "Old Town Road" with Lil Nas X, Billy Ray Cyrus and Young Thug.
Morris says Hall and Ramsey will each sing a couple songs, before mayor Penrod delivers closing remarks.
Food and refreshments will be provided by Fowler.
Morris predicts the theater will be a busy community hub.
"I've already been contacted by two couple wanting to use it for their wedding ceremony," Morris says. "This would be a perfect place for a bluegrass festival. We could get the right sponsors and a big name act and this place would be jam packed. There could be Trail of Tears theatrical productions or Civil War reenactments. The potential is unlimited."
Morris says ultra-marathon races held on the Tunnel Hill Bike Trail each November, which attract competitors from several foreign countries, will be able to use the new shower rooms and the theater stage for award presentations.