Only 48 hours and a long stretch of highway separates local music fans from the rare opportunity to see two of the most critically acclaimed female singers in the country music industry on the same weekend.
Both earned a lofty position on the coveted Rolling Stone Top Americana & Country Albums of 2017 list. Lee Ann Womack finished solidly in the No. 5 spot with her riveting "The Lonesome, The Lonely, and The Gone" project.
Margo Price's sensational sophomore effort "All American Made," saturated with Dylanesque tunes about the heartbreaking failures to achieve the American dream, was top ranked by the prestigious publication.
Womack will be in concert at 8 p.m. Friday at the Old Rock House in St. Louis. Tickets are $30. Kelsay Waldon will be the opening act for the All the Trouble Tour. Doors open at 7 p.m.
Price brings her Nowhere Fast Tour to The Ready Room in St. Louis at 8 p.m. Sunday. The venue has sold out of tickets, originally priced at $20. StubHub has seating available for $95. Little Bandit is the warm-up band.
The record labels these two artists call home are compelling evidence of the disarray of country music in Nashville.
A hard-core traditionalist, Womack's new album was released on ATO Records, owned by alternative rock jam band front man Dave Matthews.
Price sold her car and pawned her wedding ring to finance ground-breaking debut album "Midwest Farmer's Daughter" in 2016. It was recorded at the legendary Sun Studios in Memphis. Eight major labels in Music City rejected the work. However, Jack White of high-powered rock band The White Stripes loved it and released it on his Third Man Records.
The 51-year-old Womack was the Female Vocalist of the Year for the Country Music Association in 2001, thanks to the overwhelming success of signature song "I Hope you Dance."
She teamed up with Willie Nelson to win a Grammy and CMA for Vocal Event of the Year with "Mendocino County Line" in 2002. A third CMA went on the mantle in 2004 when "I May Hate Myself In The Morning" won Single of the Year.
Womack ditched the mundane cookie-cutter sound being created in Nashville and moved closer to her roots. Assembling a quality cast of session pickers, including bassist Glen Worf, drummer Jerry Roe and a trio of master guitarists, they moved the operation to famous SugarHill Studio in Houston, which is just three hours from her hometown of Jacksonville.
SugarHill captured the greatness of Lightnin' Hopkins, George Jones, Willie Nelson, Freddie Fender and the Rolling Stones through the years. Womack was able to tap into the smooth studio mojo with the guidance of her husband, producer Frank Liddell, who also spearheaded the latest Miranda Lambert project, the platinum-selling "The Weight of These Wings."
Womack breathed new life into three cover tunes on the album, including a stark acoustic version of "Long Black Veil," and she added a sultry Southern groove to Harlan Howard's "He Called me Baby."
"This is a Deep South kind of soul music for the working man," Womack says.
Writing more songs for this album than any of her previous nine albums spread over a dominating 20-year career, Womack pinpoints the essence of the project with a simple line from the title cut, stating "In some ways every heartache is like an old Hank Williams song."
Powerhouse cuts on the new album include "Hollywood," "Shine on Rainy Day" and "Mama Lost Her Smile."
Price grew up in Aledo, Illinois, where playing piano and singing in the church choir led to studying dance and theater at Northern Illinois University. At 20, she had the intestinal fortitude to pack her bags and move to Nashville.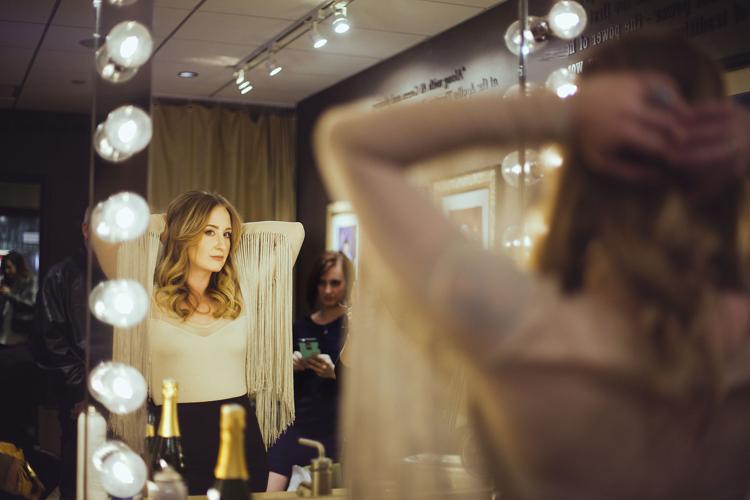 She spent a decade paying incredible dues and surviving life's toughest challenges. She has gone hungry, gone to jail and made it through a horrible relationship, attempted sexual exploitation from industry executives and the death of a newborn child from a rare heart condition.
After slaving long hours as a waitress and selling/installing aluminum siding to support her music habit, she cut her teeth in bands like River Bottom, Secret Handshake and Buffalo Clover. A modern day Luke The Drifter, Price rose like a phoenix from the suddenly fertile East Nashville music scene.
Breaking out in 2014 in Margo Price & The Pricetags, a supergroup that at one time included Sturgill Simpson, she was identified as a face to watch in 2014 by Rolling Stone. Her moment of truth was Jan. 19, 2016, when she sang "Hurtin' On The Bottle" on The Stephen Colbert Show and mesmerized a national audience.
She has been knocking it out of the park ever since. There were two guest musical spots on Saturday Night Live and a hit debut album. The singer went from obscurity one day to her photo being plastered on Instagram with Emmylou Harris and Bonnie Raitt, two of her musical heroes.
On the new album, Price wrote every song and fearlessly tackles social issues with tunes like "Pay Gap" and title track "American Made."
The heritage of country music was created by Patsy Cline, Tammy Wynette and Womack. The torch will be in good hands when it is passed to Price.