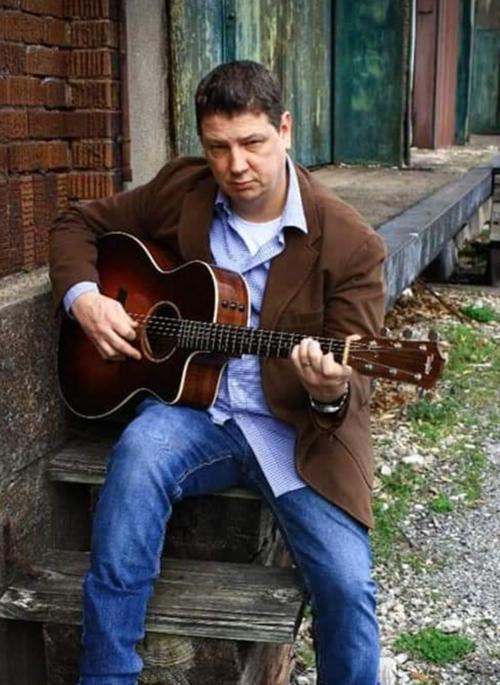 Dave Clark is a dyed-in-the-wool traditionalist with a burning passion for only one type of music — hardcore country. He has displayed his rich, intoxicating vocals for the past 28 years in honky-tonks from Cobden to Carmi.
The longtime Herrin resident has used Merle Haggard and George Jones covers as his bread-and-butter to earn the reputation as "the king of country music" in Southern Illinois.
"I've lived by the 'if it ain't broke, don't fix it' creed for as long as I can remember," Clark says. "I'm a country singer. You don't hear heavy metal or this pop country garbage at my shows. I've found a formula that works for me and I'm not ever changing."
Although he has a full-time day job, demands for personal appearances keep his nights booked solid. It's not uncommon for him to play four or five nights a week.
All that exposure predictability changed in March with the worldwide chaos created by COVID-19. A musician addicted to being in constant motion and feeling the spontaneous energy created by a mesmerized audience, Clark's life came to a screeching halt with the quarantine that blanketed the United States.
Night after night, he would sit at home watching television and staring at the walls. He started binge watching "Tales From The Tour Bus," a series by "Beavis and Butt-Head" creator Mike Judge that showcases the "raucous adventures" of musicians like Johnny Paycheck, Tammy Wynette and Jerry Lee Lewis while they tour.
Still, Clark was restless. A creature of habit, he was battling an invisible foe that was reeking havoc on his routine. Change is hard for him. He is a proud dinosaur. One night, with a couple cold ones to settle his nerves, he relented.
With no relief in sight from the virus movement restrictions, Clark knew he was going to have to adapt and use technology to get him music out to fans.
"When it all started, I had a few beers and got on Facebook Live," he says. "I was bored and wanted to sing. I had never done anything like it before, so I was a little nervous. Once I got going, people were sending me requests and I was trying to get to all of them. I was having a blast and time went by so fast."
The night included an unexpected bonus.
"People started sending me tips. I had to set up a PayPal account. I made $100 and never left the house," he says. "It was amazing. People were so hungry for live music. I thought, 'I don't know if I will ever leave home again.'"
Facebook has allowed him to increase his fan base, Clark says.
"I got new people in my corner. People I've never met has started watching regularly on Facebook," he says. "I'm reaching a whole new market. These are people that don't go to bars for various reasons, but they love country music and are tuning in from home."
Clark learned how to navigate the unpredictable waters caused by widespread lockdown. Friends that owned businesses started sponsoring his weekly Facebook shows. He also played bonfire parties on three consecutive weekends where he (tongue-in-cheek) guaranteed that the crowd sizes were small, everyone wore masks and social distancing was practiced.
In 1986, Clark started his singing career as a member of his family's Southern gospel group. He transitioned to country music in 1992 with the band Small Town. He played several bands, including Stone Broke, Last Resort and The Deplorables, a highly respected band of stellar local musicians. He left the band because of new hours with his day job, not artistic differences.
"I'm good friends with all the guys in the group. Greg Clutts, the lead singer, and I did a duet show on Facebook from his garage during the pandemic and nearly everyone in the Deplorables showed up. It quickly turned into a party," Clark says.
Clark is still lead singer for Jackson Junction, the premier classic country band in Southern Illinois. The group is scheduled to play the Brews Brothers Taproom in Murphysboro on July 17.
As the sanctions imposed by Gov. J.B. Pritzker have recently been eased, Clark is back to work. He will play at the Timeout Sports Bar in Herrin at 7 p.m. Friday, Morello's in Harrisburg at 6:30 p.m. Saturday and Just One More in Marion at 6 p.m. Wednesday.
"We are at the mercy of the weather right now," he says. "All of my shows are outdoors. If it storms, I'm out of a gig."
Clark needed to get back on stage not to cure the virus blues, but to submerge himself in the healing power of music. Starting in December, he was struck with three unexpected family deaths in a six-week period. First, it was his son, then a cousin and finally an uncle.
Stay up-to-date on what's happening
Receive the latest in local entertainment news in your inbox weekly!