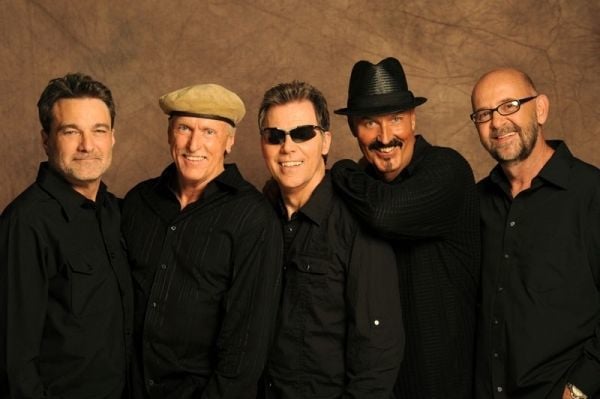 It took 20 years for Exile to solve the complex music industry riddle.
Despite having one of the greatest songs in rock 'n' roll history, chart-topping anthem "Kiss You All Over" in 1978, there was little else on the resume. They didn't want to join Norman Greenbaum, Tony Basil and Dexys Midnight Runners on the dreaded list of one-hit wonders.
Formed in 1963, the five-piece band is loaded with excellent musicians and talented songwriters, but they misfired on the pop charts repeatedly for two decades. Come to find out, there was just one simple problem to correct.
They were in the wrong genre.
Performing carefully choreographed maneuvers in all the spandex glory New York and California could offer was simply was not in the DNA of this band with deep Kentucky bloodlines.
In the early 1980s, groups like Alabama, Oak Ridge Boys and The Statler Brothers were blowing up the country charts with tunes featuring tremendous harmony vocals.
At nearly the same time, Cairo native Kyle Lehning was converting Dan Seals — half of the pop duo England Dan & John Ford Coley — into a country singer, legendary Nashville producer Buddy Killen — owner of Tree International Publishing and the Trinity Broadcasting Network — was the first executive on Music Row to realize Exile's star potential. He produced the group's self-titled debut album for Epic Records in 1983.
The cross-over success was immediate.
From 1984 to '88, Exile reeled off 10 No. 1 singles, including: "Woke Up in Love," "She's a Miracle," "I Can't Get Close Enough," "Hang on to Your Heart" and "Give Me One More Chance." Sojourning rockers for 20 years, the band had seemingly morphed overnight into a country music powerhouse.
"There seemed to be elements of country music at the time that were being utilized or modernized that kind of lent itself to us and what we were as a band," says Exile lead singer J.P. Pennington. "We felt like with a few minor changes, we had a shot to do something."
You have free articles remaining.
Exile will be in concert at 7 p.m. Friday at the Marion Cultural & Civic Center. Ticket prices are $31 (balcony), $37 (floor), $57 (rows C-F) and $77 (pit full seating and first two rows). Doors open at 6 p.m.
In the spirit of Black Friday and Cyber Monday, attendees will be getting a two-for-one deal. Besides hearing the band's many Billboard hits, Exile has billed the gig "Christmas in Marion" on their official website, meaning they will also blend in holiday favorites like "Santa Claus is Coming to Town," "Silent Night" and "Santa Looked a lot like Daddy" from 2015 album "Wrapped Up in Your Arms for Christmas."
At the time of its country conversion, band members included: Les Taylor, guitar and vocals; Sonny LeMaire, bass guitar; Marlon Hargis, keyboards; Steve Goetzman, drums; and singer/guitarist Pennington. This configuration was dismantled in 1990. With vocal pillars Taylor and Pennington gone, the band was officially dissolved in 1993.
In 2008, the fivesome that first shook Nashville to its core got back together and have been touring nonstop for more than a decade.
Pennington is the only original founding member remaining in the band, first comprised of Richmond, Kentucky high school students. When the "Dick Clark Caravan of Stars" came through Kentucky in 1965, The Exiles were used for several local shows.
Clark was impressed with what he heard, and he took the band on national tours for the next three years, which included opening shows for Paul Revere and the Raiders and B.J. Thomas. There were few bright spots over the next decade as the band struggled for commercial acceptance.
The band's big break came in 1978, when Australian record producer Mike Chapman, a major force on the British pop music scene at the time, came to the United States looking for a group to break out. He was attracted to Exile because they could write their own material.
Chapman produced the band's "Mixed Emotions" album and the debut single was "Kiss You All Over," which stayed at No. 1 on the Billboard Top 40 charts for four weeks. Original Exile member Jimmy Stokley and Pennington shared lead vocals on the tune. Stokley left the band in 1980 and was replaced by Taylor.
Rolling Stone rated "Kiss You All Over" as the No. 9 "sexiest" song ever recorded. A video for the tune has over 23 million YouTube views.
"It's our favorite song to sing. After all these years, it still gets the biggest reaction from the crowd," Hargis says.
Pennington is a master songwriter. He was a BMI Writer of the Year and named one of BMI's Top 100 Writers of the Century. He penned "The Closer You Get" and "Take Me Down" for Alabama, Janie Fricke's "It Ain't Easy Being Easy" and teamed with LeMaire to write or co-write all 10 of the band's chart-topping country singles.