The grass is always greener on the other side, as the saying goes. But, more often than not, that's not always true.
If you ask Mike Ricci, the owner of Mike's Music, he'll tell you there's no place like Carbondale.
"This is a great place to live and work," Ricci said. "I've been to all the other college towns throughout our state and beyond, and this is the place to be."
Ricci, 57, is a musician who grew up in the Chicago suburb of Des Plaines and who first experienced what he called "Carbon-vegas" in 1985.
"Along with the bass player of my band, we came down for a visit," he recalled. "We met up at a house party with the friend who invited us, and we couldn't believe what we saw. There were about 200 people and half of them were girls."
Ricci said he later went to Hangar 9 and ordered three beers, which cost less than $2.
"On the Strip that first night were seven bars, and all of them had live bands," he said. "For a guy who otherwise would drive into Chicago every weekend to see bands and be entertained, we thought the town was simply amazing."
Ricci and his bandmates all moved to Carbondale, enrolled at Southern Illinois University, and renamed their group New South Whales.
"It didn't take long for our band to graduate from the house party scene to the bar scene," Ricci said. "But I didn't forget about school, and I graduated with degrees in political science and history in 1991."
While some business owners are born with an entrepreneurial spirit, Ricci came into the world of retail more gradually.
"The music biz really wasn't on my radar," he said. "It was 1993 and I was working at the Carbondale Nightlife with the publisher, Jason Thomas, who also played in a band with me. I saw an ad in the paper for a music store manager, interviewed with the owner and took the job."
Four years later, Ricci accepted an offer to buy the business.
"I just dove in," he said. "Promotions grew organically, along with the development of the internet and eBay. At first, we thought there would be a big market for digital keyboards, but we soon discovered that just wasn't going to be enough."
What Ricci discovered was that in a college town such as Carbondale, there was a bigger market for guitars.
"We started focusing on buying and selling guitars, and we found out that the used market was more promising than selling new guitars," Ricci said.
He soon learned a universal sales tactic for most businesses.
"Everyone loves a bargain, especially with musical instruments," Ricci said. "I explained to customers that $200 could buy a guitar that was brand new, but it also could buy a used instrument that might originally have cost twice that amount."
Today, Mike's Music sells "a little bit of everything," as Ricci described it, including new and used guitars, amplifiers, sound gear and accessories. The shop also offers lessons as well as expert repairs.
"I've worked with Mike for around 10 years," luthier and guitar repair technician Dan Tejada said. "It's been great, but it also can be a little stressful."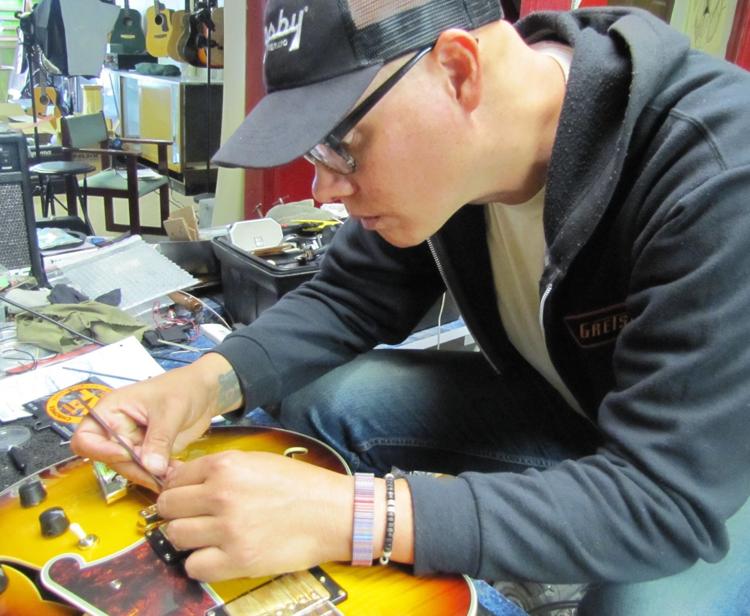 The Murphysboro native said some customers are attached to their musical instruments as children, and entrusting them to him for repair can be touchy.
"Sometimes it's a family heirloom, " Tejada said. "Sometimes it's an instrument that's more valuable than the car I'm driving."
Ricci said he once considered opening a second music store in Columbia, Missouri.
"It's a college town that has over 100,000 people, but I found it's really nothing like Carbondale," he said. "Columbia otherwise had just one little guitar shop, and it was remarkable to me how a big city like that didn't have nearly the vitality of Carbondale. I couldn't wait to get back to town, where there was a concert happening on campus, a play going on at the communications building, an art show over here and a photography exhibit over there. All I said was 'whew, I'm home.'"
Ricci said he plans to continue operating his retail business, at 816 E. Main St., and helping foster interest in music with his growing customer base.
"Whether you're a musician, a student or a business person, my advice is to keep at it," he said. "Networking is very important. And you've got to just be nice."
---
Did you know? These 26 celebrities went to SIU Carbondale.
Gary Gibula is an SIU alum, musician, writer, editor, and friend of Robbie Stokes, the regular author of Music Historicity. He is filling in while Stokes is on a break.
Stay up-to-date on what's happening
Receive the latest in local entertainment news in your inbox weekly!