This weekend, the Polytricksters will show Cobden's bluegrass haven something a little different.
The Southern Illinois supergroup, the region's only reggae band, will make their Old Feed Store debut this Saturday.
Vocalist Kristen Whiteford said the show represents a foray into new territory for the group, which has been playing the local bar circuit since it formed in 2017.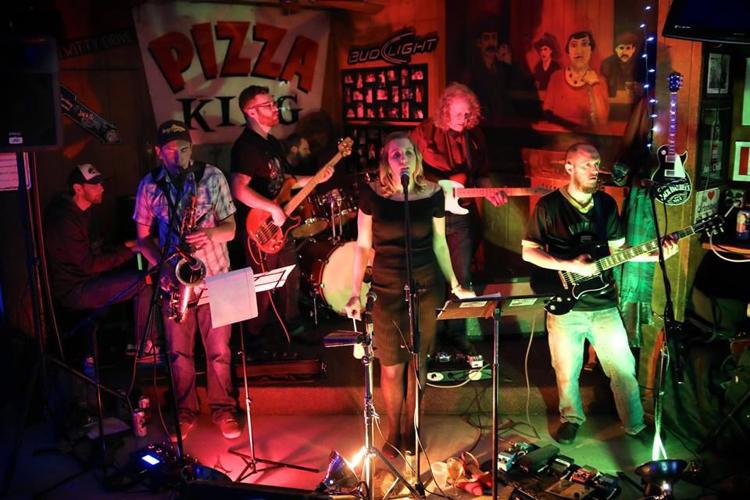 "The Old Feed Store has never had anything like this before, never had reggae. A lot of their built-in crowd is country-bluegrass — I can relate to that, I love that kind of music. So for the first time, we're testing the waters," Whiteford said.
The Polytricksters' lineup features a number of familiar faces: Tim Whiteford on guitar and vocals, Tony Baker on bass, Scott Clough on saxophone, Brian Plate on piano, Mickey Soltys on guitar and Jimmy Beers on drums. Almost all the band's members have played the venue in other groups, Whiteford noted.
Old Feed Store owner Brooke Miller said she was looking forward to changing things up.
"Reggae's not typically what we have at The Old Feed Store — we have a lot of really high-quality bluegrass that comes through. But I thought it would be exciting to branch out," Miller said.
The group's repertoire pulls from traditional reggae artists like Bob Marley, Judy Mowatt, Marcia Griffiths, the Gladiators, the Ethiopians and others.
But Whiteford said she believes the band has something to offer even bluegrass traditionalists.
"Reggae kind of is the folk music of Jamaica, it is the country music of Jamaica. It has a lot of similar elements as far as roots in the culture … Bluegrass listeners are music lovers, and I really feel that if they took the time to listen to reggae music, especially the roots reggae we're going to be playing, they would find similar appreciation and really enjoy it," she said.
With four soloists in the band, members have to be especially in sync with each other, Whiteford said.
"For this gig, for the first time, we wrote down who was going to solo. One thing about reggae music is it can turn into a jam band real fast … so we're trying to make the songs more purposeful," Whiteford said.
Original posters designed by Nathan Graham will be available for sale.
"They're so cool, and I hope that we have enough for everyone to get one," Whiteford said.
The Polytricksters will perform this Saturday at the Old Feed Store, 111 N. Appleknocker Dr. in Cobden. The bar opens at 5:30 p.m. and show starts at 7 p.m. Tickets are $10 and are available at brownpapertickets.com.