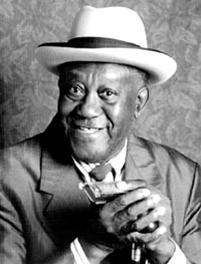 Last month, The Southern Illinoisan notified readers of the death of 85-year-old James Edward "Snooky" Pryor of Ullin. Pryor was a world-class harmonica player, and his gruff, powerful vocals made him a trendsetting bluesman with a loyal following all over the world.
Rolling Stones lead singer Mick Jagger was a big fan. A popular story is that Jagger was in Los Angels celebrating his 50th birthday when he heard Pryor was in town recording. Jagger dispatched a representative to the studio and offered Pryor $30,000 to play a 30-minute set at Jagger's birthday party.
A tall and imposing figure who marched to the beat of his own drum, Pryor flatly turned down the lucrative offer. He said his business on the West Coast was to make a record, not perform a concert.
Happily retired in the obscurity of Pulaski County, Pryor received a visit a few years back from Jim Gentile of Herrin, executive director of HerrinFesta Italiana. Gentile was there to convince Pryor to appear at the annual festival.
Unaware of Pryor's impact on the blues world and his worldwide fame, Gentile offended Pryor by offering him a paltry amount to perform, about the amount equal to what is paid to a local band.
"I told him that people in Herrin had never heard of 'Snooky' Pryor," Gentile said, smiling big as he recalled the pleasant memories of the colorful Pryor.
After some intense negotiations, Pryor had increased the amount by five times the original offer, but it was still way below his going rate. Still, Pryor accepted. He had a point to prove.
"His show was electrifying. Snooky was an amazing showman. He had the crowd on its feet from start to finish," Gentile said. "As he walked off the stage, he told me he showed the blues to Herrin and he would never be back."
A few weeks after appearing at HerrinFesta, Pryor was headlining at the House of Blues on Chicago, and he sent Gentile a post card.
"I played a sold-out show in Chicago tonight, and everyone seemed to know 'Snooky' Pryor," he wrote, "but they've never heard of Jim Gentile.
"I got cards from him for two years from all over the world," Gentile says. "The man had a great sense of humor."
Gentile said Pryor was a man of his word.
"I got on my knees and begged him to come back to play HerrinFesta, but he never did."
Born in Lambert, Ms., Pryor was raised in Arkansas, Missouri and Illinois. His father was a minister and voiced his extreme displeasure when a 14-year-old Pryor started playing the harp, copying the style of Sonny Boy Williamson.
Pryor was stationed outside of Chicago after joining the Army in 1940. On weekends, he would venture into town and jam in the famous clubs on Maxwell Street with heavy-hitters like Homesick James and his mentor, Sonny Boy Williamson.
After the war, he settled in Chicago and joined a a tightly knit circle of musicians who created a distinctive blues style. His most popular recordings included "Someone to Love Me," "Snooky and Moody's Boogie," "Judgement Day" and "Telephone Blues," considered one of the earliest post-war blues classics.
Although he had all the tools for greatness, he never became a superstar in the industry. With a large family to support, Pryor basically retired from the musical stage for most of the 1960s and 1970s. He worked as a carpenter and spent his spare time fishing and studying the Bible.
Like many forms of music, when it seems to fade away in America, it somehow becomes very popular on foreign soil. In 1973, old friend Homesick James convinced Pryor to join the American Blues Legends show that was touring Europe.
Pryor seemed to be more popular overseas than in the states. With a new base of fans and his family raised, he came out of musical retirement in the mid-1980s.
Over the next 20 years there were frequent foreign tours and countless recording sessions. His 1991 album, "Back to the Country," won national honors and rave reviews.
"He is magnificent, displaying a perfect balance of chordal and melodic style," reported Living Blues magazine.
His last two recordings, "Mojo Ramble" and "Snooky Prior and His Mississippi Wrecking Crew," were both made in 2001.
Stay up-to-date on what's happening
Receive the latest in local entertainment news in your inbox weekly!