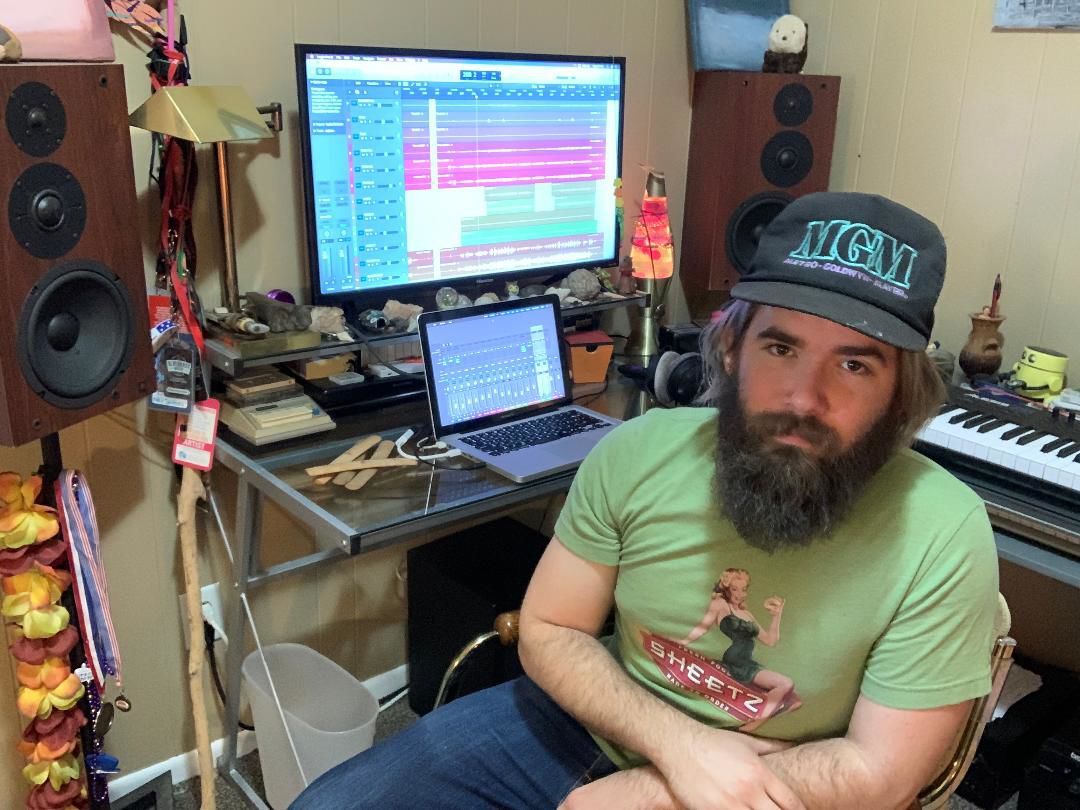 When people ask you what you love about Southern Illinois, what do you tell them? Is it the slow-going, small-town lifestyle? The unmatched hospitality that all of its people seem to possess. Is it the incomparable beauty of the Shawnee Nation Forest?
My name is Sad Max Senteney. And for me, it's all of these things. But at the top of my list is always the music.
If you know, you know. But I think a lot of folks do not. That's why I've started this monthly column. And that's why I have launched a recorded label here in Southern Illinois.
First, a flashback: I'm 14 years old. A long-haired, skateboarding, punk kid who just learned how to play a power chord. My friend Rachel invites me to see her brothers' band perform on Saturday. I've never been to a local show before. The only concert I've been to was Steppenwolf at the fairgrounds with my parents.
Rachel has told me before that her brothers are musicians and that they have an album out. As a kid, this concept is difficult to grasp. You can't just "be in a band" though, right? Don't you have to live in L.A. to do that? How could they have possibly recorded and released a record here in Southern Illinois?
The show is at a little dive bar in the back of an old bowling alley in Du Quoin. We pile into the minivan and ride up there with Rachel's mom. Luckily she is able to sweet talk the bar manager and they let us kids in to watch the show.
There's a handful of loud college students there and a couple of old guys sitting at the bar. They must be regulars. We awkwardly sit at a table in the middle of the room so we're a safe distance away. The band is set up on the floor at the far end of the room. There is no stage. Just a comically large drum set, and two huge amplifiers crammed in the corner.
Rachel's two brothers, the bass player and the guitar player/singer, are tuning up. The drummer walks "on stage" with a full pitcher of beer but no glasses. He takes off most of his clothes, sits down at his kit and takes a long drink from the pitcher. Without saying anything, the three musicians look at each other and determine it is time to start. The drummer holds his sticks up in the air for a few moments and then suddenly pounds out an insanely powerful four-beat fill before the rest of the band joins with an explosion of sound at the beginning of the next measure.
The bass player takes a wide power stance with his instrument hanging low. He proceeds to bash out heavy, melodic riffs while thrashing and spinning around wildly and not at all concerned that he keeps knocking over his mic stand and getting tangled in his cords.
The guitar player/singer seems a little more measured and is somehow unfazed by his chaotic brother. His clean, high-pitched voice cuts through the music in a way I've never heard before. Each note on his guitar is played with so much feeling. It's like every riff is being squeezed out through his pores.
The drummer is the tightest loose cannon you can imagine. He frequently tosses his sticks up in the air and catches them only about half the time. But never misses a beat. I keep thinking he is going to destroy his drums, because he is playing them way too hard. At one point, he takes a break as the guitar player solos for a few bars. He drinks from his personal pitcher of beer, leans his head back, and sprays the booze into the air as he re-joins his bandmates with an earthshaking drum fill.
These are rock stars. Right here in this Du Quoin dive bar. And they don't care there's less than a dozen people in the crowd. They are inside the music. 
This was the first local show I ever attended. The band was Cash Gal. What I didn't know at the time was that those two brothers, CB and Ashton Leech, would later go on to play all over with world as a stoner-rock duo called Tweak Bird.
They would record music and do shows with the likes of The Melvins and even tour with progressive rock giants, Tool.
The drummer I watched that night, Tim Beaty, was already a Southern Illinois legend who played in dozens of influential punk bands around here.
He would leave this earth far too soon, as a literal hero. But not before making an enormous impact on the Southern Illinois music scene and local community in general.
From that night on, I've been obsessed with live music. And I've been lucky enough to make a career out of performing. I learned how to play in the basements and dive bars around here. And for the last eight years I've been touring internationally with Indiana country-blues band, Rev Peyton's Big Damn Band. 
River to River Community Records is a new Carbondale record label focusing on local musicians. 
Looking back, I didn't always realize how blessed I was to be in a place with such an active and supportive music community. But after spending years on the road, immersed in a worldwide music scene, which can be a lot less friendly, I now understand just how special this place is.
And that a scene like this doesn't just exist by itself. It is made up of many dedicated artists, creators, promotors and fans. I've started River to River Community Records to help perpetuate this community as much as I can.   
With this monthly column, we will discuss happenings within our thriving music community. We'll hear from local recording studios, music venues, musicians and artists. We'll talk about upcoming record releases and other music related events.
Maxwell Senteney, also known as Sad Max, the drummer of Reverend Peyton's Big Damn Band, has launched River to River Community Records to promote music in Southern Illinois. His label's regular column, R2R Report, will highlight upcoming releases and the local music scene.