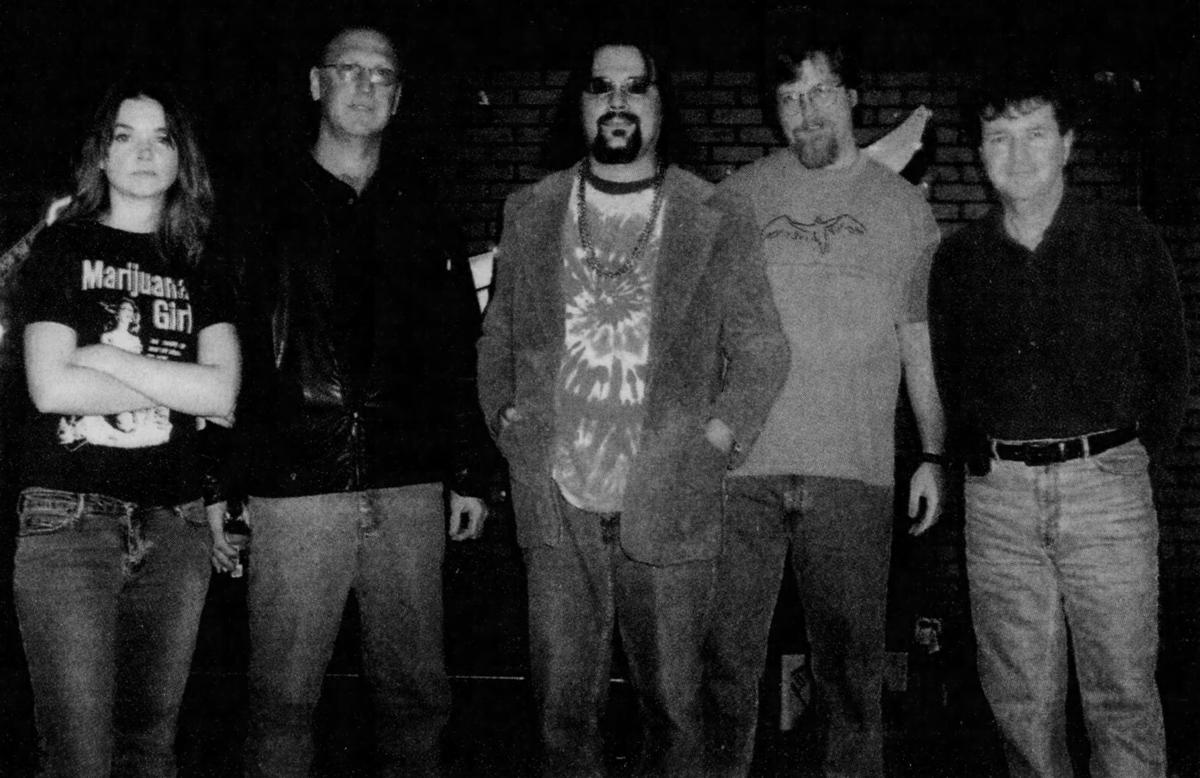 St. Stephen's Blues was another in a long line of bands that scratched a certain itch and filled a goodly notch in time in the good ol' 'Dale.
I was still doing sound at and booking the original Gatsby's on South Illinois when we began that band circa 1991 in the basement of the house at Sycamore and Poplar streets shared with my then-wife, Paula, and our small kids, Robby and Carly (Carmen).
We started out with Southern Illinois University doctoral candidate Steve Asma on guitar, a former member, as I recall, of Chicago's well-known blues band Howard and the White Boys. Jim Wall (Four on the Floor, Mercy) was on bass, and Charlie Morrill (Four on the Floor, Ivas John Band) was on drums.
We have mixed and matched many regionally familiar names and faces into our bands over the years, and it is pretty much done that way, I would posit, in any college town music scene.
Steve finished up at SIU Carbondale and was off and back to Chicago within months; I think we played a show or two at the original Hangar 9 before he left. He teaches philosophy and writes out of Columbia College, Chicago. I actually stumbled across a live interview with him one day on WSIU FM, where Dr. Asma was promoting a then-new book. Charlie plays with Ivas still, and Jim does the odd jazz gig and teaches at the Communications Building at SIUC.
Kevin Cox joined up on sax, flute and vocals around the time Steve left, showing up with his horn at practice one day exclaiming, "I'm gonna be in this band!" Bob Pina did a long stint on keyboards in SSB, and played on our one CD, "Epochcrypha," and Kevin Cox did the record title, design and jacket art. That record was recorded at Misunderstudio in Murphysboro by Mike Lescelius, and we were fortunate to debut it at the Chicago House of Blues in 1996. My long-time life partner, BJ, was instrumental — no pun intended — in helping us get that CD project off of the ground.
That version of the band, pictured with head shots on the cover, was Kevin Cox on woodwinds and vocals, Bob Pina on keys, Jack O'Nieva on percussion, Jim Wilgoose on bass, Jimmy Salatino on guitar and vocals, and, as we still love to exclaim, "Charlie Morrill on the drums!"
Many others did stints in the band of varying lengths. Another "lefty," a fellow we called "Dr. Brian," was a researcher at SIUC and helped us out on keys and guitar for a bit. Brad Bell played keys, and Chris Miller, now of Springfield, played keys for a long while. Ed Grunewald, who I later played with in The Dragonflies, played bass in a later version of the band.
Eventually, after the original band drifted apart, we kept varying versions going for a while with James Seamus Layman on bass and Tony Ventura on guitar and vocals. I think bassist Mike Alderfer might have done a few gigs. John Carney, St. Louis radio personality and a then-SIU student in radio and television, was on percussion in an early, formative version of the band. If I forget anybody, I apologize, the '90s into mid-2000s are a little while back!
A huge thing for SSB (St. Stephen's Blues) was that one night at a Carbondale night spot on West Main Street I heard a solo acoustic gig by one Jimmy "Lefty" Salatino. His versions of Bob Dylan tunes, folk music covers and originals, were kick-ass, and I asked him to be in St. Stephen's Blues on the spot. A long and fruitful partnership ensued, with mine and Jimmy's dueling guitars echoing through the Carbondale night many a time. Many of you will remember those nights, I am sure!
I have always held that the band name St. Stephen's Blues was based on a combination of the title of the Grateful Dead song "St. Stephen," Steve Asma's formal first name Stephen, and the actual historical St. Stephen, though in the latter case I cannot really fathom a guess as to why. Was he patron saint of lost souls? In any case, it is a good story!
We were not really a Grateful Dead tribute band, though we played many a GD tune, as we played original music plus covered The Band, Bob Dylan, the 13th Floor Elevators, Lou Reed, Neil Young and a host of other artists including blues nuggets such as "Eddie Boyd's' Five Long Years" and "Walkin' Blues," and even folk tunes in our three-piece St. Stephen's Acoustic Blues format, which was Jimmy and I on acoustics, Jimmy's harmonica, and Kevin on flute and vocals.
It was fun band, and another long-lasting one as bands go, and one that was featured many a time in the old Carbondale Nightlife newspaper and also The Southern. I hope that you have great memories on the band, the clubs and Carbondale scene of those excellent days!
Robbie Stokes is a longtime musician in the Carbondale music scene and the owner of Robco Audio.
Stay up-to-date on what's happening
Receive the latest in local entertainment news in your inbox weekly!