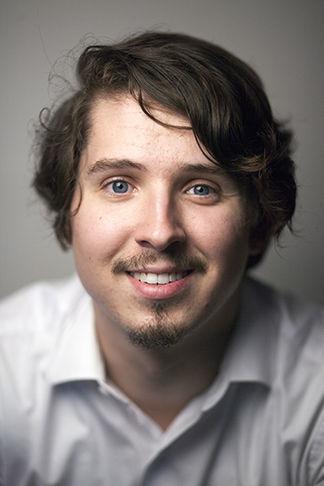 The best
John Prine: 'Tree of Forgiveness'
John Prine is an American treasure. He has not lost the ability to so deftly describe a unique brand of American loneliness that has been ever-present since his self-titled album decades ago. Personally, the subjects of his songs have always been people I've wanted to write about — all of them remarkably flawed and distinctly nuanced. On "Tree of Forgiveness" Prine embraces an old age he seems to have understood since he was in his 20s. Still hilarious and devastating within a single breath, this album has been in heavy rotation since it came out — and my 3-year-old son likes it, too.
Standout lyric: "Well you never know how far from home you're feelin' until you've watched the shadows cross the ceiling."
I've enjoyed this band consistently since they announced their presence with a debut that was a loving tribute to Fugazi in 2014. They have consistently and radically changed with each release, but never lost the angular and poetic quality that makes them special. With "Into the Sea," the band embraces a sonic marriage of early Interpol meets Talking Heads that is atmospheric, intimate and infinitely listenable.
Standout lyric: "You got creases on your face, the kind that give you grace."
Cardi B: 'Invasion of Privacy'
When I first heard Cardi B, I considered her a third-rate Niki Minaj — a loud, explicit, one-trick pony. I was incredibly wrong. "Invasion of Privacy" opens with an unflinching call out to any and everyone who thought she couldn't make it. She makes no bones that she survived her hard-scrabble upbringing by exotic dancing. This cold open pounds as hard as any male rapper I've heard — not that this should be the benchmark, but with so few female rappers making it in the mainstream who can run with the pack, it's worth noting. The production is slick, and big; her raps are clever, vulgar and hit hard.
Standout lyric: "I was covered in dollars, now I'm dripping in jewels."
A familiar voice to anyone who has followed Chance the Rapper's catalog, Noname's album this year was such a breath of fresh air. Buried deep in the mix of jazzy instrumentals, her voice sometimes barely rises above a murmur, but it comes together as a thoughtful and layered piece that begs for re-listens. It's rap for a summer afternoon — one of my favorite memories this year was blasting this with the windows down as I pulled into Chicago for a sunny weekend vacation. It also stands out as hip-hop you can listen to with your mom.
Standout lyric: "Y'all thought a b---- couldn't rap, huh? Well maybe this is your answer for that."
Possibly the best musical surprise of the year — fans of the sonic titans of sludge have long been anticipating a full release as the rumblings from the deep have become more frequent in recent years — anticipation of the band's resurrection was hot. Sleep has slipped a few tracks out via Adult Swim's music series and have played more consistently these last few years. Making a name on the underground stoner metal scene with the finally issued masterpiece "Dopesmoker," the album that runs as one 63-minute song and that ultimately led to the band's demise. On "The Sciences," Al Cisneros' vocals are less barbaric and more a religious chant than on "Dopesmoker," but the riffs are just as monumental and hazy as any fan could want. The power trio don't stray far from their primary inspiration: They exalt the smoking of weed into a religious experience, and laud the pioneers of the genre, namely Geezer Butler of Black Sabbath fame, as their high priest.
Standout lyric: "Bong Water of Life anoints the Muad' Doob messiah"
Funeral Chic: 'Superstition'
This album was a late addition to my list, but the day I heard it, I knew it would make the cut. Vicious, blackened thrash punk, "Superstition" is a record that will give you a broken nose. Unrelenting vocals and intensely memorable riffs put this record at the top of the heap in a year marked with substantial releases from metal and hardcore heavyweights, Thou and Vile Gash among others.
Standout lyric: Good luck figuring them out.
Windhand: 'Eternal Return'
Atmosphere has always been a strong point for Windhand, the stoner-doom powerhouse from Virginia. However, with each subsequent release following 2013's "Soma," the group has refined every element from bringing forward the lush riffs from guitarist Garrett Morris to highlighting the other-worldly vocals of Dorthia Cottrell. On "Eternal Return," the group has made a shining collection of songs that embrace the sludgy, goopy corners of their genre while also layering in the psychedelic grunge of the 1990s. On her best performance to date, Cottrell hovers over every song as a quiet but ever-present specter.
Standout lyric: "What is lapping in the wave? What is waiting at the water's edge?"
Colter Wall: 'Songs of the Plains'
I wanted very badly to hate this record. His previous releases have left me very flat, and I don't do well with museum pieces — artists who don't grow outside of some style that has long since been abandoned or lost; white blues guys singing about picking cotton in Mississippi come to mind. If something like this works for me it has to be unbelievably good, which is the case for "Songs of the Plains." Wall's delivery is jaw-dropping, his baritone supporting the sparse arrangements. The only thing more shocking than its beauty is Wall's age — no one should sound that experienced or world-worn at 23. The lyrics and storytelling are stunning, too. Wall elevates cowboy poetry to what certainly must be a high mark for the genre. I could honestly write pages about these songs, but don't want to spoil the surprise.
Standout lyric: "I cut through the country like some unholy blade."
I'm always looking for something to play on a Sunday morning and this fits the bill. Simple, beautiful acoustic instrumental arrangements that exude autumn and warm sunshine.
Rev. Peyton's Big Damn Band: 'Poor Until Payday'
Full disclosure: These are my friends. That really doesn't matter, though. This record is everything it should be. The Big Damn Band is comprised of The Reverend Peyton on guitar and lead vocals — he plays his own brand of wildman country blues that pulls equally from Delta blues pioneer Charley Patton as well as ZZ Top's Billy Gibbons. He plays a finger-style guitar that rips just as fast as classic 45 RPM-era Chess Records classics. Backing him up is his wife, "Washboard" Breezy Peyton, on washboard and backing vocals, and leading the charge with all the power of a freight train is Carbondale's hometown hero Max Senteney on drums and five-gallon pickle bucket. "Poor Until Payday" features some of the best songwriting Peyton has done in recent memory. Another selling point to me is also its length. Coming in at just 10 songs, Peyton says everything he needs to say and nothing he doesn't.
Standout lyric: "We'll never go fishing if we wait on the weather. Don't wait for a funeral to get the family together."
The worst
All of the Kanye West-produced albums
I've never been a Kanye West fan. I never actively disliked him, but I just missed the train when he first was making waves. Still, I was excited about all the work he was doing with some really huge talent this year — his beats have always been standouts to me (Pusha T's "Numbers on the Board" is still one of the coolest instrumentals I've heard). Every single one of the seven track albums he put out this year let me down. Pusha T, Nas, Kanye himself and his collaboration with Kid Cudi were all a solid C-minus. They weren't bad in their own right, but all sounded hollow and like a bland version of each artist. Yes, all the hallmarks are there for each performer, but none of the hunger. The releases sounded rushed and listless.
Pig Destroyer: 'Head Cage'
I have loved this band since high school. They are the perfect balance of hardcore punk and visceral grindcore. The songs were short and loud, and the vocals by J.R. Hayes were at times frightening. Songs like "Blonde Prostitute" and "Scattology Homework" still get me excited. The wheels started to fall off for this band with their last album, "Book Burner." They got a new drummer who abandoned the punk touches I had come to love, and replaced it with the polished double kick and sterile drum fills of any, albeit talented, local metal act. However, with "Head Cage," they finally jumped off the cliff. Haye's ham-fisted political musings replaced the horrific and tender poetry that filled other albums. The record sounds like the band heard buttcore and numetal favorites Hatebreed and Slipknot for the first time. Bummer.
Lil Wayne: 'Tha Carter V'
People who say they love this album are kidding themselves. Certainly better than anything Wayne has done since "No Ceilings," but just about anything is good compared to "Rebirth." "Carter V" has Wayne sounding tired — occasionally he perks up and delivers a solid non sequitur, something he is known for. However, the moments that are actually highlights, like Mona Lisa, are not because of him but because of his guests, in this case Kendrick Lamar.
Anderson .Paak's "Malibu" was a soundtrack for summer. Great, lush live instrumentals centered around his narratives about life in southern California. The hooks were catchy, the lyrics thoughtful — usually. Something shifted with "Oxnard," the narratives were more crass and uninspired than Malibu and the instrumentals lack the grit and traction of his other material. I usually will say it's not fair to compare one record to the last, but even standing on its own, "Oxnard" just doesn't hold up for me, which is a drag because I had been anxiously awaiting his next release.
I listen to rap for the stories. Biggie Smalls' "Things Done Changed" is a standout in my mind for this, so is Kendrick Lamar's "The Art of Peer Pressure." Compton rapper YG's breakout first album "My Krazy Life" put his name in the hat for one of the best narrative gangster rappers out there. He fell somewhat on his next release, "Still Brazy" — this mostly was an issue with beats that didn't quite hit the mark for me. While songs like "Bicken Back Being Bool" and "BPT" certainly are notable for their lyrical prowess, he's always had some cringe-worthy lyrics. This is mostly what "Stay Dangerous" is. The songs here are mostly shallow misogynist trap that spends more time calling out his 4Hunnid clothing line and describing X-rated escapades than speaking on anything that rises above locker room talk.
— Editor's Note: This story has been updated to properly spell Charley Patton's name.