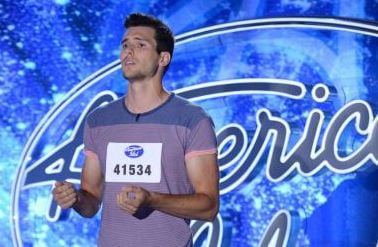 A West Frankfort resident is going to Hollywood again.
Dustin Keele, who appeared on "American Idol" in 2012, received another golden ticket to perform in Hollywood, California, for the judges in the 14th season of the hit reality TV show.
"It's hard to describe," Keele said of the moment he learned he was advancing past the Nashville auditions. "This excitement washes over you so fast you want to jump up and down, but you feel numb. It's like so surreal."
During his audition, he sang "Classic" by MKTO, a pop anthem released this summer, that showed he could be current and "Hang with what's out there right now," Keele said.
"What I liked about that was the message of that song tried to cut through messages about beauty and body image that are fake and trumped up by the media and just talked about what we like in a significant other in a way that's rooted in things that have value," Keele said.
To show the versatility and range of his voice — two things "American Idol" judges value — he also sang the 1980s ballad "At This Moment" by Billy Vera.
The 29-year-old, who was eliminated during Hollywood week three years ago, received mixed feedback from this year's judges, which include Jennifer Lopez, Keith Urban, Harry Connick Jr. and Adam Lambert, but he said "they liked it well enough."
Keele has always seen rejection as just another step on his journey to realizing his dream.
"I got good feedback, and I also got things I needed to work on, which I always appreciate as an artist," Keele said. "I definitely always wanted to advance, but in a long-term view of my career as an artist I am just looking for growth and progression. So I take it all as a win."
Keele, who has been singing since he was 4, has driven to Nashville, Tennessee, every two weeks to see Renee Grant-Williams — a vocal coach who has help several contestants find success on American idol.
During one lesson before his first appearance on the show, she paused and said, "I think you're ready."
"It was like something I was waiting on because deep down I believed I could do it," Keele said.
He said the auditions, which were taped in July and aired last week, involve hours of waiting and anticipation of your moment in front of the judges.
"You're sitting in a chair and you start to feel like you're getting cold, you want to run to the bathroom, you start practicing your song a little bit, making sure you still got it," Keele said. "It's tough mentally and physically having to deal with that waiting and never knowing when it's your turn." 
City auditions will continue throughout the rest of the month, with Hollywood week starting in February, even though the performance was taped in October.