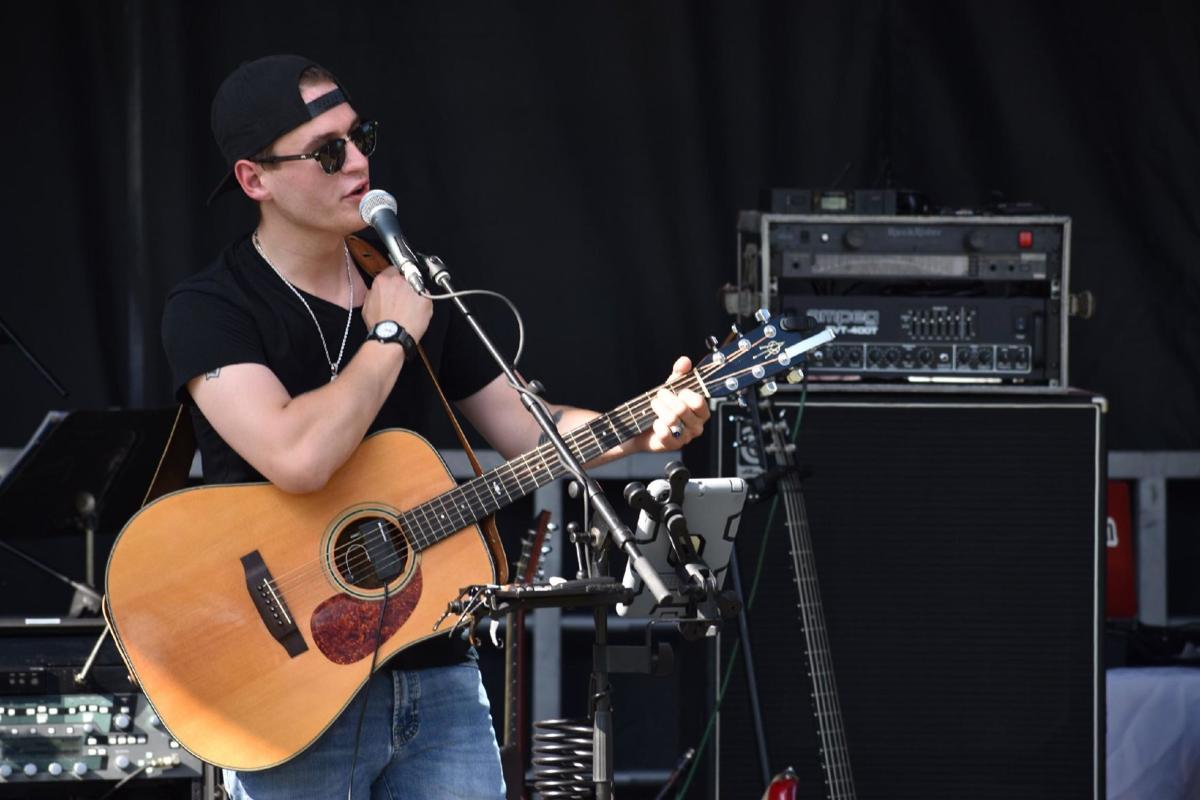 A Waylon Jennings tattoo on his left forearm erases any doubt about the unwavering commitment Zach Modglin has made to creating and performing meaningful music. Body art is the ultimate modern display of dedication.
Modglin is determined to build a huge local following as he masters his craft, then he plans to migrate to Nashville and unleash his expanding catalog of original material and explosive talent on country music executives.
"The goal is to get to Nashville and become the next big success story from Southern Illinois, follow in the footsteps of Kendell Marvel and David Lee Murphy," Modglin says. "I want to write and perform high-quality music."
The Carterville native will release his debut recording, a five-song EP titled "Lonesome Down and Broken," on Aug. 23, his 25th birthday. He is in the process on putting the final touches on the project, which is being recorded at the Backyard Recording Company in Norris City.
The product, which will be available on major streaming platforms like Amazon and Apple Music, is being produced by studio owner Jason Smith.
"Jason knows how to capture the essence of what I'm doing and gets that feeling into every song I record. He's incredible, right on the money every time," Modglin says.
The centerpiece of the album is a tune titled "Full Recover." He inked the song in a two-day period after going through a substance abuse treatment program at RecoverUs in Carbondale. A video for the song instantly received more than 60,000 YouTube views.
"It's so amazing what can happen when you make a decision to take a few steps in the right direction. I blossomed like a flower. My life just took off, I found a good job and started to focus on my music," Modglin says.
Modglin checked in to treatment as his life started to spiral out of control, leading to a divorce and major problems at his job with the Kentucky Department of Corrections.
"I was such a jerk. They started finding shanks (home-made knives) with my name of them. I knew I had to get out and get some help," he says.
Modglin served as the opening act Friday at the Johnston City Fireworks Spectacular. He delivered a powerful 60-minute set filled with popular songs by Johnny Cash, Tyler Childers and Eric Church, mixed with originals from his upcoming record.
Wearing snakeskin boots, jeans, sunglasses and a backward baseball cap, Modglin paid tribute to Marvel when he covered "Right Where I Need to Be" and "Hard Time with the Truth" from his new "Solid Gold Sounds" album.
"I've gotten to hang out with Kendell several time down in Nahsville. He has been a hug inspiration and influence," Modglin says. "We are going to do a show together at Honker Hill Winery. The owner says it's not a question of if it will happen, but when it will happen. It will be a special night, that's for sure."
A true showman, Modglin was steadily working towards a grand finale last week, when a broken guitar string ended the show two songs early.
"I had a blast," he said. "It's good to end the night with a broken string. It shows the crowd how hard you're working and laying it all on the line."
During a performance by featured act The Deplorables, Modglin was called on stage to provide vocals for "Copperhead Road."
Modglin started playing guitar when he was just 7 years old. He mom took him to lessons by a famous area guitar instructor. The action was too slow. He was being taught "Mary Had a Little Lamb" by the teacher, but when he got home he was playing "Thunderstruck" by AC/DC.
Music is in his blood. His family has several generations of gospel performers, but Modglin took the country route. He started singing publicly at 18, and once had his own band, but now performs strictly as a solo act. For the last year, his main focus has been developing his songwriting skills. He has composed over 100 songs.
"This is all I've ever wanted to do and I'm not stopping. God is good. I feel like he put me here to write songs that touch people's life," Modglin says. "Everyone is a cesspool of emotions. I try to stir things up with my songs, hit a nerve that gets your attention with a song that you will always remember."
The future plan for Modglin is simple.
"I just have to keep grinding. My effort so far has paid off more than I ever expected. I can't believe I've made it this far," Modglin says. "I play because I love it. Music runs through my veins and is my driving force."
Modglin will be playing at 9 p.m. Friday at Chevie's Lounge in Herrin and at 6:30 p.m. on Aug. 6 at the Marion Elks.
Rodeo lineup rounds out
The Sikeston Jaycees Bootheel Rodeo has done an outstanding job dealing with last-minute cancellations from its musical headliners this year. The annual event is four days of professional rodeo, with concerts by nationally known artists following the competition each night.
Stars ZZ Top, Ashley McBryde and Chris Lane have been scratched from the original lineup for various (obvious) reasons and replaced by pinch hitters that should draw an even bigger crowd.
The new lineup is as follows: Nelly on Wednesday, Aaron Lewis on Aug. 6, Cody Johnson on Aug. 7 and Joe Nichols on Aug. 8. Nichols is the only remaining original roster member for 2020 still standing.
Rodeo action starts at 7 p.m. each night and the concert follows. Tickets can be purchased at www.sikestonrodeo.com.
Stay up-to-date on what's happening
Receive the latest in local entertainment news in your inbox weekly!