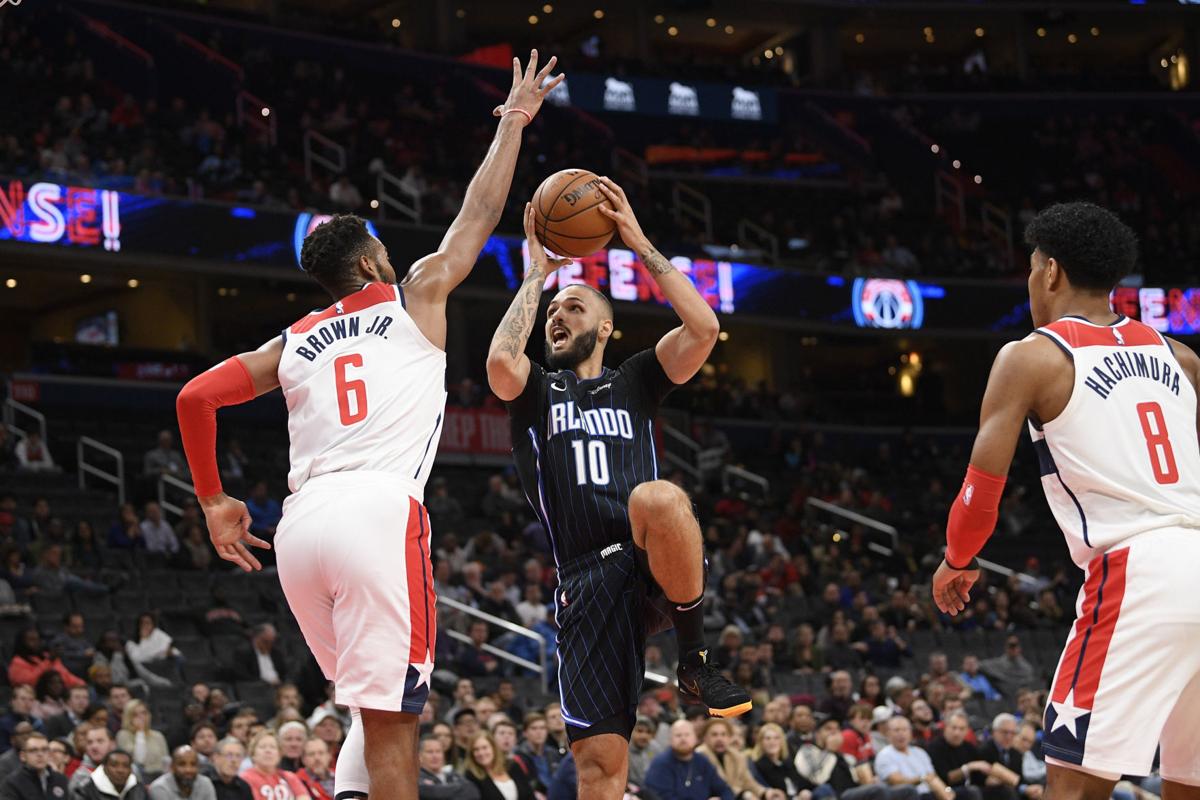 WASHINGTON — Evan Fournier scored 31 points, D.J. Augustin added 16 of his 24 in the fourth quarter and the Orlando Magic beat the Washington Wizards 127-120 on Tuesday night.
Bradley Beal scored 42 points for the Wizards, who have lost five of six.
Markelle Fultz added a career-high 20 points for the Magic, who have won three of four after earning just their second road victory of the season.
Fournier scored 32 in Sunday's win over the Golden State Warriors.
Davis Bertans added 21 points and Isaiah Thomas scored 20 for Washington.
The Wizards were without starting center Thomas Bryant, who was diagnosed with a stress reaction in his right foot Tuesday and will be re-evaluated in three weeks.
The Wizards trailed by 14 at halftime but Bertans' second 3-pointer of the quarter pulled Washington within 74-67 early in the third.
Beal's 3-pointer followed by Thomas' basket and another 3 by Beal gave Washington its first lead of the game at 75-74, completing a 21-6 run.
Orlando answered and when Michael Carter-Williams scored five straight points late in the quarter the Magic led 94-84.
A flagrant foul call on Beal contributed to seven straight points by Augustin in the fourth and Orlando led 104-88 with 10:45 remaining.
PISTONS 127, CAVALIERS 94: At Cleveland, Blake Griffin scored 24 points, Andre Drummond had 17 points and 14 rebounds, and Detroit routed Cleveland to win consecutive games for the first time this season.
Griffin played just 24 minutes and was 8 of 13 from the field, including 6 of 7 from deep. Drummond played 31 minutes as Detroit's starters were on the bench for the fourth quarter.
Griffin scored 16 points in the first quarter with four 3-pointers. Detroit hit 10 3-pointers in the first half and built a 57-38 lead, a margin that steadily grew throughout the game and reached 35 in the fourth quarter.
MAVERICKS 118, PELICANS 97: At New Orleans, Luka Doncic scored 15 of his 33 points in the third quarter and grabbed 18 rebounds in just 28 minutes to power Dallas to a victory over New Orleans.
Doncic shot 9 of 18 from the field, making five 3-pointers, and hit 10 of 13 free throws to lead the Mavericks to their eighth victory in the last nine games.
Doncic had 12 points the first quarter and then broke open a three-point game by scoring 15 of the Mavericks' 25 points in the final 9:18 of the third, when Dallas built a 84-75 lead. Two of Doncic's jumpers came from at least 25 feet with no defender in his face.