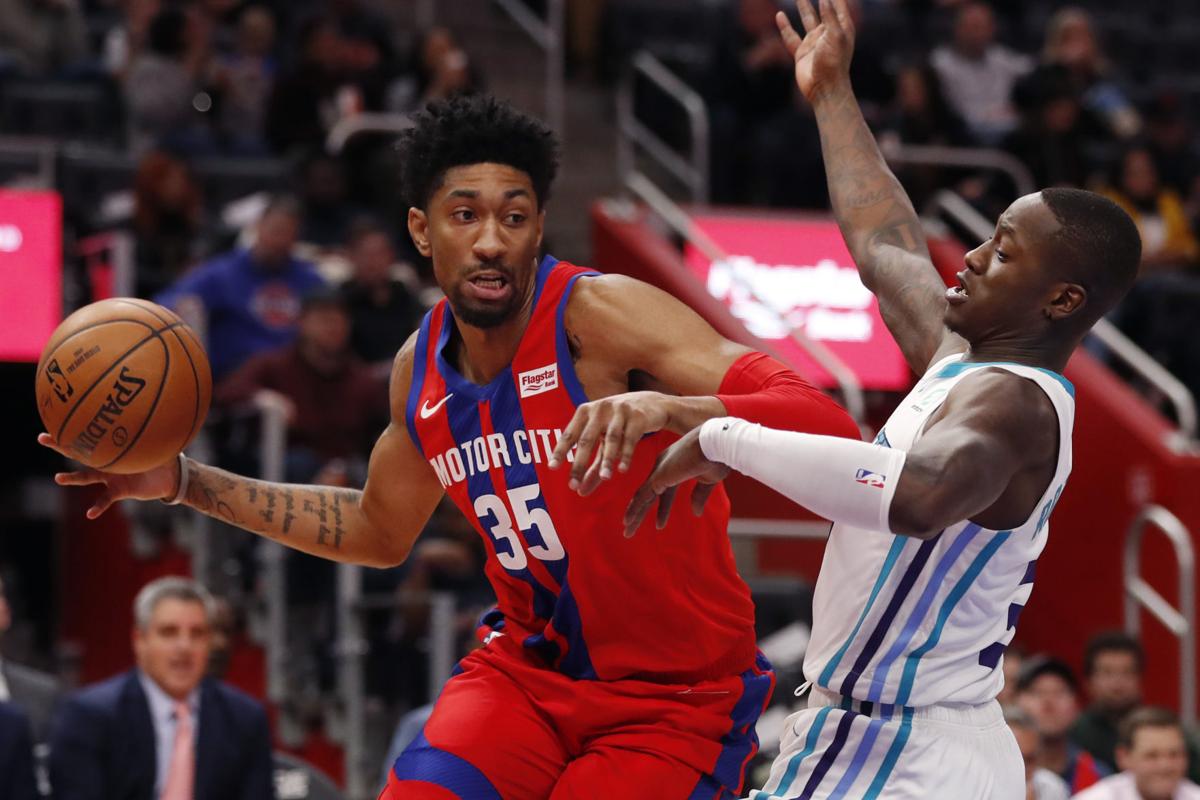 DETROIT — Langston Galloway's shot from around midcourt rimmed out at the buzzer, and Charlotte held on for a victory over Detroit on Friday night.
Charlotte completed a home-and-home sweep of the Pistons this week. Detroit must be wondering what it has to do to beat the Hornets. Charlotte edged the Pistons 109-106 earlier in the month and 102-101 on Wednesday night.
This matchup went down to the wire again. The Hornets rallied from an eight-point deficit in the final quarter and led by three with 8.9 seconds left. Detroit inbounded the ball, and Luke Kennard missed a 3-pointer from near the top of the key. Galloway was able to run down the loose ball, and his last-ditch shot looked on line, but it wouldn't go in.
P.J. Washington scored 26 points for Charlotte, and Terry Rozier added 23. The Hornets were without center Cody Zeller because of a left hip injury.
Derrick Rose led the Pistons with 23 points.
With the score tied at 95, Galloway got a very friendly bounce off the rim when he sank a 3-pointer while being fouled. That four-point play started an 8-0 run, but Charlotte rallied.
Devonte' Graham put the Hornets up 108-106 with a 3-pointer — the Hornets went 19 of 38 from beyond the arc.
Blake Griffin had a chance to tie it with 1:29 remaining, but he made just one of two free throws, and the Pistons didn't score again. Detroit finished 10 of 20 from the line.
When he does, the Brooklyn Nets can only hope he plays as well as Spencer Dinwiddie.
Dinwiddie had 32 points and 11 assists while Irving remained sidelined, and the Nets beat Boston to split a home-and-home series.
Irving missed his eighth straight game with a right shoulder injury but was at the arena to get an evaluation and watch from the bench along with Kevin Durant. Coach Kenny Atkinson said afterward that the All-Star point guard has started work on the court and would miss one more game before potentially being ready to rejoin a team that has done well in his absence thanks to Dinwiddie's strong performances.
Powell was 7-for-9 shooting in the third quarter, including three 3-pointers.
Fred Van Fleet added 22 points for the Raptors, who won despite Pascal Siakam's 4-for-22 shooting. Siakam finished with 10 points and 13 rebounds.
Evan Fournier scored 19 points for Orlando, which has lost four of five. Markelle Fultz added 15 points. Aaron Gordon, who played 32 minutes for Orlando after missing three games with a right ankle contusion, had eight points and eight rebounds.
Cleveland trailed 74-52 early in the third quarter, but hit 10 3-pointers in the period and cut the lead into single figures. The Cavaliers continued to rally and Kevin Love's layup made it 113-110 with 2:20 left — Cleveland's final points of the game.
Khris Middleton's jumper and two free throws by George Hill put the game away, but Antetokounmpo was once again the difference-maker. The reigning MVP scored in a variety of ways with the game on the line, including a 3-pointer, a floating jumper, a tip-in and a dunk off an offensive rebound.
Bogdanovic matched his season-high scoring mark, going 12 of 20 from the field, including 4 of 8 from 3-point range as Utah snapped a two-game losing streak. Donovan Mitchell added 20 points, and Rudy Gobert had 13 points, 13 rebounds and a pair of blocks.
Jonas Valanciunas led Memphis with 22 points and 17 rebounds, and Brandon Clarke scored 13 points on 5-of-6 shooting. The Grizzlies have lost six straight.
Duncan Robinson scored 17 for Miami, which is 8-0 at home for the second time in franchise history — tying the mark set by the 2012-13 Heat. Robinson and Herro were a combined 10 for 13 from 3-point range.
Jimmy Butler scored 16, while Kendrick Nunn — who was with the Warriors' G League team last year — and Kelly Olynyk each had 15 for the Heat.
Jordan Poole scored 20 for injury-ravaged Golden State, which was playing the opener of a five-game road trip. Eric Paschall scored 17 and Alec Burks finished with 16 for the Warriors.
Tobias Harris scored 19, and Ben Simmons chipped in 16 points, including a game-sealing steal and dunk late in the fourth quarter for the 76ers, who have won two straight and six of seven.
Julius Randle had 22 points and 10 rebounds, and Marcus Morris Sr. scored 20 points for the Knicks, who have lost a season-high five straight.
The 76ers were playing without starters Al Horford (rest) and Josh Richardson (right hamstring injury) and it showed in the first half as their offense struggled. Philadelphia shot 13 for 38 from the field, including 2 for 18 behind the 3-point line.
Be the first to know
Get local news delivered to your inbox!