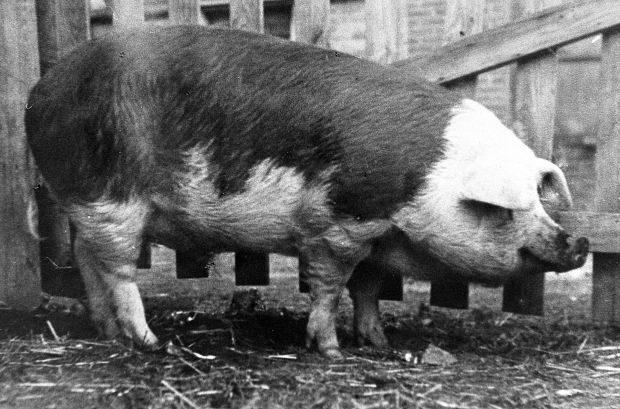 On a small farm near West Frankfort in 1942, a million-dollar pig was born.
Parker Neptune was named after one of its parents, Parker Sensation, and became an integral part of the United States' effort to sell war bonds to partially offset the cost of World War II.
How Parker fell into this role was a "tail" of destiny.
Petty Officer Don Lingle of Anna, who had been assigned to the U.S. Navy recruiting office in Marion, came up with the idea of auctioning a pig multiple times for the benefit of bond sales.
He asked some friends to buy a pig and turn it over to the Navy. They did and Lingle was made its guardian.
Lingle changed Parker's name to King Neptune and proceeded to auction it over and over. The opening sale was conducted on Dec. 7, 1942, the first anniversary of the Japanese attack on Pearl Harbor.
The pig would be auctioned to the highest bidder, who would be given possession of the animal for one minute, after which it would be turned back in to be sold again.
King Neptune had the proper coloring for his patriotic work as a war bond salesman – red and white markings with blue eyes. He was also well-fed, growing from 263 to 365 pounds.
He was transported in a special truck provided by the Future Farmers of America across various local locations, including West Frankfort, Benton, Marion, Herrin, Eldorado, Carbondale, Metropolis, Harrisburg, Karnak, Edwardsville, Vandalia and Salem.
A highlight of his career was a bond sale at West Frankfort, where he was sold for $1.5 million of war bonds, including one successful bid of $1 million by the governor on behalf of the State of Illinois. By the summer of 1943, King Neptune's sales passed the $4 million mark.