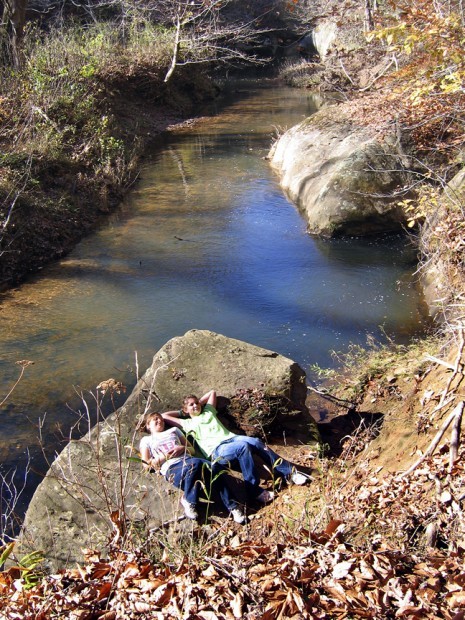 Hiking trails in Southern Illinois
Off Illinois 1, south of Mount Carmel. 618-298-2442. Five trails through 270 acres of upland forest; one of the largest remaining original deciduous forests in the United States (listed as a national landmark).
BELL SMITH SPRINGS RECREATION AREA
Off Illinois 145, Eddyville. 618-658-2111. Four creeks come together in the canyon at Bell Smith Springs. Cold spring pools and more than 700 plant species make this national natural landmark a No. 1 place to hike.
CACHE RIVER STATE NATURAL AREA
Off Illinois 37, Belknap. 618-634-9678. More than 21 miles of designated foot trails within this unique wetland totaling 14,274 acres. One trail takes visitors to bald cypress trees older than 1,000 years.
Off Illinois 1, Cave-in-Rock. 618- 289-4545. Hickory Ridge and Pirates Bluff Nature trail wind along the Ohio riverbank.
CRAB ORCHARD NATIONAL WILDLIFE REFUGE
Illinois 148, south of Marion. 618-997-3344. Noted for spring wildflower hikes along Rocky Bluff Trail and eagle tours in winter. Four other self-guided trails available to view diverse habitats.
Off Illinois 1, Grand Tower. 618-687-1731. Challenging trail; the end or beginning of the River to River Trail.
Illinois 146, west of Golconda. 618-949-3394. Enjoy a self-guided 1.7-mile nature trail, one-mile trail through Ghost Dance Canyon with 60-foot walls and long narrow passageways.
Illinois 37, south of Goreville. 618-995-2411. Eighteen trails (from easy .25-mile to moderately difficult two-mile) featuring rock formations, waterfalls, shelter bluffs, dense flora and fauna.
Off U.S. 45, Metropolis. 618-524-4712. Two easy trails, Long Knife Trail and Hickory Nut Ridge Trail (.5-mile and 2.5-mile) loop through grassy woods, the scenic Ohio River and the fort.
GARDEN OF THE GODS RECREATION AREA
Illinois 34, turn east at Herod. 618-287-2201. This 3,300-acre wilderness ranks tenth in the United States for photographing sandstone rock formations and high vistas. The easiest trail is the .25-mile Observation Trail for outstanding views and to see Camel Rock, Anvil Rock and Devil's Smokestack.
Giant City Road, south of Carbondale. 618-457-4836. The 16-mile Red Cedar Trail is for novice hikers; the Stone Fort Trail is short but steep; Post Oak Trail is designed for disabled persons. Other trails through this picturesque natural wonder are Devil's Standtable, Giant City, Indian Creek, Trillium and Arrowwood.
HAMILTON COUNTY FISH AND WILDLIFE AREA
Illinois 14, east of McLeansboro. 618-773-4340. Two nature trails circle 75-acre Dolan Lake.
Off Illinois 34, east of Karbers Ridge. 618-287-2201. One of the trailheads for the River to River Trail, this is a great walk to Garden of the Gods.
IRON FURNACE RECREATION AREA
North Elizabethtown. 618-287-2201. Big Creek Trail loops through creek bottoms and large trees for an easy/moderate hike. Several picnic sites and the historic Iron Furnace.
Off Illinois 3, west of Murphysboro. 618-687-4914. Sixteen miles including Hidden Cove and Buttermilk Hill trailheads.
Illinois 145, Glendale. 618-658-2111.
Off Illinois 149, west of Murphysboro 684-2867 Easy three-mile loop, starting at the Big Oak campground, is close to the lake.
LARUE/PINE HILLS ECOLOGICAL AREA
Off Illinois 3, south of Grand Tower. 833-8576. Majestic bluffs overlooking the Big Muddy River and swamps below contain some of the most diverse ecology found in Illinois. Some roads are closed each spring to protect migrating snakes.
South on 29th St., Murphysboro, to Town Creek Road, then south six miles. 687-1731. Moderate to difficult; 80 percent slopes, four miles, slippery when wet.
Illinois 145, east of Eddyville. 658-2111. A two-mile trail leads to a nature preserve and canyon.
MERMET LAKE CONSERVATION AREA
U.S. 45, north of Metropolis. Two easy, flat trails; .5-mile interpretive nature trail with tree identification and boardwalk into cypress swamp and a one-mile trail.
Illinois 147, Robbs. 658-2111. Millstone is an interpretive nature trail of a Mississippian period village.
OAKWOOD BOTTOMS/TURKEY BAYOU
Illinois 3, south of Gorham. 687-1731. Recreation area offering hiking, picnic areas, fishing and handicap accessibility to hiking, fishing pier and wildlife viewing.
Illinois 127, south of Murphysboro, turn at Pomona turn-off, then right at General Store. 687-1731. A .three-mile moderate trail with 90-foot natural sandstone arch carved by water over many hundreds of years.
POUNDS HOLLOW/RIM ROCK RECREATION AREA
Karbers Ridge Road, off Illinois 1. 253-1020 or 658-2111. A .8-mile long Rim Rock trail meanders past old Indian Wall, Pounds Hollow Lake, Ox-Lot Cave (a huge rock shelter bluff) and Fat Man's Misery (a narrow passageway through massive cliffs and huge boulders). Beaver Trail connects Rim Rock with Pounds Hollow. It is .5 miles long.
Illinois 127, south of Pinckneyville, 357-2574, 350 acres of forested hills and strip-mine lakes offer 16.5 miles of trails.
U.S. 50, Sumner. 936-2469. Eight miles of scenic, moderately difficult trails wind through this park; for intermediate hiker, Indian Treaty, Robin, Valley Springs and Tulip trail overlap for about three miles.
From Grand Tower on the Mississippi River to Battery Rock on the Ohio River. 252-6789. This 160-mile trail extends east to west across Southern Illinois. The trail is marked with wooden diamonds painted white overlaid with a blue "i," the symbol of the trail. Terrain varies from moderate to difficult and takes at least 14 days to hike the entire trail.
SALINE COUNTY FISH & WILDLIFE AREA
South of Equality, off Illinois 13. 276-4405. Four trails total seven miles of scenic hiking.
South U.S. 50, Johnsonville. 835-2292. A 4.5-mile nature trail winds through woods and skirts the 194-acre lake.
Stretching from the Ohio to the Mississippi River, the Shawnee offers 270,000 acres of adventure. (800) 699-6637. The unglaciated areas of Southern Illinois boast five natural ecological divisions. They are more than 320 million years old. Spring and fall offer the most comfortable temperatures for trail hiking. There are more than 1,250 miles of paved, gravel, dirt and grass roads in the Shawnee National Forest.
Illinois 145, near Rudement. 253-1060. Just five miles north of Garden of Gods, this scenic trail is moderate, but up and down rocky bluffs. The famous Stone Face is on this trail.
Illinois 146, Elizabethtown. 287-2201. Scenic hike to the highest bluff, 160 feet, on the Ohio River.
Forty-five miles long from Harrisburg to Karnak. 658-2168. For biking and hiking. No motors, hunting or horses. One percent grade, 99 percent wooded. Six trail heads for parking. The landmark tunnel is 543 feet long.
WAYNE FITZGERALD STATE PARK
Exit #77 off I-57, Whittington. 629-2320. Four-mile hiking/biking trail, nine-mile bridle trail, all in the Rend Lake area.
WAR BLUFF WILDLIFE SANCTUARY
Illinois 146, Golconda. 683-6702. This wildlife sanctuary, with 10 walking tails, supports young and old forest and more than 530 types of plants.
Cache River hiking trails
There are more than 21 miles of designated foot trails within Cache River State Natural Area. Other than Little Black Slough Trail and Tupelo Trail, which are considered moderate in difficulty, the trails are easy to walk. A five-mile segment of the 45-mile-long Tunnel Hill State Trail will pass through the region, providing expanded opportunities for hikers and cyclists.
Paralleling the Karnak-Belknap Road on its northern side, the Tunnel Hill Trail will link Little Black Slough, the Lower Cache unit and the Henry N. Barkhausen Wetlands Center.
TODD FINK-HERON POND TRAIL
(1.5 miles) with access at the Heron Pond access area. This easy trail includes a truss bridge over the Cache River and features a floating boardwalk to the middle of Heron Pond's cypress pond.
There are 10 interpretive panels located along the trail.
LITTLE BLACK SLOUGH TRAIL
(5.5 miles) with access via Wildlife Bluff, Marshall Ridge and Heron Pond areas. Bald Cypress and tupelo swamps, sandstone bluffs, floodplain forests and hillside glades highlight this moderately difficult trail that gives hikers passage to Boss Island.
A rock ford on the Cache River, difficult to cross during high water, must be negotiated 1.5 miles west of the Wildcat Bluff access.
(1 mile) with access east of the Wildcat Bluff access area, taking visitors along the edge of a high-quality hillside barrens, this trail provides an overview of the Cache River, its swamps and floodplain forest.
(2.4 miles) with access via Heron Pond, Wildcat Bluff and Marshall Ridge areas. Linking Heron Pond Trail and Little Black Slough Trail, this easy hike offers a chance to observe the state champion cherrybark oak tree.
(2.8 miles) with access via the Marshall Ridge area. Winding through reforested fields, this easy trail connects with the Linkage Trail and provides a gateway to Heron Pond or Little Black Slough.
(2.5 miles) with access via Marshall Ridge Trail and access area. This moderately difficult trail begins a .25-mile north of the Marshall Ridge access area and goes through rolling upland forest to the southern shoreline of Little Black Slough. It gives excellent views of cypress, tupelo gum trees and swamp.
LOWER CACHE RIVER SWAMP TRAIL
(2.5 miles) with access via the Lower Cache River area. Parallelling Cypress Creek and Cache River on a high earth berm, this trail takes hikers to a cypress and tupelo swamp. It is a great place to hear the rhythmic croaking of tree frogs at dusk in the spring.
With 3,000 linear feet surfaced in aggregate, much of the trail is accessible year-round, except during periods of flooding. A 1,000-foot handicapped-accessible trail, located west of the toilet, ends with a viewing platform overlooking the swamp.
A 20' x 28' picnic shelter is available with privy toilets, water hydrant and drinking fountain.
(250 feet) with access via the Big Cypress area on the Lower Cache River. This short flood-plain forest trail takes visitors to one of the bald cypress trees older than 1,000 years and whose base circumference is more than 40 feet.
SECTION 8 WOODS NATURE PRESERVE BOARDWALK
(475 feet) with access via Section 8 Woods area. Passing through a cypress-tupelo swamp and a flood-plain forest, this handicapped-accessible boardwalk ends with a view of the state champion water tupelo. Along the boardwalk, 10 tree species are identified and there is an interpretive panel on nature preserves and champion trees.