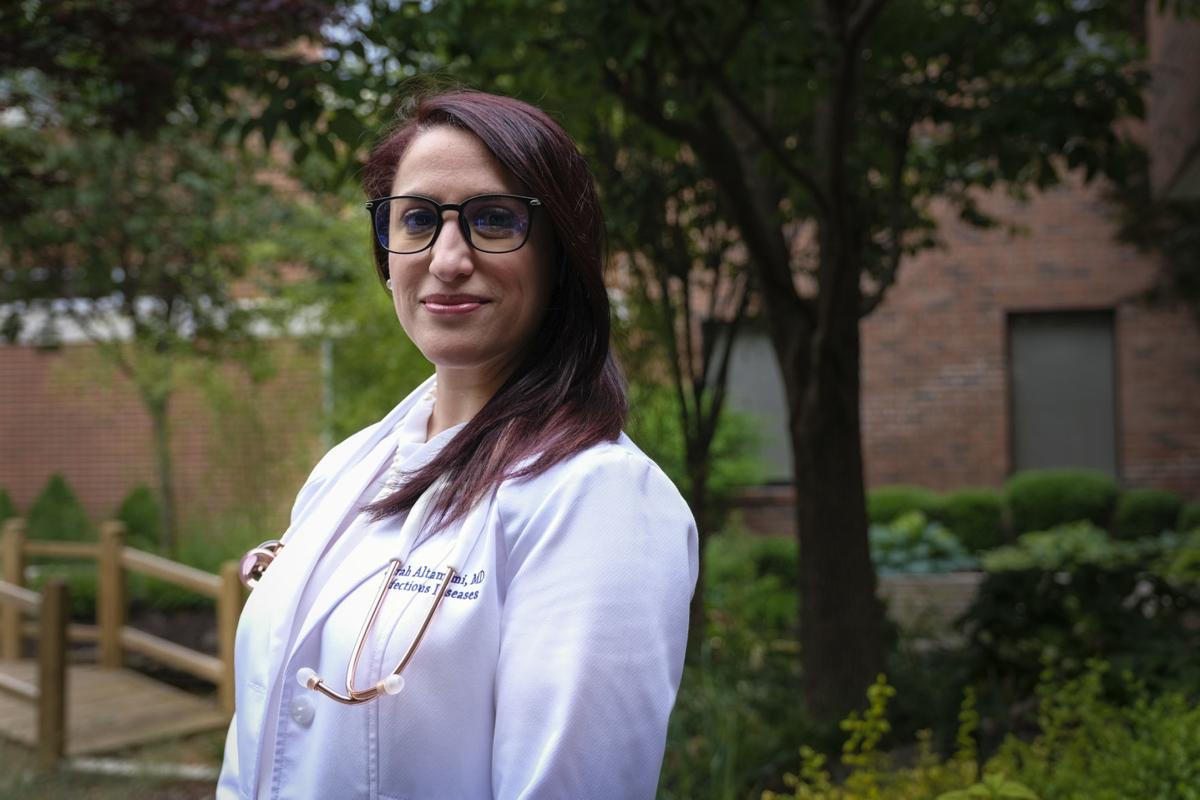 Sarah Altamimi always knew she wanted to be a doctor – more specifically, an infectious disease physician - but she never imagined she would encounter a pandemic during her career.
"I was asked to work in SIH System Incident Command as a medical technical specialist during the initial response to the COVID-19 pandemic in mid-March. While I didn't know what to expect at first, my additional training in hospital epidemiology and infection prevention helped me navigate these unprecedented times," said Dr. Altamimi.
Dr. Altamimi's hands-on guidance played a pivotal role towards integrating medications critical in the fight against COVID-19, specifically Remdesivir and convalescent plasma. She worked closely not only with SIH leadership but also hospitalists, pulmonologists and other critical care specialists to help determine when those therapies were best indicated for each patient. Now months into the pandemic, her colleagues continue to rely on her expertise. Today, Dr. Altamimi credits the crisis for shaping her to conquer future challenges.
"No one had been fully prepared for a global pandemic, but the great training and social support from family and friends as well as the support from our leaders helped me accomplish my mission in helping others," reflected Dr. Altamimi.
Dr. Altamimi was born and raised in the eastern province of Saudi Arabia. She spent part of her childhood in Houston, Texas, where she received her early education.
"I have five brothers and sisters, the majority of whom live overseas. I also have an adorable orange tabby cat named Sugar who I rescued in 2014 when I was an infectious disease fellow in Massachusetts."
From a young age, she wanted to become a physician and never considered another career path.
"I wanted to use my love for science and desire to help others in a meaningful way. I specifically chose infectious diseases because of the intellectually challenging nature of the specialty. Infectious disease physicians conduct 'detective work' needed to diagnose mysterious cases. I like that each patient is unique and has their own story to tell. In this medical specialty, we see a large variety of disease; you will never get bored. The joyful feeling you get from successfully diagnosing and treating a complex patient is like no other."
Her biggest motivator? Her mother.
"She has been my biggest cheerleader and constant support system throughout the arduous journey of medical school and I would not be where I am today without her. There were many late nights of studying where she would wait for me to go to bed before she herself would turn in for the night. Knowing this, I would wait until her light was off and return to my studying. It wasn't until years later that I learned she knew all along what I was doing and we both laughed about it. Medical school begins after high school in Saudi Arabia and at 18 years old, it's difficult to commit to a career for the rest of your life. There were definitely times when the training felt too difficult and I wanted to quit. But with my mother by my side encouraging me every step of the way, I've been able to achieve my dream of becoming a physician."
Making Southern Illinois 'home'
Dr. Altamimi said she likes the welcome feeling she has received from people in the area.
"The thing that stands out to me most about Southern Illinois are the people. I felt welcomed and felt like I belonged here from the first time I visited. I've built great friendships that I know will last a lifetime."
That feeling of belonging is shared. Friends are quick to point out Dr. Altamimi's kindness and generous spirit.
"To her patients, Sarah is known for helping them fight off some of the most infectious diseases, but to her friends, she is known for her infectious personality. From sitting back and drinking an ice cold Izze (flavored sparkling water) on her patio to having a formal dinner at a local restaurant, Sarah is the friend you can always count on. She is always there with open arms - a sounding board - a friend with advice. Sarah is one of a kind," shared a friend and colleague.
When it comes to down time, Dr. Altamimi has a spirit of wanderlust.
"Pre-COVID, I loved to travel as much as possible. I also really enjoy trying new restaurants and cuisines."
Along with the travel bug comes a sense of adventure.
"I've been skydiving, zip-lining and rappelling. Next on my list is bungee jumping."
If she weren't a physician, Dr. Altamimi said she would most likely be an interior designer.
"I've always loved taking a plain space and transforming it into something fresh and vibrant," she confessed.
Medical school and fellowships
Board-certified in internal medicine and infectious disease, Dr. Altamimi specializes in general infectious disease, HIV/AIDS medicine, healthcare-associated infections and mycobacterial disease. She is a member of the Infectious Disease Society of America, Society for Healthcare Epidemiology of America, American College of Physicians and American Society of Microbiology.
She received her medical training in King Faisal University (University of Dammam College of Medicine) in Dammam, Saudi Arabia. She completed an internal medicine residency at North Shore Medical Center-Salem Hospital/Tufts University, Salem, Mass. and an internship at King Fahd University Hospital, Alkhobar, Saudi Arabia.
Dr. Altamimi completed fellowships at Baystate Medical Center/Tufts University, Springfield, Mass. and Henry Ford Health System/Wayne State University, Detroit, Mich.
Her clinical practice is located at 3314 Patriot Court in Herrin, Ill.