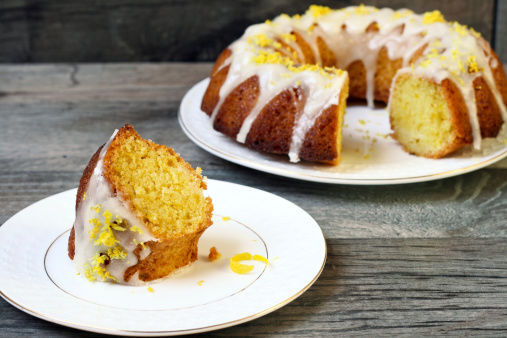 This recipe was adapted from King Arthur's Lemon Bliss Cake. The addition of the green tea adds a slightly floral note with a hint of fresh mint.
1 spearmint-infused green tea bag (single-serve)
2 sticks unsalted butter, brought to room temperature
2 teaspoons baking powder
Bring the milk to a low boil in a saucepan over medium heat. Add the tea bag to the milk and remove the pan from the heat. Let the tea bag steep for 5 minutes. Squeeze the tea bag before discarding it. Set the milk aside to cool to room temperature. 
Heat your oven to 350°F. Using an electric mixer, cream together the butter and sugar in a mixing bowl until fluffy and light in color. Add the eggs, one at a time and continue mixing until they are well incorporated. 
In a separate mixing bowl combine the flour, baking powder and salt. While whisking the batter, add the flour combination alternating with the green-tea infused milk to the batter. Continue whisking until everything comes together. The batter will be thick but should be mostly smooth in texture. 
Pour the batter into a greased bundt cake pan and bake for 45 minutes or until a toothpick inserted into the cake comes out clean. Let the cake set until cooled slightly, then turn it out onto a cake plate. Glaze or ice as desired.