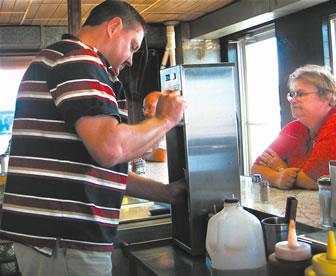 Eighty years ago, $300 could buy you a franchise and a recipe. On Nov. 26, 1928, Elzo Silkwood did just that. He paid $300 to the Maid-Rite company, was given the recipe for their loose meat sandwiches, and opened the Maid-Rite Sandwich Shop in Christopher.
At that time, franchising was a new idea that didn't have the restrictions that comes with it now. Silkwood was given free-reign on how the restaurant could look, and developed the U-shaped diner that is a landmark in Christopher.
Maid-Rite is one of few restaurants in the area that has remained the same after decades. It stayed in the Silkwood family until 1965, when it was sold to Harold Patton. Patton sold it to Joe Roland who hung onto the business until it was sold to the current owners. Mark and Rachel West bought the sandwich shop in 2004.
Because the restaurant has changed hands so few times, the diner has kept its authenticity of the original.
Mark West bought the restaurant in 2004. He had been a St. Louis police officer for 11 years. Wanting to get his family out of the city, Mark, his wife and three young children moved to Christopher and took over the business.
He still uses the same recipe that was purchased by Silkwood, and has many of the same regulars that have dined at the restaurant for years. "If they're not here, you would wonder if they're sick or in the hospital cause something's wrong," says West of his regulars.
Some may wonder how a sandwich shop can stay in business for so long. One of the biggest draws is the Maid-Rite sandwich. It is a loose meat sandwich, freshly ground in the shop, and piled high with onions and mustard. The meat comes to West in 30-pound slabs, which he trims, grinds, and cooks in the shop. West feels that doing all of the preparing in the shop makes for a leaner and tastier sandwich.
Another item that some would say rivals the Maid-Rite sandwich is the homemade pies. Gayla Stoner, a Lick Creek native, has been coming to Maid-Rite for years, following a tradition that her father set.
"He would drive 60 miles for their pie," says Gayla, who was taught to order the pie before the meal, just to ensure that she got the kind that she wanted.
West says that they only make a certain number of pies, and once they are gone, they are not replaced until the following day. Some favorites include Hawaiian, Coconut, and Reese's Pie, while seasonal flavors such as Pumpkin and Pecan are available as well.
Maid-Rite also offers menu items such as Italian beef, polish sausage, barbecue sandwiches and chili. All stem from recipes that were perfected and sold by the Maid-Rite Company in the 1920s.
A new venture that the West's have recently introduced is breakfast. From 6 a.m. to 10:30 a.m., Maid-Rite serves breakfast favorites such as bacon, eggs, sausage, hash browns, and biscuits and gravy. All of these are offered at very reasonable prices, as is everything else on the Maid-Rite menu.
You have free articles remaining.
Nora Benedict, a local patron who was trying Maid-Rite for the first time, approved of her meal.
"It's feel good food. It's all very homey and tastes really good," said Benedict, who finished her meal with a slice of Reese's pie.
So if the holidays have you looking for some nostalgia, Maid-Rite Sandwich Shop might be just the place for you. Remember, order your pie first!
1928: Maid-Rite takes its place in history
Being open since 1928, Maid-Rite in Christopher has seen a lot. Take a trip back in time and see the world as it was the year the restaurant was established.
Starting in January, the Olympic Winter Games were held in St. Moritz, Switzerland. In March of '28, Charles Lindbergh was given the Medal of Honor for his first trans-Atlantic flight. May brought the first regular schedule of television programming, the same year that Mickey Mouse was introduced as 'Steamboat Willie.' In June of 1928, Amelia Earhart became the first woman to pilot across the Atlantic Ocean, and July brought the Summer Olympics to Amsterdam.
Some famous public figures that were born in 1928 include blues artist Fats Domino, poet Maya Angelou, artist Andy Warhol, and musician Bo Diddley.
The price of a loaf of bread in 1928 was nine cents. A gallon of milk was 56 cents, while a gallon of gas was 21 cents. Average rent of a house was $12 a month, and stamps were 1 cent. Though the prices have gone up since 1928, one thing has stayed the same: Maid-Rite Sandwich Shop in Christopher.
Who: Maid-Rite Sandwich Shop
What: Loose Meat Sandwiches, homemade pies, made-from-scratch malts
Where: 103 W Sylvia Avenue, Christopher, IL 62822
How to Get There: Turn North onto 148 by the Marion Airport. Follow 148 through Herrin and Zeigler until you get to Christopher. Maid-Rite is on the left side of the street across from Larry's Pit Barbecue.