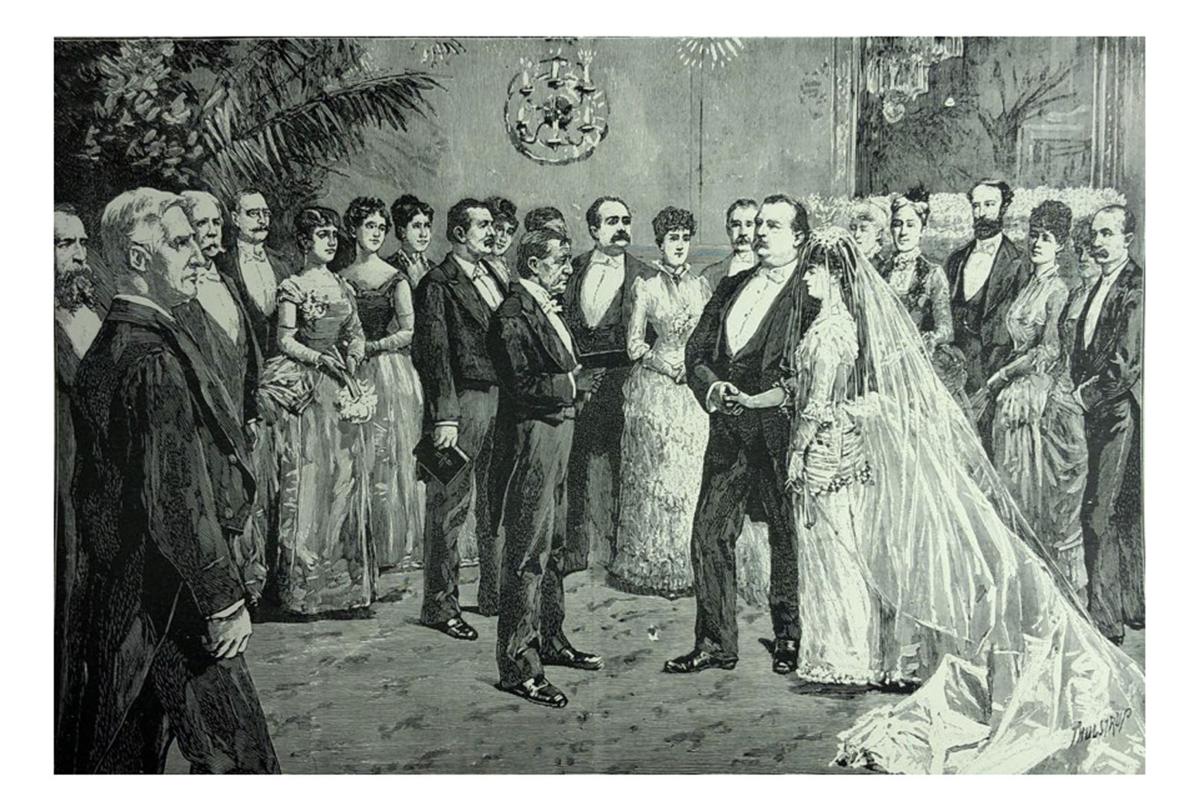 When Grover Cleveland took the oath of office of the president in 1893, he was single. For the first 15 months, his sister Rose Cleveland acted as first lady. Miss Cleveland took on the social responsibilities of the White House with ease.
All of that changed on the evening of June 2, 1886, when Cleveland married 21-year-old Frances Folsom in the Blue Room at the White House. This marriage provided the new Mrs. Cleveland the historical distinction of becoming the youngest first lady in history. The ceremony was followed by an informal reception and dinner for their 28 guests.
President and Mrs. Cleveland celebrated their wedding with a 25-pound fruitcake, a common wedding cake until the 1900s. Each of their guests received a small decorative Tiffany box containing a piece of the wedding cake. One of these boxes — with cake — is on display at the Grover Cleveland Birthplace in Caldwell, New Jersey.
Both beautiful and graceful, Frances was loved by the American people from the beginning. Her official duties as social hostess of the White House began with the New Year's Day reception in 1887. While she would have a four-year break between President Cleveland's two administrations, she continued her first lady responsibilities from 1893 to 1897 while raising the first three of her five children.
Life as the youngest first lady
President Cleveland proposed to Frances in the spring of 1885. The White House arranged for a nine-month journey through Europe for Frances and her mother, Emma. They visited seven countries, where Frances learned the various cultures and customs, as well as formal protocol. This was done somewhat for public appearance so Frances would be immediately liked once becoming first lady.
Grover Cleveland did not like French cuisine, but was obligated to serve his official guests such as they liked. His personal preferences for food were much more hearty, liking corned beef and cabbage and pickled herring over rich French dishes. He was altogether Victorian in his manners and his standard of entertaining. As first lady, Frances abided by these standards as social hostess of the White House.
Although she abided by rules set forth by her husband, Frances Cleveland used her influence as first lady in ways that would uplift American women. She hosted Saturday morning receptions at the White House to allow working-class women to visit because they were unable to during the work week.
Where Rose Cleveland had banned the serving of alcohol at the White House, Frances allowed it. Her hope was to set an example that women would follow — she turned down her own wine glass at state dinners.
As hostess of the White House, Frances was a bit more traditional than her predecessors. Cleveland's second term as president was shrouded in an economic depression (1893), which hampered social fanfare. This didn't prevent Frances from continuing her role, however. While President Cleveland was recovering from surgery for jaw cancer, Frances continued in her public role and became the first first lady to call on the Queen Regent of Spain while she visited Washington.
The snickerdoodle
The favorite Cleveland family cookie has been reported as the snickerdoodle. Once called a "snipdoodle", the snickerdoodle became popular in the late 1800s. The word was first recorded in the Oxford English Dictionary in 1889.
Nobody knows exactly how this cinnamon sugar cookie got its name. One possibility is the German word "schneckennudeln" which refers to a round cinnamon pastry. If this were a favorite of the Cleveland's, it was likely due to its "newness" at the time. Given it's cinnamony goodness, who would doubt it was a favorite? It certainly has been a popular cookie in America's sweets history.
Satisfy your cravings
With our weekly newsletter packed with the latest in everything food.