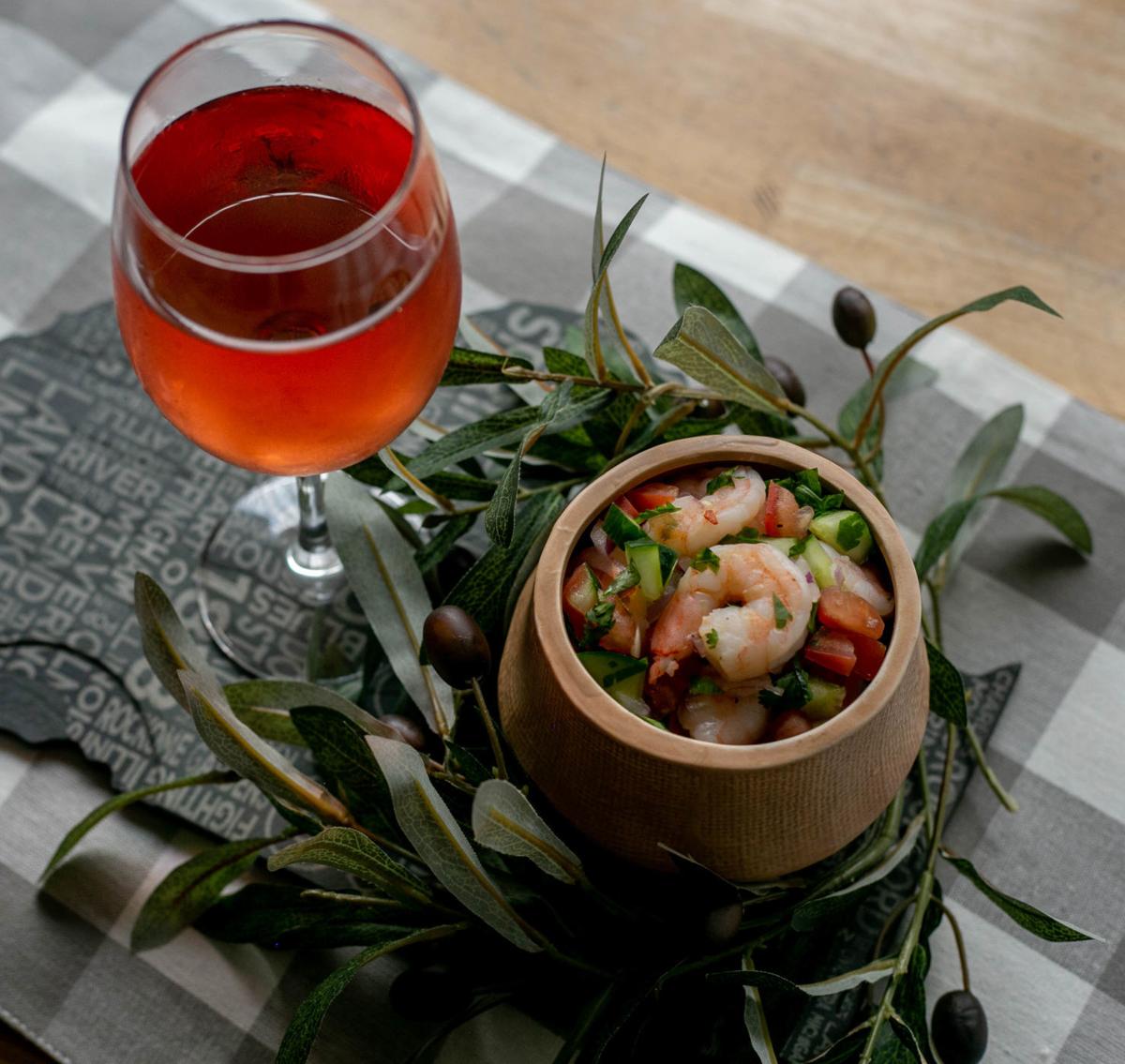 Lisa Ellis, executive director for the Illinois Grape Growers and Vintners Alliance, didn't know the organization's annual conference in late February would be one of the last large events she would host. In the months that followed, the novel coronavirus spread through Illinois, canceling events and closing businesses.
Ellis and the IGGVA staff continue to push their project to make rosé Illinois' official state wine, and "unite" the industry with a common product. They are doing so in unique ways in the era of COVID-19 — including a virtual wine tasting recently hosted for hospitality industry professionals and media from across the state.
For the tasting, I received four local wines from a friendly delivery driver who handed me a hefty box at my home. Inside were four wines sent by the Illinois Grape Growers and Vintners Alliance, including a Chambourcin Rosé from August Hill Winery in Utica, a Flyaway Rosé from Kite Hill Vineyards in Carbondale, an Estate Rosé from Walker's Bluff in Carterville and a Rosato from Alto Vineyards in Alto Pass.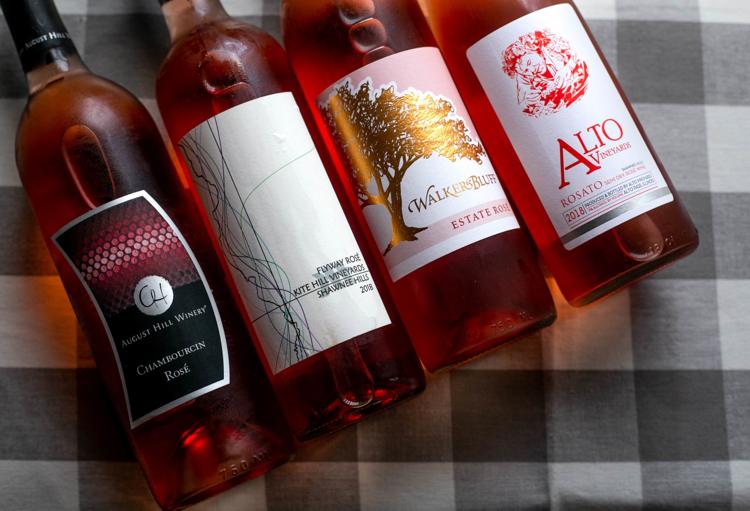 Attached was a note from Ellis and Brad Beam, the enology specialist for the IGGVA, welcoming participants to the organization's first virtual wine tasting, along with some simple instructions on chilling the wines and suggestions for pairing.
"Should you desire to pair your wines with food, we have the following recommendations: shellfish, especially shrimp (...) barbecue, burgers and pizza; or spicy Asian and Mexican cuisine," the note said. I didn't have to look further than the first line.
I decided to make a fresh shrimp ceviche — a Latin seafood dish that is said to have originated in Peru, typically made from fresh raw fish cured in fresh citrus juice. I followed a recipe from food blog "Dinner at the Zoo" with some slight modifications. I split the recipe in half after questioning if I could eat 2 pounds of shrimp on my own.
After logging into Zoom — a video conferencing platform that has gained traction during the pandemic — I was greeted by Ellis and Beam. The pair explained their push to popularize rosé, the history of wine in Illinois and the impact of the industry before dividing the group into smaller rooms for the wine tasting.
Beam said there has been a winery boom through the state, with the number of wineries roughly doubling in the last 10 to 15 years and now racking up to about 165 tasting rooms in Illinois. But, in speaking about the beginnings of the rosé project, Beam noted the grapes grown in northern Illinois and Southern Illinois are unique.
"One of the challenges we have as an industry in Illinois is trying to find something that everybody can do and do really really well," Beam said. He said the group talked about different wine styles about five years ago and the organization ended up picking rosé because Illinois' grapes "make amazing rosé wine" no matter where in Illinois the winemaker is located.
After picking a style of wine, the IGGVA began accepting entries into a rosé state-recognition program through a series of meetings in which there are tastings among peers and professionals to assess each submission, according to Beam. Each subsequent year since the program's inception, there have been roughly 20 wines submitted with the majority being accepted into the program.
To be accepted into the program, a wine can't be too dark in color, must have fresh fruit and floral aromas, have no faults in the wine, must be 100% Illinois-grown, more than 75% of the wine has to come from red or gray grapes, and it must be crisp and refreshing.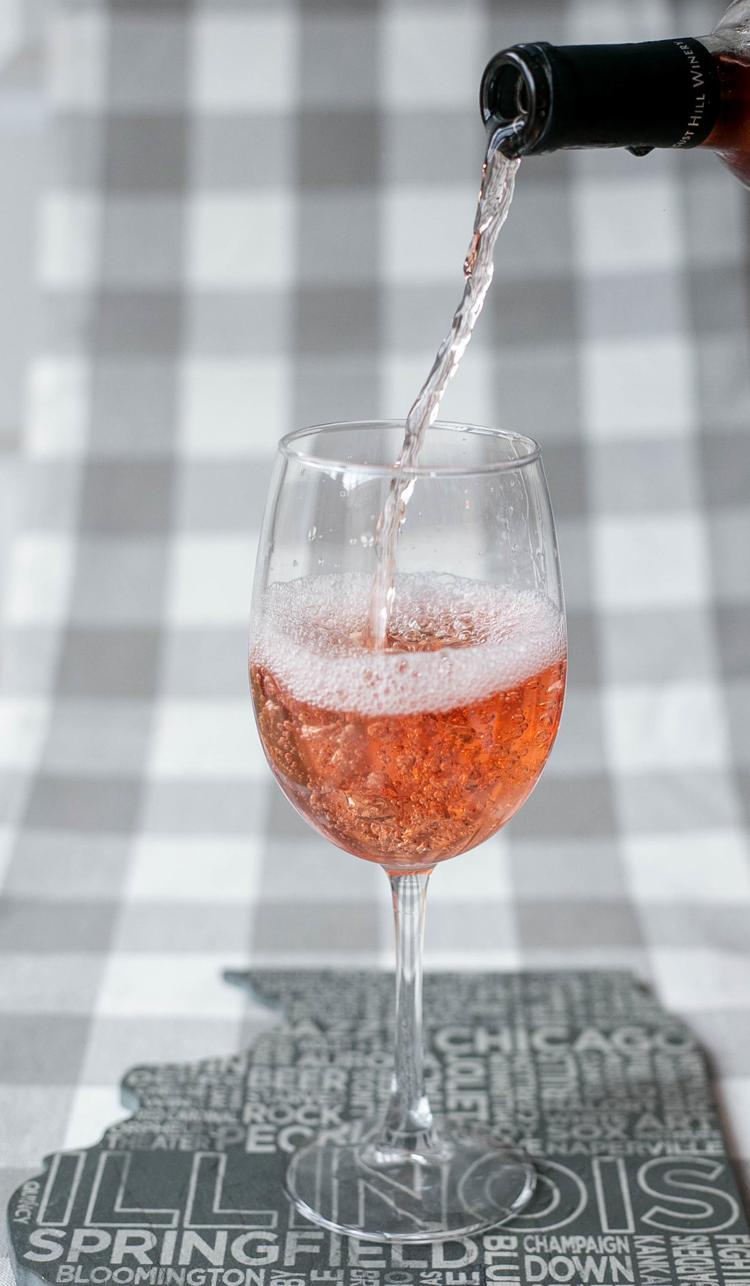 Illinois rosé wine has won accolades from across the country, including recognitions in the "Experience Rosé" contest — an international rosé-only wine competition held annually in California.
"They heard about what we were doing with the signature rosé style to unite the industry around and they got very excited," Beam said. He said while initially, some may have believed the Illinois wines wouldn't stand out in the competition, that was far from the case.
In 2018, the first year the organization entered the contest, all of the Illinois wines placed silver or above and four received gold or double gold award designations, according to Beam. He said when he attempts to sneak in a French wine in blind taste tests and for the casual consumer, they often express they love Illinois wines just as much, if not more, than their European counterparts.
History and economic impact
The wine industry in Illinois has a storied history dating back to the 1850s, according to Ellis. She adds there was a decline after the Great Depression because vintners began pulling their grapes out of the fields to make way for different crops that would be more beneficial at the time.
Ellis said Illinois was boasting 12 wineries in the state in the late '70s, but since has boomed to 165 tasting rooms — which are in a combination of vineyards and wineries.
About 278,000 individuals made over 900,000 trips to Illinois wineries and vineyards last year, according to the 2019 Illinois Wine Economic Impact Study by John Dunham & Associates, which was commissioned by the IGGVA.
"In addition to spending in the wineries and vineyards on wine, food, events, etc., these people spent an estimated $1.09 billion in the Illinois economy," according to the study. The economic activity created by the visitors directly generates about 5,700 full-time jobs — paying about $167 million in wages and benefits while contributing $381.4 million in economic activity to the state.
No matter what is thrown at Illinois winemakers — a global pandemic included — Beam said the industry has been welcoming throughout the years and willing to help one another in tough times.
"The spirit of our winemakers (...) hasn't changed a bit," Beam said. "They're very open, they're very sharing, there's very much a sense of community."
Shawnee Hills Wine Trail
Three out of the four wines I received were from Southern Illinois, which boasts a vibrant wine scene, including over roughly two dozen wineries below Interstate 64.
The Shawnee Hills Wine Trail, which is between Jackson and Union counties, was designated as a American Viticultural Area in December 2006 — the first in Illinois. An AVA is a designated wine grape-growing region in the United States.
Wineries in Southern Illinois have also participated in the Illinois Rosé project in bringing together the industry with fellow winemakers across the state. Brandy Nance, executive director of the Shawnee Hills Wine Trail, said rosé is a good unifier because it's something everyone can make with the grapes they grow.
"This rosé project is really a great way to get together and say how we can make the best rosé possible whether it's chambourcin, or cabernet franc or another grape from another region," Nance said. She said throughout Southern Illinois, and within the wine trail especially, there is "a really great group of people that have a giant passion for wine."
Scott Albert, winemaker at Kite Hill Vineyards in Carbondale, said the key to success in their Flyaway Rosé wine is harvesting grapes earlier in the season because it "preserves acidity" and has more citrus in the aroma versus a later harvest where you "get cherry and strawberry-like characters."
"I think part of the thing about rosé that's so fun is that it's really refreshing, and it's light, and it's great when it's hot outside," Albert said. "I think that earlier picking on it lends itself a little better to that type of wine for that kind of occasion."
Nance said Southern Illinois wineries have brought in people from as far as New Zealand, and the recognition local wineries have received for their rosé in contests has helped.
"We are really blessed right here as a region to have a lot of award-winning vineyards and wineries but there is so much to do and so much to see here," she said. "We're really making a name for ourselves here in Southern Illinois."
Satisfy your cravings
With our weekly newsletter packed with the latest in everything food.