I've written on multiple occasions about the ups and downs of my experience in quarantine.
There have been heartening moments and distinct challenges. Over tea I have reflected on the world around me in an effort to tune out the fear in the minds of many. I have heard glimmers of hope in local church bells. And, in an effort to continue my reflection, I've tried to think of ways to use this unexpected time at home (and boy, there's a lot of it) for some greater good or self-improvement.
This has meant spending a lot of time in the kitchen. As I have cooked meals for my family, something my reporter's schedule hasn't always allowed much of, I also reflected on the ways food connects people. This happens not only at the dinner table, but also brings us close to people we can't see — either because of quarantine or some other distance-maker. I know my own feelings on this, but I wanted to reach out to someone who has far more experience and expertise on the subject than I do.
Jacques Pepin started his seven-decade career in the kitchen as a teen apprentice in France. He climbed the ladder from errand-boy and dishwasher to commis, and then to head chef. Pepin has cooked in small restaurants in the countryside around Lyon as well as at the Élysée Palace, the home of the French president.
After moving to the U.S. in 1959, Pepin found success in New York's most prestigious French restaurants. He then took over in the research department for hotel chain Howard Johnson. All this came before he wrote his 30 cookbooks and filmed more than 500 episodes for his numerous public television shows. It's not an overstatement to say that Jacques Pepin taught America how to cook. I am still in awe that he took time to talk with me for this.
"The only thing that I can remember is when I was a child in the early '40s, I was 7, 8 years old during (World War II) where we had to hide, where we had nothing to eat … even that was different," Pepin told me when asked if he has ever experienced anything quite like COVID-19 and the resulting halt to public life.
Pepin said he and his wife are used to spending time at home, but being required to do so has made things a bit different. An avid gardener and painter, Pepin said it has given him new perspective on the world around him.
"I do a lot of painting, and I don't think that nature has ever been as beautiful as it is now," he said.
But thinking more broadly, Pepin said he has hope that all this time at home will reinvigorate a family's connection in the kitchen.
"Sharing with the kid, sharing with the family. So, getting closer together," he said. "It's maybe a good thing coming out of (quarantine)."
He recalled stories from his own life of how food and cooking together created a platform for relationships. This is obvious when looking at his time spent with fellow food luminary Julia Child, or with his longtime friend and former pastry chef Jean Claude Szurdak. But his memories of time spent cooking with his daughter and granddaughter stand out.
He recalled holding his daughter, Claudine Pepin, as he stood at the stove, letting her stir the pot. He knew that if Claudine, a toddler at the time, "made it," she would eat it. A practical parenting hack, this also set up the start of a lifetime of connection. Similarly, with his granddaughter, Shorey, Pepin said he would walk the garden with her, pointing out which herbs were which and stopping to taste them.
"That was a background against which we can begin talking," Pepin said. "By creating that type of language where we can communicate together, then it extends to other type of discussion and certainly extends to sitting down around the table and talking as we are eating."
Pepin also recalled his most prominent food memories, few of which came from his time cooking for French presidents or other dignitaries.
"I worked in the greatest places in the world, very fancy restaurants, I worked for very important people, too. But, frankly maybe what I remember more is the taste of those dishes that I had as a child. Those are very essential," Pepin said. His mother's impact on his tastes are still central to the food he makes.
"I could close my eyes and if I have the chicken in cream sauce that my mother used to do I would recognize those tastes," he said.
"The making of a recipe is the duplication of those tastes," he said.
For his part during quarantine, Pepin has taken it upon himself to film dozens of quick daily demos from his home kitchen that are shared through various online platforms — he said some of these are done in lieu of having to cancel public appearances.
But more than that, he said he hoped that his short videos would reinvigorate people's interest in food. The recipes he does are not fancy or overly complicated — though he is absolutely capable of both. Instead, he focuses on leftovers and quick lunches. Things like quick apple fritters or French toast made from leftover, melted ice cream.
Jacques' style is not one of exclamation or trendiness. The excitement of watching him cook is in the small details — the absolute precision with which he debones a chicken or peels a tomato. My mother once said she could watch Jacque mince garlic for hours, and I can't disagree. His voice is reassuring, his techniques and dishes all are classic. As I've grown older, my fondness for his programs, and for the man himself, have only increased.
His shows have been a pillar not only in my growing up, but also in the growing up of my children, too. So, of course I threw into my interview a question from my 5-year-old son, Henry. He wanted to know if Jacques could make a cake with a boat on top — of course, he said he could. After my half hour with Jacques, I had a lot of thinking to do, but more than that, a lot of cooking to do. First things first, I made a chocolate cake and stenciled a boat on top, as Jacques had suggested.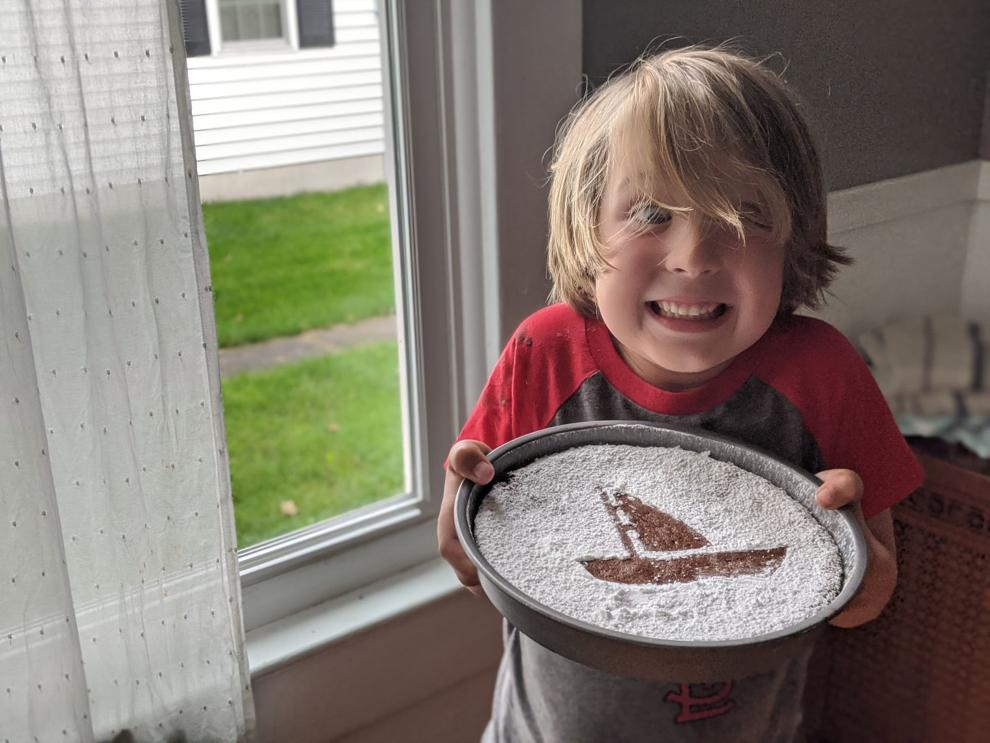 But next, I decided to cook his recipe for a simple trussed, roasted chicken with pan sauce. To complete the menu, I also made his glazed carrots and served it with a salad dressed with a sherry vinaigrette made with chicken drippings. It was a splendid meal. Yes, it tasted good, but more importantly, I watched my family pile plates and eat. This was the true joy, even if I had to eat my plate while simultaneously attending a marathon online City Council meeting.
With the extra time at home, I have taken the opportunity to make special breakfasts. No longer just the stuff of weekends, pancakes are on the table more than just Saturdays. Dinners, too, have been more special. It's been meaningful to me to get back into the kitchen, a place I've long found a lot of comfort. I have baked more bread, created menus that reflect not just my food interests, but also my food history. I baked the bundt cake my mother routinely had on the table and made a pot roast as my great-grandmother would have. But more than all of this, I have been able to share these meals with my children and my wife. 
None of this is to say we don't have last-minute meals, but more often we are able to sit across from one another and eat food that, I hope, will be the stuff of memories.
Isaac Smith is a reporter for The Southern Illinoisan. He can be reached at isaac.smith@thesouthern.com or 618-351-5823. Follow him on Twitter at @ismithreports.