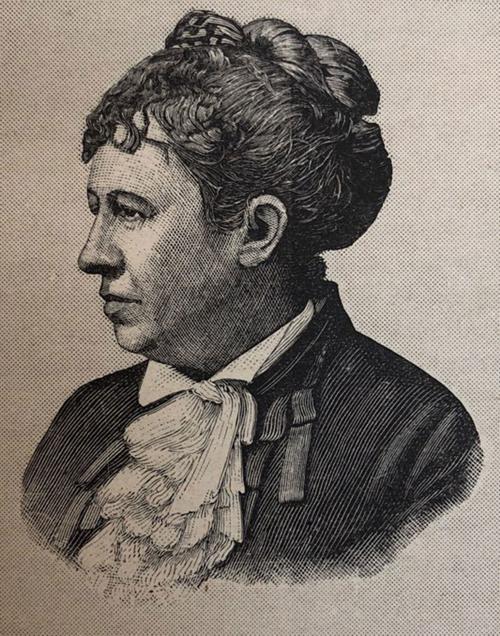 Julia Boggs Dent was born on Jan. 26, 1826 in St. Louis, Missouri to Frederick and Ellen Wrenshall Dent. The Dent family was highly social, which undoubtedly allowed Julia to learn skills that would later serve her well.
Julia met Ulysses S. Grant through her brother, Fred. Both men were students at West Point Academy at the time, and Ulysses began accompanying Fred on visits home. Julia and Ulysses were wed on Aug. 22, 1848.
First lady Julia Dent Grant
Mrs. Grant served as first lady of the United States of America from 1869 to 1877. She has been regarded as an impeccable White House hostess. During her time as first lady, she held weekly receptions, afternoon teas and organized many state dinners along with the Independence Day and New Year's Day public events.
Among the first guests in the Grant White House was Prince Arthur, third son of Queen Victoria. Thus began the rebuilding of the White House as the center of social society in Washington after Andrew Johnson's impeachment trial had all but eroded any festivities.
After this somewhat ill-performed dinner, first lady Grant fired the chef and hired an Italian steward named Valentino Melah. Melah had vast experience catering in upscale hotels and helped make the food served at the White House famous in its time. French cuisine regularly graced the dinner table, but Melah indulged Mrs. Grant in her love of Southern food, as well.
While up to 35 dishes being served wasn't unheard of, dinners were only allotted two hours of time at the table. Guests would then retreat to the Red Room or Blue Room of the White House for conversation before the evening would draw to a close.
The food wasn't the only fancy fare. During elaborate dinners, the state dining room and table were elaborately decorated. Garlands of roses and evergreens draped from the ceiling and walls, and the center of the table was decorated with garlands of flowers and fruit.
Limoges china made by Haviland and Company graced the dining table during state dinners. On each piece was a different hand-painted decoration of flowers, fruits or leaves. The centerpiece frequently featured was a gift from the Mohawk tribe to the White House — a silver ship with a depiction of Hiawatha.
During the social season, the White House doors remained open with Tuesday receptions. Mrs. Grant was adamant that all be permitted to attend. Often, the Capitol's aristocratic ladies would rub elbows with chambermaids, but by all accounts, everyone enjoyed themselves.
Mrs. Grant believed that the image of the first lady should be as prestigious as that of the wives of foreign leaders, and she worked tirelessly toward this goal. She also sought to improve the stature of the wives of Washington politicians and those of the diplomatic corps. While Mrs. Grant defended women's rights, she never publicly supported women's suffrage.
Upon leaving the White House, the Grants traveled the world for two years before settling in New York. Just before President Grant died in 1885, he was able to finish his memoirs — a task that allowed Mrs. Grant to live comfortably until her death in 1902 at age 76.
Satisfy your cravings
With our weekly newsletter packed with the latest in everything food.