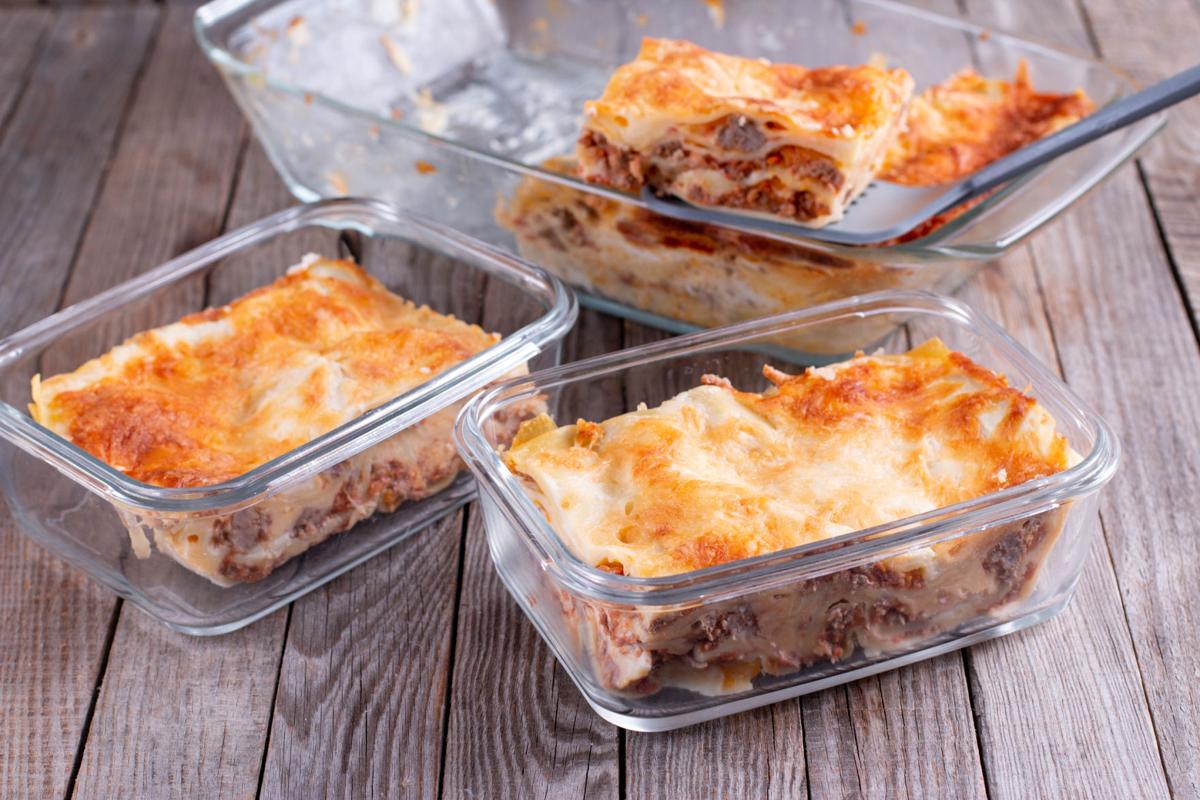 Once baked and cooled, this lasagna will keep in the freezer up to three months without quality loss. Make one for dinner and one to freeze! Use a freezer-safe glass dish or foil pan for the lasagna you plan to freeze. Using oven-ready noodles reduces cooking time.
Yield: 2 lasagnas, 10-12 servings each
Time: About 1 hour 30 minutes
Ingredients for Each Lasagna
1 pound ground beef or bulk Italian sausage
1 container (15 ounces) ricotta cheese
1 box (9 ounces) oven ready lasagna noodles
3 cups shredded Mozzarella cheese
Directions
Preheat your oven to 375°F. In a skillet over medium heat, brown the ground beef, using a wooden spoon to break up the beef into small pieces. When the beef is cooked, remove from the heat and set aside. While the beef is cooking, combine the ricotta, Parmesan, and egg in a bowl and mix well. Set this aside.
Spray a 13-inch by 9-inch baking dish with nonstick cooking spray, then spread 1 cup of marinara sauce on the bottom of the dish. Place 3 lasagna noodles (sheets) side by side on top of the sauce, Spread 1 cup of sauce on top of the noodles then layer about ¼ cup of the ricotta mixture on top of the sauce. Top this with about ⅓ cup of the ground meat and ¼ cup Mozzarella. Add the second layer of noodles and repeat 3 more times. Ladle 1 cup of sauce on the top layer of noodles then sprinkle the remaining Mozzarella over the sauce.
Cover with foil and bake for 25 minutes. Uncover and bake 5 minutes more to brown the cheese. Let the lasagna rest for 15 minutes before serving.
To freeze: Let the lasagna cool completely to room temperature. Cover tightly with foil and freezer-safe lid if your dish has one. If it does not, cover the foil with parchment or wax paper and secure with freezer-safe tape. Label and freeze in a level location for up to 3 months. To bake, allow the lasagna to thaw overnight in the refrigerator. Remove the lasagna from the refrigerator about 30 minutes before baking. Place the lasagna in the oven as it comes to 375°F (this prevents cold glass from cracking when placed in a hot oven), then bake for about 30 minutes or until it is hot and bubbly.