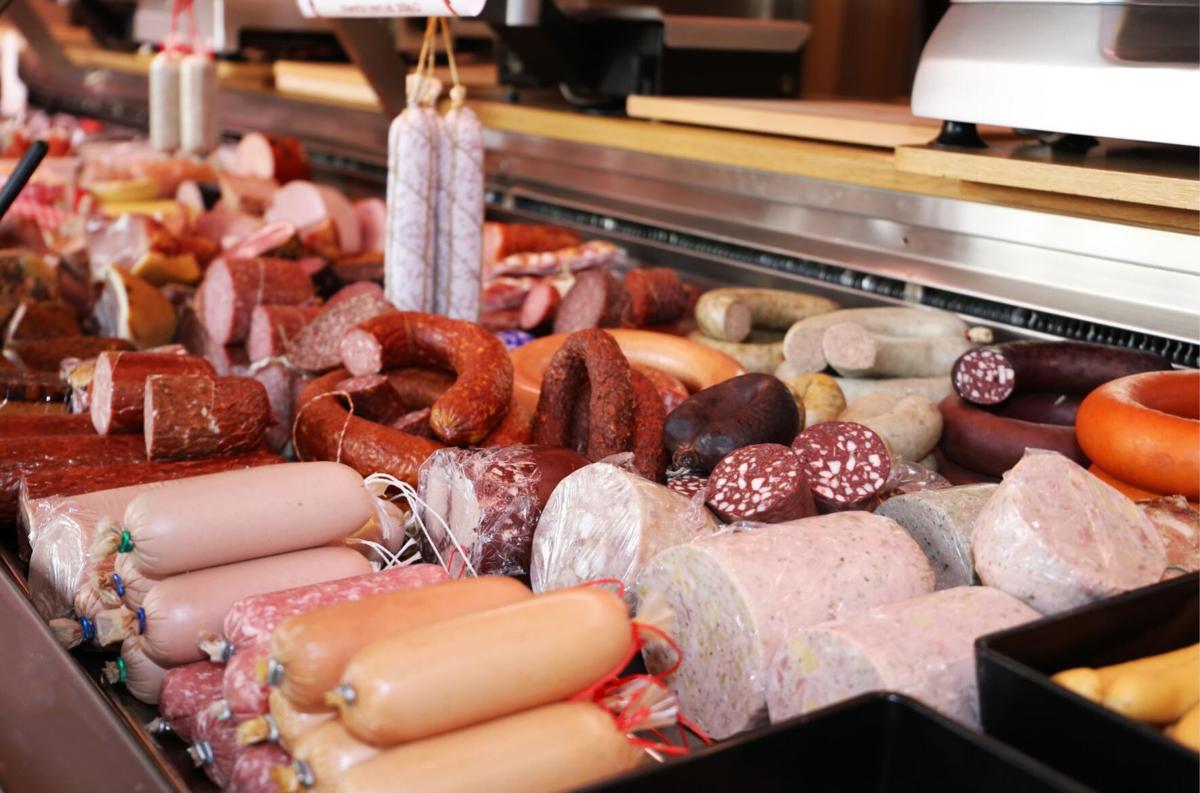 What do you imagine when you hear the word "deli"? Do you think about the grocery store department where you get your weekly cold cuts and cheese by the pound along with a tub of potato salad? Or, do you envision a place where you can order an overstuffed pastrami or corned-beef sandwich with a crunchy pickle on the side?
Deli is short for delicatessen, a word with Latin roots. The German "delikatessen" was borrowed from the French "délicatesse", meaning "delicious things". Delicatessens have been common in Europe since the early 1700s when goods like bananas and plums were first imported into Germany. Today, European delicatessens sell high quality meats and cheese, but do not have prepared sandwiches, soups or salads like our American versions. 
While some sources say American delicatessens appeared around 1840 and others indicate 1870, what is certain is these early versions were in large cities with large immigrant communities. They offered little more than cured meats like sausages, liverwurst, and ham, along with pigs' feet and picked eggs. Later, imported condiments were added to the offerings.
Some of the oldest and best delicatessen in the United States have Jewish roots. As immigration exploded in the late 19th century with an influx of Germans and Jews, popularity of established Jewish delis soared and the concept began to spread across the United States. While other immigrant groups adopted the deli model for their food businesses, no other culture had as much influence on the American deli as Jewish. 
Brisket, corned beef, and pastrami are pillars of the meat selections while rye and pumpernickel are common bread choices. You may even find chopped liver and tongue on the menu. Bagels, lox, knishes, various soups and wet salads (like potato salad) are also popular. Let's not forget the pickles and mustard… or Russian dressing depending on your taste.
Somewhere on the deli food timeline came the Reuben, a sandwich of corned beef, sauerkraut, Swiss cheese, and Russian (oops, Thousand Island) dressing smashed between rye bread and grilled. Its origin is hotly debated by Reuben aficionados - either New York City or Omaha, Nebraska - just as the inclusion of Russian or Thousand Island dressing. The Reuben sandwich is solidly American, no matter which origin story you root for. It is a tangy mashup of many food cultures and can be found on restaurant and deli menus nation-wide. 
To many, Reubens and all that is served in a delicatessen are as much comfort food as our Midwestern meatloaf and mashed potatoes. They signify tradition in both Jewish and non-Jewish communities and are foods - and a way of life - passed down through generations.   
While the delicatessen is no longer as popular, these tasty gems still dot our communities. Most offer an option to dine in, carry out, or to just shop for quality cured meats, salads, and condiments. They are perfect places to visit when making charcuterie boards for parties, or when you just need that overstuffed pastrami sandwich.