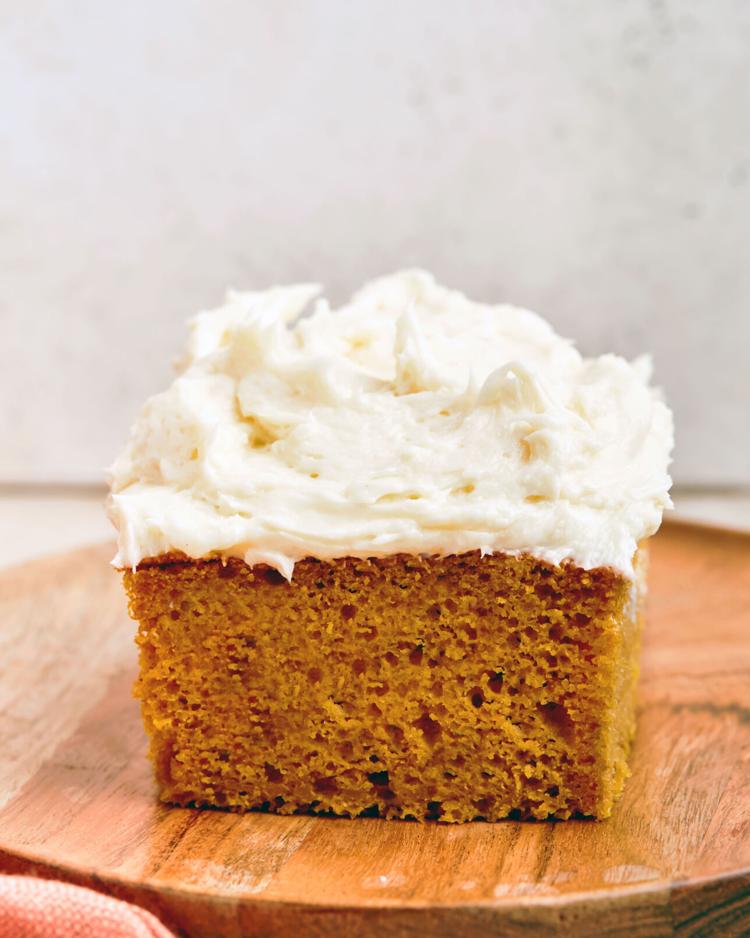 I like to think of pumpkin cake as pumpkin bread's slightly fancier relative. It's just as homey and comforting and easy to make, but because it's dessert you have an excuse to bury it in frosting. It's no wonder it's my favorite way to say hello to fall.
This pumpkin sheet cake is loaded with sweetly scented spices and topped with soft swoops of tangy cream cheese frosting. Making it is simple: Mix, pour and bake. It's also incredibly moist and stays soft for days, making it a very welcome treat for special occasions and midday snacking alike. Here's how to do it.
The best spices for pumpkin cake
For quintessential fall flavor, this cake leans on the classic pumpkin pie spice blend. Buying a store-bought version is the easiest route, or you can make your own blend instead. You can also just use a combination of ground cinnamon, ginger, nutmeg and clove — I've included the amounts in the notes following the recipe. For an extra pop of spice and some pretty color, I like to run a cinnamon stick or whole nutmeg over the Microplane to dust over the finished cake, but you can also just sprinkle on some more pumpkin pie spice.
Yogurt keeps things moist
A mixture of yogurt and oil helps keep the cake moist for days and lightens things up a bit. The slight tang of the yogurt also plays well with the tanginess of the cream cheese frosting. We've made this cake with regular and Greek yogurt, and both work well as long as it's plain yogurt. Use full-fat if you can.
The fluffiest cream cheese frosting
Although the cake can be mixed entirely by hand, I recommend using a stand or hand mixer for the frosting, which whips up the cream cheese, butter and powdered sugar into soft, pillowy peaks that spread onto the cake like a dream. This frosting also holds up well in the refrigerator and doesn't get hard or crusty, as I happily discovered when sneaking leftover pieces straight out of the fridge for a few days. This cake has become a family and friend favorite, and it deserves a place in your fall baking rotation too.
Pumpkin Cake with Cream Cheese Frosting
Serves 15 to 20, Makes 1 (9-by-13-inch) sheet cake
Cooking spray
2 cups all-purpose flour
4 teaspoons pumpkin pie spice
2 teaspoons baking powder
1 teaspoon baking soda
3/4 teaspoon kosher salt
1 (15-ounce) can pumpkin puree
4 large eggs
1 cup packed dark brown sugar
1/2 cup granulated sugar
1/2 cup vegetable oil
1/2 cup plain whole or low-fat regular or Greek yogurt
For the cream cheese frosting:
8 ounces full-fat cream cheese, at room temperature
1 stick (8 tablespoons) unsalted butter, at room temperature
2 1/2 cups powdered sugar
1 teaspoon vanilla extract
1/4 teaspoon kosher salt
1 cinnamon stick or whole nutmeg, for grating (optional)
1. Arrange a rack in the middle of the oven and heat the oven to 350 F. Coat a 9-by-13-inch baking pan with cooking spray.
2. Place 2 cups all-purpose flour, 4 teaspoons pumpkin pie spice, 2 teaspoons baking powder, 1 teaspoon baking soda and 3/4 teaspoon kosher salt in a medium bowl and whisk to combine.
3. Place 1 can pumpkin puree, 4 large eggs, 1 cup packed dark brown sugar, 1/2 cup granulated sugar, 1/2 cup vegetable oil and 1/2 cup plain yogurt in a large bowl and whisk until smooth.
4. Add the flour mixture to the wet ingredients and fold together with a rubber spatula until just combined and no streaks of flour remain; do not overmix. Transfer the batter to the baking pan and spread into an even layer.
5. Bake until a tester inserted into the center comes out clean, 35 to 45 minutes. Meanwhile, place the 8 ounces cream cheese and 1 stick unsalted butter for the frosting in the bowl of a stand mixer (or large bowl if using an electric hand mixer) and let sit at room temperature to soften.
6. Place the cake on a wire rack and let cool completely, 2 to 3 hours.
1. Beat the softened cream cheese and butter with the paddle attachment on medium speed until lightened in color and fluffy, about 3 minutes.
2. Stop the mixer and scrape down the sides of the bowl and the paddle. Add 2 1/2 cups powdered sugar, 1 teaspoon vanilla extract, and 1/4 teaspoon kosher salt. Beat on low speed until the sugar is incorporated, about 30 seconds. Increase the speed to medium-high and beat until the frosting is smooth and fluffy, about 3 minutes more.
3. Spread the frosting in an even layer over the cooled cake. Grate a cinnamon stick or nutmeg over the cake with a Microplane until covered with a light dusting if desired (or dust with more pumpkin pie spice). Cut into pieces and serve.
Recipe notes: If you don't plan to eat the cake within a few hours, cover it with plastic wrap and refrigerate for up to three days. Before serving, let the cake sit at room temperature for about 30 minutes to take the chill off.
If you don't have pumpkin pie spice, mix 2 teaspoons ground cinnamon, 1 1/4 teaspoons ground ginger, 1/2 teaspoon ground nutmeg, and 1/4 teaspoon ground cloves together instead.
Christine Gallary is food editor-at-large for TheKitchn.com, a nationally known blog for people who love food and home cooking. Submit any comments or questions to editorial@thekitchn.com.