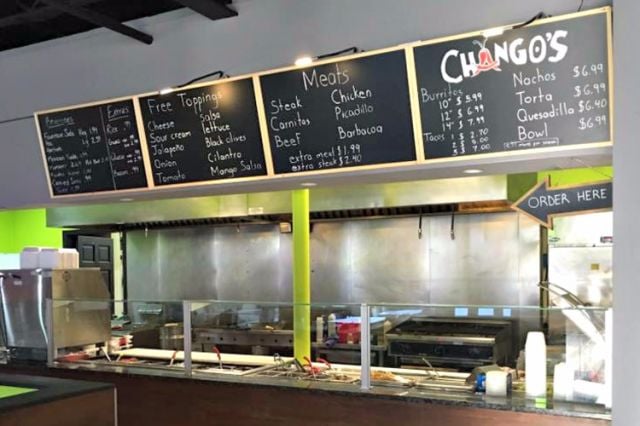 In 2016 the Lopez family of the central Mexican state of Hidalgo brought their extended family and their favorite recipes to the heart of Carbondale and opened Chango's Bar & Grill on the strip.
The restaurant is owned by the Lopez brothers, Emmanuel, Luis and Salvador Jr., but Mom and Dad, Patricia Cortez and Salvador Sr., are part of the Chango's crew, too, along with Emmanuel's wife, Jasmine Alexander, and her father, Jason Alexander.
"We love serving our favorite Mexican dishes," said Emmanuel Lopez, one of the owners. "You won't find Tinga (shredded chicken in chipotle chile sauce) or Barbacoa (slow-cooked, pulled beef braised with Mexican barbecue) anywhere but here."
Maria Botello is the head cook. Lopez calls her the "main foundation" when it comes to the authentic Mexican dishes served at Chango's Bar & Grill.
For most of the customers, it's all about the burritos. The hands-down, customer favorite is the Burrito Bowl, prepared to order, with or without pickled jalapeno juice. Chango's Burritos are a close second.
"A lot of our customers want to eat healthier, so they don't want the tortilla," he said, "but we'll make it any way you want it. Our food is fast, tasty and healthy. We don't put lard on our refried beans and we have no fried dishes, except for our nachos."
And oh, those nachos — warm and crunchy, made fresh every day! You can order the traditional nacho or Doritos Nachos in either Cool Ranch or Nacho Cheese varieties.
"We make our own marinade for our steak and chicken dishes," said Alexander, who serves as the restaurant manager, "and our lava rocks on the grill give our food a great flavor."
"We have a lot of fresh ingredients that customers can choose to add to their burritos, tacos, nachos or bowls," Lopez added. "We're very vegetarian-friendly."
Yes, drinks are also served at Chango's. The staff is friendly and helpful and the atmosphere is relaxed. Customers can choose the music and in the evenings, it's not unusual for the crew to move some tables to make room for people who want to dance.
Lopez said that he has a steady clientele of SIUC students and some townies, too, at least the ones who have discovered the place and quickly made it a favorite and regular stop.
"We really love Carbondale," Alexander said. "We support the university and the town and invite anyone who hasn't visited Chango's to come by and make their own Mexican masterpiece or we'll make it for you and deliver!"