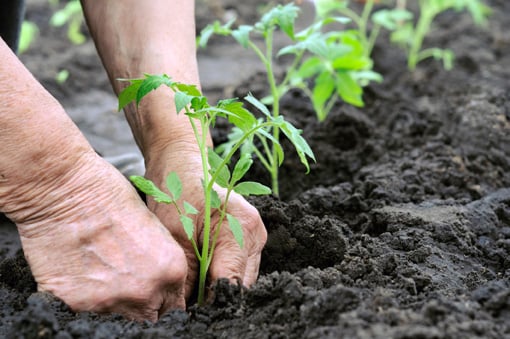 In 2008, Michael Palmer, 30, died peacefully in his sleep, the victim of a bad heart damaged by 16 years of drug abuse. He had found hope and a year of clean living through a ministry called Celebrate Recovery, according to his father, but the years of abuse were too much in the end.
Afterward, Michael's father, Hollis Palmer, was lost in a storm of emotions and pain. He could not move forward with his life, which includes wife, Nancy, and two daughters, ages 25 and 26, both in health care careers.
"I felt as if I would never experience joy in my life again," says Hollis, 58, who lives in southeastern Virginia.
"I wondered if I was actually going crazy. I felt as if I had no hope of ever being happy again."
Two things brought him to what he calls his "new normal," or his renewed ability to function with joy and hope again.
The first were 13 weekly GriefShare support group meetings. The second was his vegetable garden.
"I have loved gardening since I was a little boy," he says.
"My daddy was raised on a Georgia farm. He helped me plant my first vegetable garden 50 years ago when I was 8 years old. He spent a lot of time teaching me how to grow vegetables. It was a good time in my life. I loved working the soil, planting the seeds and watching the seeds emerge. I watched over the garden every day keeping it weed free, watered and fertilized. I was thrilled to harvest something and bring it to my mama. What a sense of accomplishment."
But, that sense of accomplishment died with Michael.
"There was a long while I didn't feel like I deserved to be happy, so I stopped doing things I like, such as gardening," he says.
"After I reached my new normal, I had Jesus at the center of my life. God added back into my life the things that brought me joy such as gardening but in the proper priority."
Today, his 2,500-square-foot backyard garden is a place where warm- and cold-season vegetables like squash, tomatoes, cucumbers eggplant, collards, spinach and Brussels sprouts are shared with neighbors, friends, strangers and GriefShare participants.
"As I work the soil, I feel a sense of peace," he says.
After three months of GriefShare meetings, Hollis says the unexpected happened to him. He realized he had reached his "new normal," and wanted to do more than just attend the support group meetings. He retired from a shipbuilding career to become the GriefShare facilitator in 2009, and has helped about 1,000 grievers find renewed interest in life. In September, he becomes a certified chaplain and plans to volunteer with a local police department, in addition to continuing with the GriefShare ministry.
"I recommend the broken-hearted consider gardening," he says. "You can grow anything from flowers to collard greens. The time you spend being still in your thoughts with God, working the soil is good for the soul."