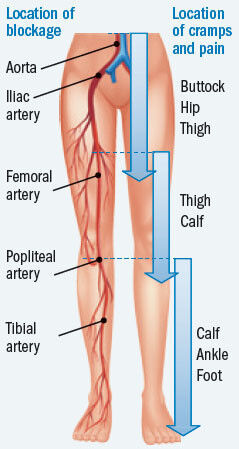 If you notice a painful cramping sensation in your calf when you walk, you might blame a cranky knee joint or write it off as a sign of aging. But this symptom may signal a more serious condition, known as peripheral artery disease, or PAD.
PAD occurs when fatty deposits clog the arteries outside of the heart (most commonly in the legs) and reduce blood supply in that part of the body. The hallmark symptom is leg pain that occurs with exercise, called intermittent claudication (from the Latin word claudicatio, meaning "to limp").
"Walking increases blood flow to the legs, but in people with PAD, the blockages prevent sufficient blood and oxygen from reaching those muscles," explains Dr. Umberto Campia, a vascular medicine specialist at Harvard-affiliated Brigham and Women's Hospital.
The resulting discomfort, which people also describe as a burning or gnawing sensation, usually occurs in the calf, but it can also strike the thigh, hip or buttocks. Some people report a feeling of heaviness in their legs rather than pain.
Usually, the symptoms show up soon after you start walking and become more intense the longer you walk. Once you stop walking, the discomfort fades away, usually within 10 minutes, says Dr. Campia.
Who's at risk?
The risk of PAD rises with age, affecting fewer than 5% of people in their 50s but at least 20% of people in their 80s. Smoking cigarettes is linked to a threefold increase in risk of PAD.
Having diabetes also appears to triple a person's chances of PAD, probably because diabetes tends to weaken and damage blood vessels. Poorly controlled diabetes can also damage nerves, a condition known as peripheral neuropathy that causes numbness in the hands and feet. As a result, a small cut or scratch on the foot may go unnoticed and develop into a non-healing ulcer, potentially leading to an amputation. A significant blockage in the artery limiting blood flow, a condition called critical limb ischemia, is one of the most dangerous manifestations of PAD because it carries a high risk of amputation or death, says Dr. Campia.
In addition, people with PAD likely have cholesterol plaque buildup (atherosclerosis) in the arteries supplying their heart and brain, putting them at risk for a heart attack or stroke.
Diagnosing PAD
If you're experiencing symptoms of PAD, a simple test called an ankle-brachial index, or ABI, can help your doctor determine if you have the condition. Your doctor will use a special cuff to measure the blood pressure in your ankle and then compare that against the blood pressure in your arm. If your arteries are clear, the readings should be close to each another. Lower pressure in the ankle suggests PAD.
Why walking helps
The standard lifestyle advice for preventing heart attacks also applies to people with PAD: quit smoking, eat a heart-healthy diet and get regular exercise, especially walking.
Walking might feel counterintuitive because of the discomfort, but it's actually the best thing you can do for PAD, says Dr. Campia. Walking increases blood flow in the leg's smaller arteries and helps create new channels to move blood around the blockages; it also helps discourage new blockages. The trick is to simply stop and rest when you feel discomfort, wait until it subsides, then start walking again. Start slowly with short walks and gradually build up to walking for 45 to 60 minutes at a time (including rest periods), at least three times a week.
You also might ask your doctor if you qualify for supervised exercise. The therapy involves meeting with a trained exercise therapist while you walk on a treadmill several times a week for three months. Although Medicare began covering these programs a few years ago, they're still not widely available. Academic medical centers with cardiac rehabilitation programs may be your best way to get access to this option.
Other PAD treatments
Aside from exercise, a drug called cilostazol (Pletal) may help improve blood flow and relieve the symptoms of claudication. But because of its side effects, interactions with other drugs, and modest benefits, cilostazol is not widely used. People with PAD often also take medications to control blood pressure, lower cholesterol, and prevent clots. If one of the leg arteries is quite narrow, a person might need angioplasty or stenting, a procedure to restore blood flow through a clogged artery.