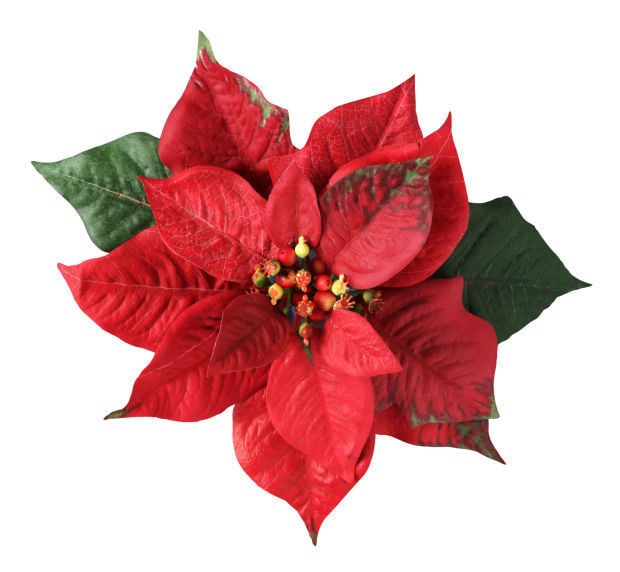 For many years, the poinsettia has been the traditional Christmas flower.
Ron Wolford, a University of Illinois Extension horticulture educator, offers a few facts about this traditional Christmas plant.
A flower by any other name: Poinsettias are part of the Euphorbiaceae or Spurge family. Botanically, the plant is known as Euphorbia pulcherrima.
1. Elevated status: In nature, poinsettias are perennial flowering shrubs that were once considered weeds.
2. Thanks, Mr. Poinsett: Joel Roberts Poinsett introduced the poinsettia plant to the United States from Mexico. Poinsett was a botanist, physician, and the first United States ambassador to Mexico.
3. Sappy side effects: Many plants in the Euphorbiaceae family ooze a milky sap. Some people with latex allergies have had a skin reaction (most likely to the sap) after touching the leaves. "For pets, especially puppies and kittens, the poinsettia sap may cause mild irritation or nausea. It is probably best to keep pets away from the plant," Wolford said.
4. No poison problems: Despite rumors to the contrary, Wolford noted that poinsettias are not poisonous. "A study at Ohio State University showed that a 50-pound child would have to eat more than 1¼ pounds of poinsettia leaves (500 to 600 leaves) to have any side effects," he said.
5. Putting on a show: The showy colored parts of poinsettias that most people think of as the flowers are actually colored bracts (modified leaves). The yellow flowers, or cyathia, are in the center of the colorful bracts.
6. Make them last: For the longest-lasting poinsettias, choose plants with little or no yellow pollen showing.
7. Lots ot choose from: There are over 100 varieties of poinsettias available. Though they were once only available in red, there are now poinsettias in pink, white, yellow, purple, salmon, and multi-colors. They have names like 'Premium Picasso', 'Monet Twilight', 'Shimmer' and 'Surprise.'
8. The red poinsettia still dominates over other color options. 'Prestige Red' -- one of many poinsettias patented by Ecke -- ranks among the best-selling hybrids.
9. Most popular: "Poinsettias are the most popular Christmas plant," Wolford said. "Most poinsettias are sold within a six-week period leading up to that holiday, representing some $60 million worth."
10. Celebrate today with a poinsettia: Dec. 12 is National Poinsettia Day, which marks the death of Joel Roberts Poinsett in 1851.