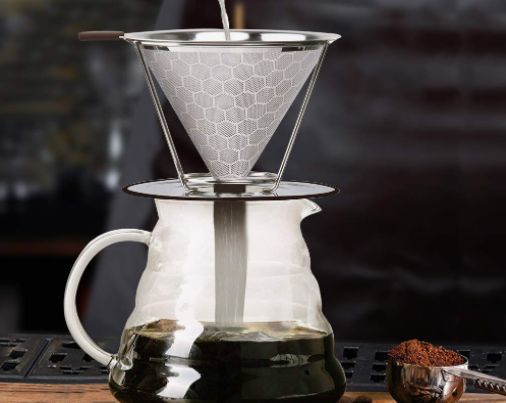 Coffee lovers know one of the best ways to get the most flavor from your beans is by preparing coffee using the pour over method. But buying pour over coffee filters can quickly add up, and cloth alternatives to paper filters are difficult to clean. That's where this $12 stainless steel pour over dripper comes in.
How It Works
This pour over coffee filter from Yes Tree is made from high quality stainless steel. The filter cup is made from double layer mesh so you keep your grounds out of the cup while allowing oil to pass through. The honeycomb pattern design filters out the finest grinds while adding a fashionable touch to this filter.
Easy to Use and Clean
You have free articles remaining.
The compact lightweight design of this coffee dripper makes it easy to take with you to the office or on camping trips, and the durable stainless steel material is perfect for travel. The pour over filter comes with a brush for cleaning, but it's also dishwasher safe.
Why Customers Love It
Amazon customers gave this stainless steel pour over filter 4.3 out of 5 stars. They loved how easy it was to use and that they could make a single cup of coffee without the expense of a drip coffee maker. Customers also found the stainless steel material durable and easy to clean. Those who were trying to generate less waste found this pour over coffee filter was a great zero waste alternative to paper filters.