Seventy years ago, Owen Lee Webb was a teen-aged farm boy from Johnson County serving his country in Hawaii after the attack on Pearl Harbor.
When he left there, after two years in the U.S. Navy, he was eager to return home to Johnson County and never leave.
That changed, though, and he recently returned to Pearl Harbor with his two daughters, Debbie Goddard and Kathy Anderson, both of Johnson County.
Webb said he watched the Pearl Harbor memorial ceremonies and the parade every year on television, and, a few years ago, mentioned to his family that "maybe they could go sometime." His family took him seriously.
At his 89th birthday celebration, which had an Hawaiian theme, his daughters, two sons and grandchildren gave him cash gifts to pay for the trip.
Debbie did the travel planning, but the three of them agreed on an agenda for each day in Hawaii. While there, they attended a luau, saw the sites where movies had been filmed and took a tour of the big island. Webb wanted to visit a volcano "up close," which they were able to do. They said that when he heard a deep rumble, Webb was ready to depart.
He also visited the Dole Pineapple Co., where they chose from pineapple desserts; Webb's choice was pineapple ice cream.
The trio watched the Dec. 7 memorial service online, but they actually watched the parade from their hotel windows.
When they visited the Pearl Harbor site, Webb met one of the survivors of the attack, a 98-year-old who called Webb "a youngster." Herb Weatherwax is one of only seven remaining survivors of the 1941 attack on the island by the Japanese.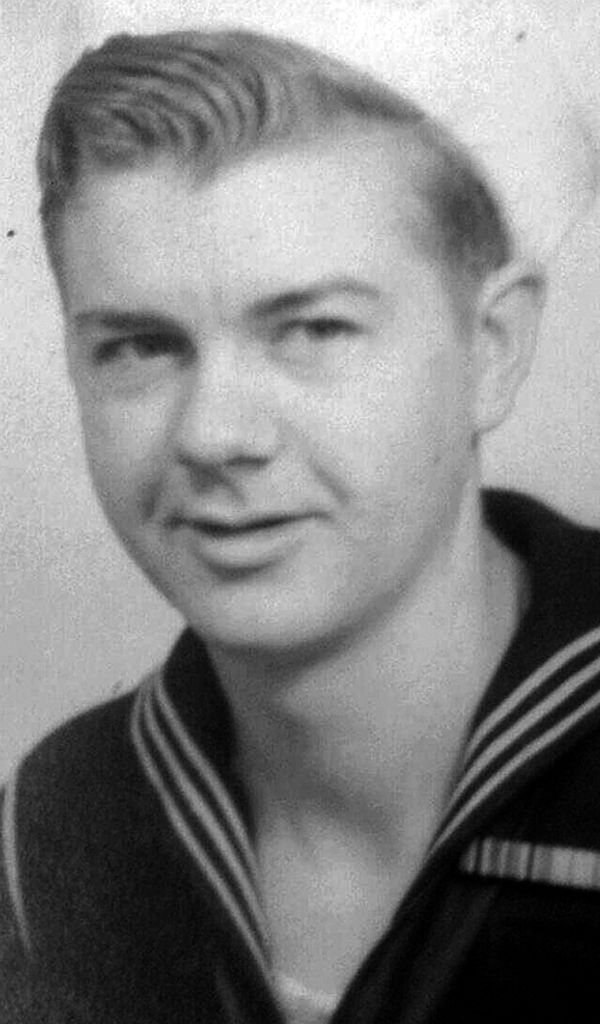 Weatherwax wrote a book, "Counting My Blessings," an autographed copy of which Webb purchased.
The daughters said they were so impressed with the respect their dad received while in Hawaii.
"People crossed the street to shake his hand and thank him for serving," Kathy said.
Webb said he also was impressed by the many nice people they met, from so many different countries, on the tours.
Webb spent most of his military time on board an aircraft carrier, the Sitkoh Bay — CBE86, along with a crew of nearly 900 men. Webb kept a detailed log of the ship's tours, which he proudly displays, along with an album filled with photos of the days of World War II. Another book he has is filled with pertinent data and photos of the ship and its crew. According to his records, he spent 84,757 miles on sea trips.
But his trip this time was different. Webb said he saw absolutely nothing that looked familiar on his return. When he was there the first time, from 1945-46, there was only one hotel on Waikiki Beach, of which he has a photo.
"Now, there must be 2000," he said.
Webb said the guns of the U.S.S. Arizona were above the water when he left in 1946; now, only the oily waters are an indication of the sunken ship.
Webb was aboard his aircraft carrier nearby the USS Missouri, while the peace treaty with Japan was being signed. From his ship, he was able to watch the event.
"Six months later, I went home," he said.
Webb said that after the peace accord, his ship was used to transport a load of American cars to Honolulu. The sailors actually drag-raced on the aircraft carrier, which was then devoid of planes. The 510-foot-long airstrip served as a race track between a Chevy and a Buick. The Buick, driven by Webb, placed first.
While showing his wartime photo album, Webb pointed out "his sweetheart," his late wife, Mary Wilma, and some of the letters she sent him. At that time, they were very good friends, but they became serious on his return and were married for more than 50 years.
Webb also showed a recent photo of him and the daughters, sporting a new Hawaiian shirt purchased on the trip.
And, although the trip was a near-perfect adventure, all three said they were glad to arrive back in Johnson County and eager to share their memory-filled trek.