METROPOLIS — This is a story about a giant statue — and so much more than that. Rising some 30 feet in the air, Big John is a Southern Illinois icon, a giant symbol for a region and culture that holds tight to the values of hard work and grit through changing seasons.
Perhaps now more than ever, as economic forces turn a cold shoulder to rural America, the few Big John statues that remain here are as much a reflection of the state's bottom quarter as anything.
Most of the fiberglass men that dotted Southern Illinois, Western Kentucky and Tennessee have moved on, some resting in a fiberglass graveyard, others purchased at auction and put on display in various parts of the country by collectors who have a fascination with, perhaps even a love for, the giant marketing symbols that were born into the small-town economic glow of the 1960s.
Both the local grocery store chain by the same name Big John marketed for some 50 years, and the coal mining industry he was built to celebrate have diminished with the passing years as the Big John statues have been hauled off or buried along with the era that gave him life.
Beginning in the late 1960s, the once prosperous chain grew over the decades into more than 20 stores, eight of them in Southern Illinois communities: Eldorado, West City, Carmi, Metropolis, Fairfield, Olney, Flora and West Frankfort.
Today, only a few remain under individual ownership. In Illinois, they are in Metropolis and Eldorado. In Carmi, a former Big John also stands outside of a Little Giant grocery store.
Of the roughly 25 statues produced at a sign company in Cape Girardeau, the newspaper was able to confirm the location of seven of them: three in Southern Illinois, two in Texas and one each in Florida and West Virginia. Others were destroyed or their locations are unknown.
***
The Big John in Metropolis recently returned to the job after a 10-month medical leave. His huge right arm fell off in 2014 under the weight of passing years and two heavy grocery bags.
They took him apart at the waist and hauled Big John to Dave's Powder Coating and Hydrographic in Joppa, which had no experience in repairing giants but had worked on fiberglass Corvettes.
The wait for his return nearly tore the town apart.
"They liked to drive us crazy," said shop owner Dave Fletcher. "They wanted to know when he was going to be done. They were all worried about when he was coming back. ... We couldn't go nowhere."
When his arm fell, no one was injured. But the groceries in the bags shattered, as did parts of his hand. Once inside, Fletcher also discovered rusted bolts near his nether regions and a bevy of sparrows' nests inside his hollow legs.
"He was in very bad shape," Fletcher said. "A whole lot worse than everybody thought."
Perhaps Southern Illinois folks worried for his return because Big John is more than a marketing tool. He's a relic of more prosperous days. Sure, he's a cool dude, towering at least 12 feet above Superman just down the road. But people here also cling to Big John because he represents a notion worth holding onto: That the little man can make it, too.
***
While marketing was his primary role — and he served it well — Big John has stood as a tall symbol of a time period when unique, locally owned stores still made up the vast majority of small-town economics, when there were still shops offering food, flowers or pharmaceutical needs under separate roofs, when your groceries were still bagged by a clerk and hauled to your car, when everyone still knew your name and the past night's high school football score, when you could still comfortably build a humble life in rural America. 
The statue and grocery chain were named after Jimmy Dean's 1961 hit "Big Bad John," a song about a quiet coal miner who drifted into town — measuring 6-feet 6-inches tall and weighing 245 pounds — who sacrifices himself to save 20 of his colleagues from a would-be mass grave. The song resonated in communities where dangerous coal-mining work was their economic bread-and-butter, and in a time period when the gruff men whose muscles bulged beneath their work shirts after months of hard labor were hero worshiped as the salt of the Earth.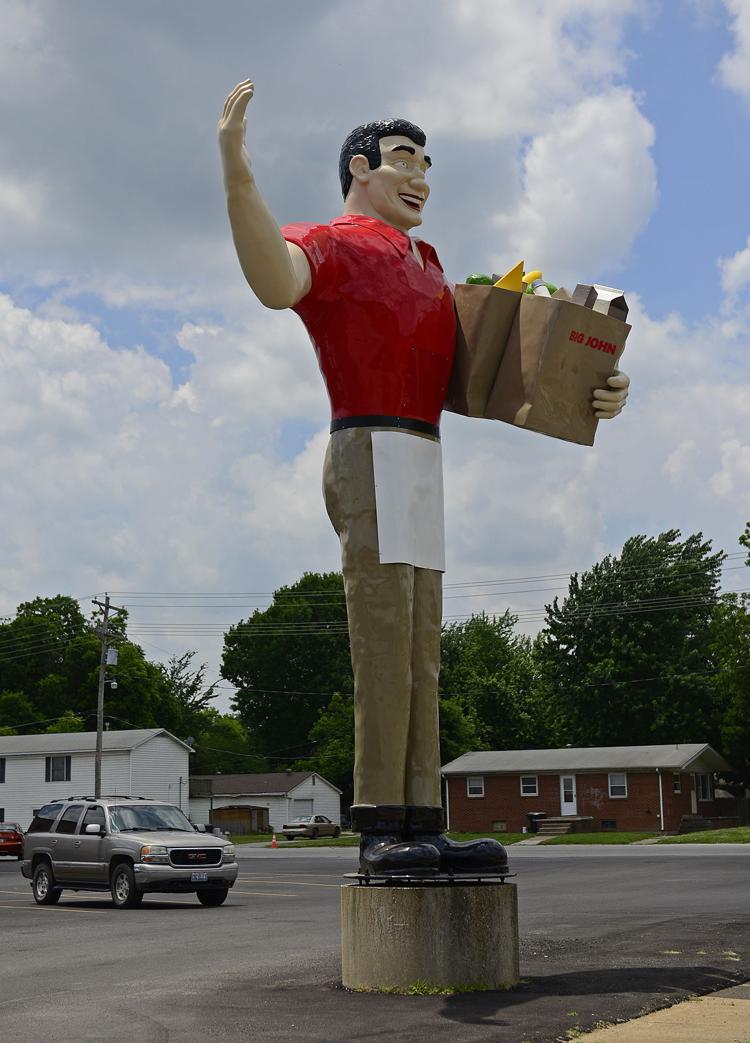 The Big John statue — standing about 26 feet tall on a 3-foot platform and weighing upwards of 1,500 pounds — was designed by local musician and artist Jimmy Boyd to reflect a handsome, congenial and quiet man. He has broad shoulders and is narrow at the hip — the image of a man's man, one who earned his giant biceps and sculpted thighs on the job — mining coal, hauling groceries — not on the treadmill or pumping iron inside an air-conditioned gym after an eight-hour day behind a corporate computer.
***
He certainly looks strong enough to take on anyone or anything thrown his way. But as "Big Bad John" in Dean's song gave out with a moan and was buried beneath the ground, the statue created in his honor met his match in stores the likes of Kroger, Wal-Mart and Schnucks.
This happened also as energy policies shifted away from coal, particularly the sulfur-heavy black rock beneath the Southern Illinois soil that burns dirty and has made the industry here unpredictable at best in the face of increasingly strict federal air quality standards.
People often speak of longing for yesteryears when mom-and-pop stores flourished, but they voted otherwise with their wallets.
"I prefer not to mention their names, but when the big-box stores came into these smaller towns they were devastating to small-town grocers, and it was hard to compete," said Mark Bayley, whose father, Frank Bayley, founded the grocery store company Martin & Bayley with business partner Bob Martin.
Said Bayley: "You probably know the rest of the story." 
Both founders have passed away, and Martin & Bayley, today an employee-owned company, is overseen by their sons, Mark Bayley and Charles Martin, who co-chair the board of directors. Martin & Bayley transitioned out of the grocery business in the late 1980s. They now primarily manage 117 Hucks Convenience Stores — so named for Mark Twain's fictional Huckleberry Finn character — throughout Illinois, Indiana, Missouri, Kentucky and Tennessee.
***
The Big John grocery stores that dotted the area were about 7,000-square-feet, roughly the size of a Dollar General; later ones were a bit larger at 12,000 square feet. The partners' original stores were named Big Star, but the name just wasn't catchy and homegrown enough.
Owner Bob Martin had a flare for creative marketing, said longtime employee Paul York, a Herrin city councilman. When the name changed, "It was pretty well instantly popular," he said.
When the "Big Bad John" song came on at the grocery store, shoppers rushed to whatever aisle was announced across the loud speaker for a special deal, and reduced-price meat or produce flew off the shelves.
Big John and what he represents hasn't fully fallen to the wayside, with the stores in Eldorado and Metropolis still running strong under independent ownership, both owned by men who had worked previously for Martin & Bayley.
But, said Mike Poole, owner of the Metropolis Big John, "There's not many of us left. When you're a sole survivor, you just kind of have to find your niche."
For Poole, it's about packing enough goods into his mid-sized building to keep people satisfied with the products offered, and then winning them over with old-fashioned customer service. "We bag your groceries and carry them to the car — everybody who wants us to," he said.
It doesn't hurt that minivans full of children scream and beg their parents to stop and see the big man when they've pulled off Interstate 24 for gas. And that family just might walk in and buy something in the store, as well, before crossing the Ohio River Bridge into Kentucky, he said. There is no Wal-Mart in Metropolis, only Big John and discount grocer Save-A-Lot, though there are two Wal-Marts a short hop across the state line into Paducah.
The Big John in Metropolis, population 6,465, employs about 50 people of varying ages. As is tradition in many small Southern Illinois towns where part-time employment options are limited, the grocery store here is the first job for many high school students looking to earn a buck for a first car or college. They stock shelves, check out customers, bag groceries, and learn lifetime lessons about customer service and the business world.
Poole understands the draw of the statue, and he said people celebrated when the big man returned in May.
***
Tracking the whereabouts of Big Johns and other 1960s-era fiberglass statues — including relatives Muffler Man and Uniroyal Gal, one of only a few working female giants to break through the fiber-"glass" ceiling — is one of the favorite parts of Doug Kirby's job as publisher of RoadsideAmerica.com, a website that chronicles quirky, interesting places and things that adventurous American travelers plan road trips around.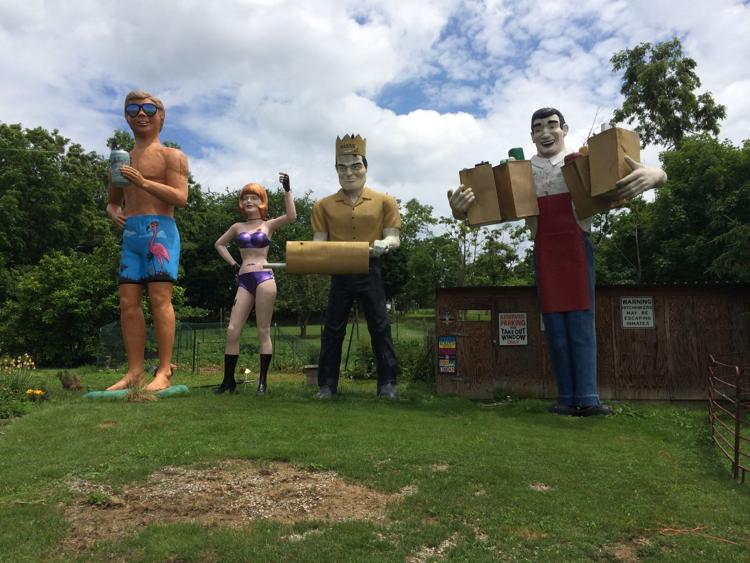 Marketing with fiberglass statues was all the rage in the 1960s, he said, but then went out of vogue as the Vietnam War birthed an anti-government era of rallying against anything akin to "the big man." But passing years tend to soften the heart toward bygone days, and the statues today are a sought-after sight. People travel hundreds of miles to pose for a picture next to the giants, and RoadsideAmerica.com has created an iPhone app that allows giant spotters to send in their images, which are then verified for authenticity and added to a searchable online map.
"We love the Big John grocery guy," Kirby said, although he noted that his whereabouts can be difficult to keep up with. "There's no government-funded database of Big John statues, so it's ad-hoc tracking." Of the mass-produced fiberglass statues, Big John lives up to his name. He is the largest, Kirby said.
With Kirby and Bayley's help, the newspaper identified several Big Johns outside of the region. One is in Cape Coral, Florida, where during Big John's trip there, he was beheaded when the truck driver escorting him passed through a viaduct. His head bounced down a Kentucky interstate and had to be repaired upon arrival. Big John stood outside of a strip mall for years, and when that business closed, the town rallied to save him from the landfill. In the face of increasing political pressure, the Cape Coral City Council went on to vote in favor of naming him an honorary citizen.
There's another one in Unger, West Virginia — a state without zoning laws. Former attorney and antique lover George Farnham purchased him from West City about a decade ago at auction. In a one-man bid, he purchased Big John for about $2,500, and paid nearly as much to have him shipped to his Land of Giants — otherwise known as his yard — where he also hosts other giant fiberglass statues, an inoperable roller coaster, a giant Santa Claus and other quirky items.
"I like to see things where they belong, and I feel a little guilty taking him away," Farnham said. But he's being well care for, Franham said, at his home in West Virginia, where coal mining also is a bedrock industry. Farnham said that Big John is due for a paint job this fall, and he's considering darkening his skin as there are no non-white fiberglass giant statutes that he's aware of. He thinks by 2015, it is time to break the fiberglass giant color barrier.
There are another two Big John statues in Gainesville, Texas, which were owned by Glenn Goode — known as "The Fiberglass Man" — in his collection, dubbed Glenn Goode's Big People. Goode died on March 14. According to son Darin Goode, Glenn Goode included in his will a directive the statues remain at least five years. The family plans to honor his dying wish.
And, so — for now — the legend of Big John lives on.