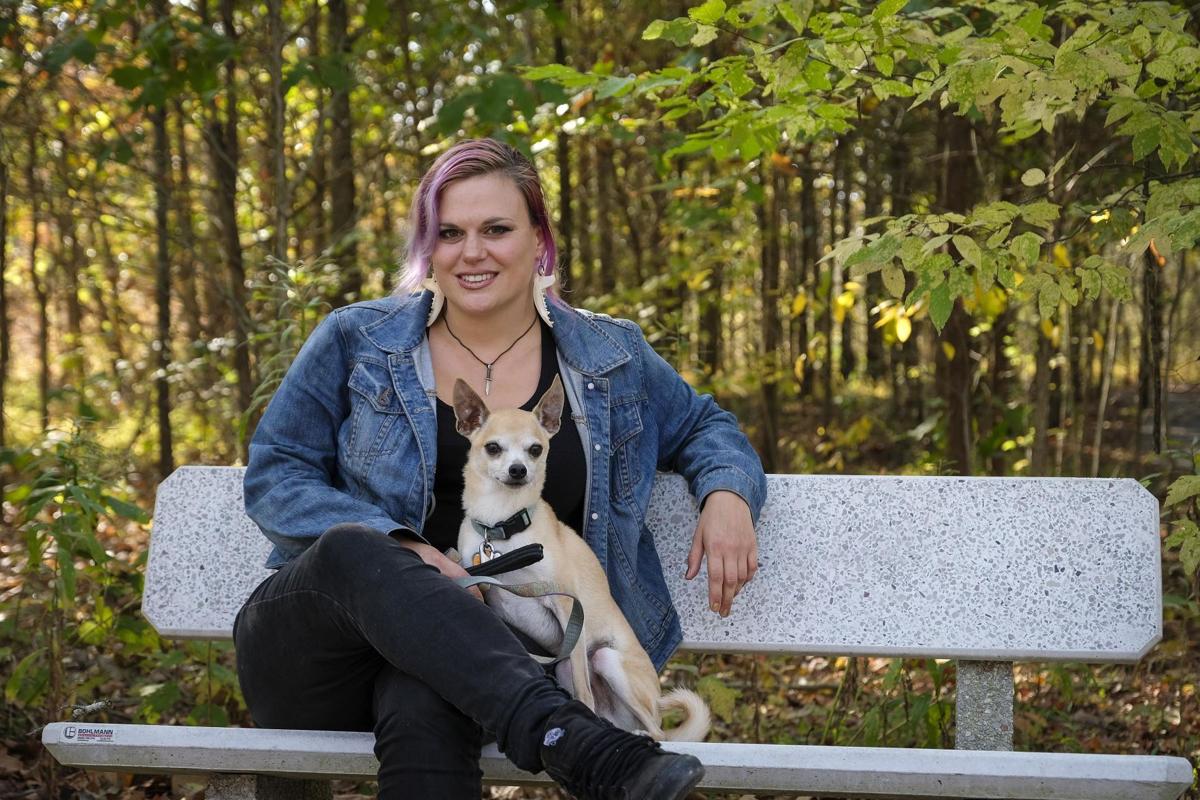 Anne Krippenstapel was selected as Keep Carbondale Beautiful's executive director in April. Since then, she's picked up countless bags of garbage, and she organized the group's first Dash for Trash motorcycle rally, in which she and several other Southern Illinois bikers rode around Carbondale picking up trash along roadways and in public outdoor areas. 
She produces art under the monicker Swamp Witch Oddities. Her work includes carved bones and skulls, jawbone earrings and jewelry, and planters. She designs a combination of hand-painted and screen-printed works for wearable, everyday clothes. She also facilitates community art classes, most recently as part of "Art at the Park" at Giant City State Park.
Find her on Instagram at @southern_illinois_swampwitch. 
1. What is your current state of mind?
I am currently working on several opportunities to engage the community in volunteering to pick up litter. It's been a busy time. Being executive director has been a good challenge in staying organized!
2. What is your favorite avocation/hobby?
I am first and foremost before anything else, an artist. My advice is to get rid of as much of your artwork as possible, sell it, give it away, whatever. Send it out into the world. Clear out the old for the new.
3. If you could go back in time 1,000 years, what year would you visit and why?
The 1920s. The fashion and music is cool, the art was just coming out of the pre-Raphaelite/realism era and streamlining into sophisticated geometric design quality well-suited to lay the foundation for modern advertising. It was truly a cusp of the old and new era of culture.
4. What is your most treasured possession?
My motorcycle, a Triumph Bonneville. Makes me feel really beautiful and just so free.
5. If you could rid the world of one disease what would it be?
6. What is your most obvious characteristic?
Probably being an extrovert, but I hope it's being a capable person.
7. Which words or phrases do you over-use most?
"Going back to school (for forestry) was the best decision I have made."
8. If you were to die and come back as a person or animal, what do you think it would be?
I'd like to come back as an animal that science has not discovered, that no human has ever seen and never will.
9. What is one thing you refuse to share?
Makeup. I think that's reasonable.
10. If you could have one superpower, what would it be and why?
Low-key superpower: Being more patient and letting things unfold without the struggle of hurrying life along. Patience pays off dividends.
11. What song would you sing for your American Idol audition?
"Hell on Heels" by the PistolAnnie's. Or "Celebrity Skin" by Hole.
12. If you could start a collection of one kind of item, what would it be?
I already collect too much! Bones, feathers, books and paint brushes occupy every surface in my house.
13. If you were given the chance to run for mayor of your city, would you take it?
If it could further along progressive changes to our local environmental policy, then yes. I'd love to see the city make more inroads with promoting healthy, native prairie yards, food gardens, composting and litter control practices.
14. What is your favorite smell?
Right now, the woods smells like the sweet crushed tannins of the leaves, and faded fruit of the pawpaw lying on the ground. Campfire smoke in my hair tied with memories of fun nights.
15. What is the last book you read?
"Civilized to Death: The Price of Progress" by Christopher Ryan.
16. What was your favorite color of Crayola crayon growing up?
Always liked the blue-green "Forest" crayon color.
17. If someone wrote a biography about you, what do you think the title should be?
"A Compilation and Highlights of my Sketchbooks"
18. What bad habit do you have that you know you need to break, but don't really want to?
I need to stop buying art supplies and then squirreling them away only to be discovered after they were needed for a project!
19. If you had to choose to live without one of your five senses, which one would you give up?
I guess if I lost hearing I'd probably be less stressed out by the sensory overload that is the world around us sometimes.
20. What skills do you possess that could help you survive the zombie apocalypse?
Been excelling at foraging, learning a few new mushroom or edible plants every fall and spring as they come to fruition. Operating a chainsaw and equine handling are also some off-the-grid skills.
21. What is your personal motto?
"As long as you're living, keep making choices, and choose every day, in small steps, to create and aim for the life you want to live."
Be the first to know
Get local news delivered to your inbox!