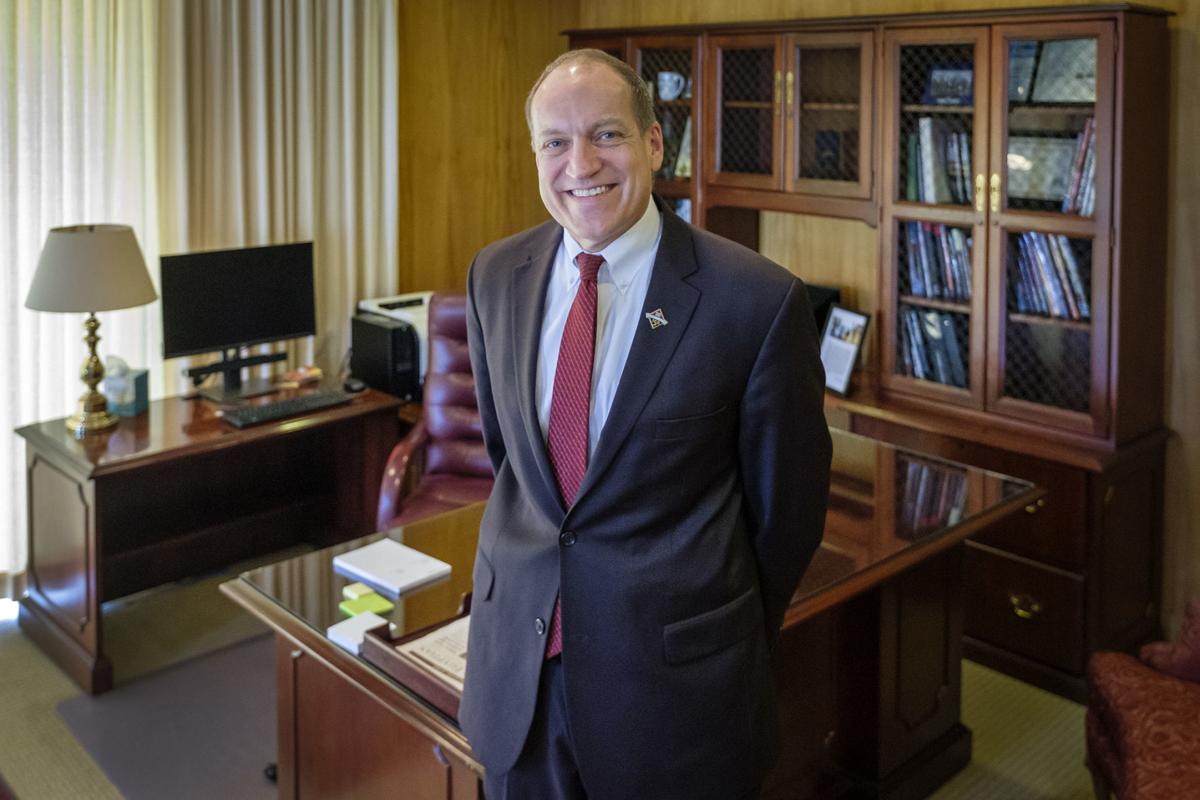 Dan Mahony took the helm of the Southern Illinois University system in March, telling The Southern Illinoisan in his first week on the job that a big part of his role is to unify the divided system. He also said transparency and availability to students are goals he is working toward as he begins his tenure at SIU.
Before he was selected as SIU's president, he served as the president of Winthrop University in South Carolina for more than four years. Before leading Winthrop, he was the dean of the College of Education, Health and Human Services at Kent State University. Before that, he spent 13 years at the University of Louisville, where he served as the director of its sports administration program; chair of the Department of Health Promotion, Physical Education and Sports Studies; acting dean and associate dean of the College of Education and Human Development; and assistant and associate university provost. He is considered an expert in sport consumer behavior and intercollegiate athletics.
The Questions
1. What is your current state of mind? Right now I am very focused (particularly on finding solutions to the challenges that lie ahead).
2. What is your favorite avocation/hobby? I exercise every day for about 90 minutes.
3. If you could got back in time 1,000 years, what year would you visit and why? Since I am of Irish descent, I will choose 1015. That was the year after the Battle of Clontarf, which led to a long period of peace in Ireland. I would prefer to go back to a peaceful time.
4. What is your most treasured possession? My wedding ring.
5. If you could rid the world of one disease what would it be? While coronavirus would appear to be the obvious choice today, I would still say cancer.
6. What is your most obvious characteristic? I am smiling most of the time and people have noticed that since I was young.
7. Which words or phrases do you over-use most? I hope this makes sense.
8. If you were to die and come back as a person or animal, what do you think it would be? I took a spirit animal test once and it said I would be a lion or a bear.
9. What is one thing you refuse to share? The times that I get to spend with my wife and children alone.
10. If you could have one superpower, what would it be and why? The ability to see in to the future. It would make decision-making so much easier.
11. What song would you sing for your American Idol audition? My singing voice is awful so I would definitely be out in Round 1. I do have a deep voice, so I will go with Barry White's "Can't Get Enough of Your Love, Babe."
12. If you could start a collection of one kind of item, what would it be? I am trying to declutter, so the last thing I want to do is start collecting something new. However, I have a collection of baseball, football, and basketball cards, and would like to collect a few more of the earlier cards (pre-1970).
13. If you were given the chance to run for mayor of your city, would you take it? No. I do not have a desire to run for political office, but truly appreciate those who do.
14. What is your favorite smell? Freshly baked chocolate chip cookies.
15. What is the last book you read? Just finished "Southern Illinois University at 150 Years: Growth, Accomplishments, and Challenges" and am now reading "SIUE The First 50 Years: Transforming a Region."
16. What was your favorite color of Crayola crayon growing up? Purple. I loved "Harold and the Purple Crayon."
17. If someone wrote a biography about you, what do you think the title should be? "A Very Lucky Man."
18. What bad habit do you have that you know you need to break, but don't really want to? I eat pretzel M&M's throughout the day.
19. If you had to choose to live without one of your five senses, which one would you give up? Smell.
20. What skills do you possess that could help you survive the zombie apocalypse? I am not sure I have any very useful skills for a zombie apocalypse. I do tend to stay calm and look for solutions even in the worst situations, and this might be helpful because this would clearly be the worst situation.
21. What is your personal motto? When I talk with students about leadership, I always start with Rule No. 1: "It's not about me."
Be the first to know
Get local news delivered to your inbox!