With the popularity of hardwood and laminate floors, area rugs are being used more than ever in interior design. There is more to selecting an area rug than the color and pattern.
First, let's discuss the construction of the rug. This is one of the primary factors of the cost of a rug. Looking at lowest to highest, we will start with machine-woven. These are manufactured much like broadloom carpet on a large loom machine. They are typically lower in price than handmade rugs, have very little variation from piece to piece, usually will not shed, and are suitable for high traffic areas since they're easy to clean. Machine-woven rugs usually won't last as long as hand-woven.
Next is hand-woven and hand-loomed. As the name implies, these are woven on a large hand-operated loom or peddle loom. These can be cut pile, loop pile, or cut and loop pile; often a solid color base is hand-carved to create a subtle design. Hand-woven can also be over-tufted or printed to create a textural and colorful design.
Hand-tufted and hand-hooked are made using a hand tool to punch the yard through a canvas. Many textures and patterns are easily achieved with this method. Size, design and color may vary slightly because of the handmade nature, and more shedding than other constructions may occur.
The most luxurious and usually most expensive are hand-knotted rugs. These are made completely by hand, tying each individual knot across the row and beating the knots close before proceeding to the next row. An artisan product, hand-knotted rugs have the highest perceived value and are very durable (except in delicate materials) and can achieve intricate details.
Many fibers are used in today's area rug manufacturing. One of the most luxurious is New Zealand wool. The fibers from New Zealand sheep's fleece is spun into yarn. This wool is higher quality than normal wool and has more softness, natural sheen and less shedding. All wool sheds; however, this varies depending on the quality and will reduce over time. All wool yarn is sustainable, biodegradable, highly durable, and highly resilient with natural oils that provide softness.
Synthetic (man-made) fibers are made by extruding polymers or petrochemicals and solution-dyed in a liquid state before they are formed into yarn. They are highly durable, moisture-, fade- and stain-resistant, with minimal shedding or color variation. Synthetic fibers are typically found in machine-made rugs.
Viscose is a hybrid of natural cellulose pulp and synthetic fibers and should not be used in high-traffic areas due to the matting that can make stains more difficult to clean. Viscose does give a lovely sheen to the yarn in imitation of silk. For high-traffic areas, keep viscose below 20%.
So, now you know about construction and fibers. Let's talk size and style. One of the things I see repeatedly is a rug that is too small. In a dining room, the rug should be 2 feet larger in each direction than the table. This allows the dining chairs room to move in and out without falling off the edge of the rug. In a living room or family room, ideally the front legs of all the furniture in a grouping should be on the rug. It gives a more cohesive feel to the area.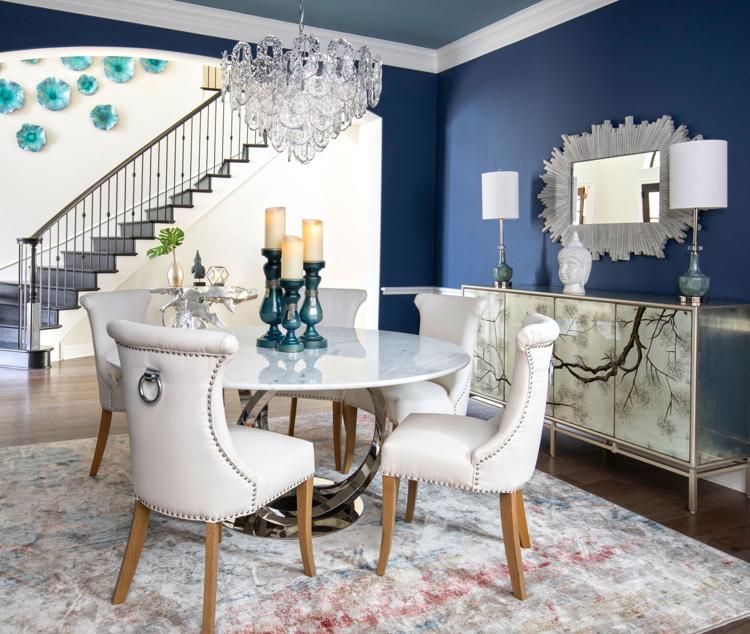 Area rugs can define a space, especially in open floor plans. A rug can distinguish a seating area from the dining area, and of course give color and/or texture to the design. When planning the size of rug, think about the edge of it near walkways. You never want one foot on the rug and the other foot off of it. I like to start the design of a room with the selection of the area rug first, then add the upholstery pieces and drapery, and lastly the wall color.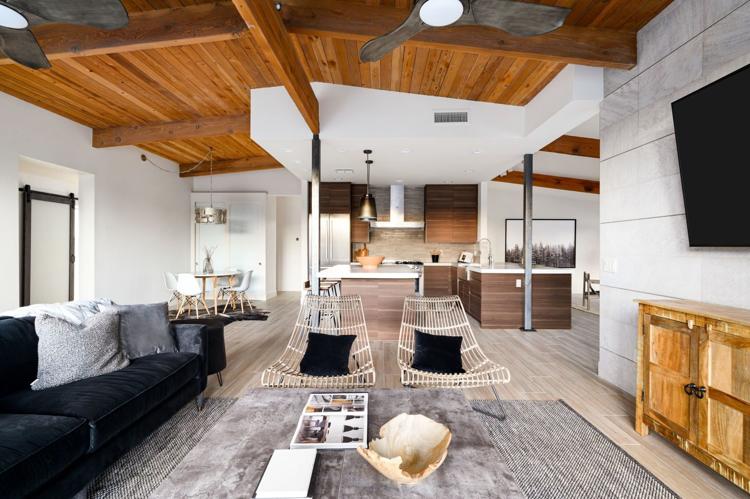 Area rugs can anchor a room, define it, add warmth, and help layer a room's decor. But, like any investment, a rug must be properly taken care of if it is to last. Most manufacturers recommend vacuuming an area rug with the beater bar turned off.
From bold and bright to neutral, the sky is the limit with area rugs.
ANGELA ROWE, DDCD is owner and interior designer of Decorating Den Interiors.
Be the first to know
Get local news delivered to your inbox!