Walk into artist Renée Mavigliano's Carterville home and everywhere you look, on almost every wall, there is art, almost all of it hers.
Soft, subtle colors wash across large canvasses, sprinkled with darts of sharp color, suggestive of birds or geometric shapes, drawing your eye across the work, then into the corners, around the borders and back.
You find yourself stepping back, to get the full effect of these large paintings filled with soft subtle color, but as you start to study them, you begin to inch forward, the better to examine some smaller elements. Then, you step back again, to add that bit of knowledge to your appreciation of the entire creation.
"I believe that art is a shared experience between the work and the viewer. My paintings are intended to open ideas and lines of dialogue within the viewer rather than exact a specific translation. These are personal paintings and the viewer's response should be equally personal and is equally valid."
Still, after seeing a dozen pieces of Renée's work, you think you know about what to expect, then you turn around and find a display of her papier-mâché plate series, suspended on cords stretching from ceiling to floor, row after row of black drawings on white circles, each one entirely unique.
"I have pushed myself into using color," she said. "I began drawing and painting with a love of charcoal and working in black and white, but felt that color was the best way to interact with the viewer. I avoid overlapping shapes, instead wanting to suggest openness and time that prepares us for strong moments in all our lives.
Most of Renée's work is somewhat unconventional, definitely abstract, but almost always includes at least one small square, somewhere on the canvas. She calls it an "escape hatch" for the viewers, so they can stop for a moment and focus on something very familiar, before losing themselves in other areas of the canvas.
So, you take another deep breath and plunge ahead, walking into Renée's kitchen where you find the most interesting backsplash you have ever seen. Yes, it's one of Renée's works, marks of color on a brilliant red stretch of paper, running the length of her long kitchen counter.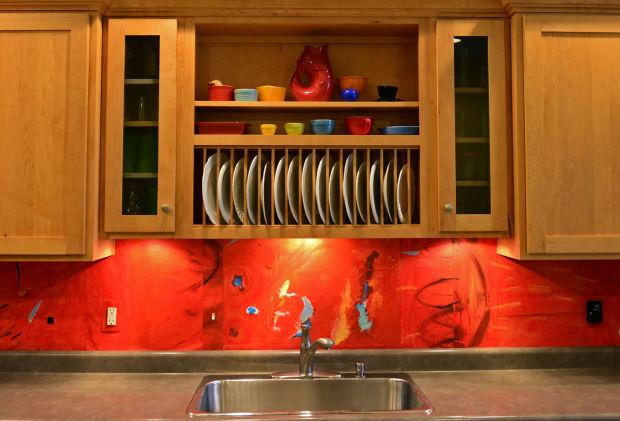 "Well, I wanted to try red here, but I wasn't sure about the color," she said. "So, before I ordered the tile and the grout and started all of that process, I decided to put up some red paper. Then I had to add some marks. Then, when I decided I liked the red and the project, I abandoned the generally accepted method of constructing a backsplash and created my own."
Turn into the hallway and to the right, there are more brilliant and enticing paintings, on a smaller scale.
"Working on a smaller scale has had a surprising result," she said.
Small paintings are surrounded by constructions she calls "Talking Points." They have allowed her to again work on a large scale with the wall itself seen as the canvas.
"My art work is always evolving," she said. "One idea leads to another as I work in the studio each day. The colors, the shapes … are pretty exciting."
To the left, a hanging sculpture of colorful paper flags, representing the wind, waves you on to the artist's studio, where you get a glimpse of her creative process.
There are ideas and notes, bits of colored paper and pages ripped from magazines strewn across almost every surface, various works in process and finished on the walls, stacked in the corners and in the closet, and leaf cutouts hanging from a string stretched across one of the three windows that let in the light and give the artist a panoramic view of nature, right outside her backdoor.
"I recognize that nature has always directed my work. Past painting and drawing has at times taken more representational forms, but it's nature that helps me see the lines, shapes and colors that are my underlining concern," she said. "As I work in the studio, ideas are overlaid and piled one on another like stacked papers with mounting information."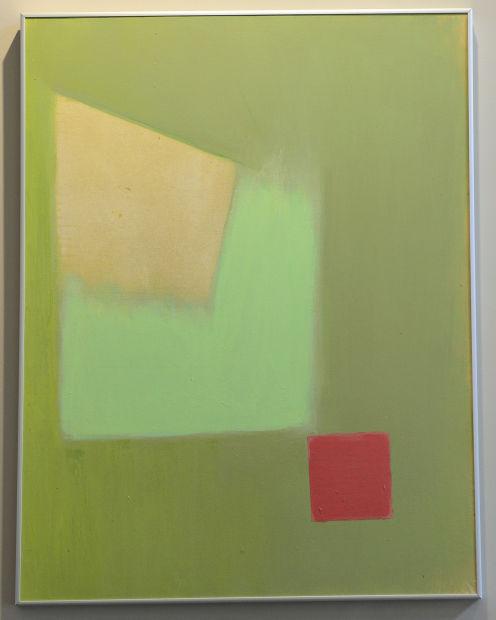 Renée has been painting since 1985, when she completed her Master of Fine Arts degree at Southern Illinois University. For more than 20 years, Renée taught art at John A. Logan College in Carterville and directed the college's art program, retiring in 2008.
Her husband, George, is a retired art history professor from SIU and an authority on the government-funded Federal Art Project of the Great Depression-era New Deal WPA, Works Progress Administration, particularly the Illinois artists. After retirement, George has focused on book binding (removal and repair) and fabricating art boxes.
In August 2016, on the couple's 50th anniversary, SIU University Museum will open a major exhibit of their work. But don't think that Renée is resting on her artistic laurels. She's working as much or more than she ever has.
"While I'm retired from JALC, I can honestly say that I haven't stopped working. Making art is my work, and I try to spend at least half a day, every day, in my studio," she said. "Teaching for 21 years has nourished my vision. My painting is always changing, but always remaining the same. In some respects, you have to give it time, give art time."
Renée said she has grown to recognize the "streams of interest" that follow her into the studio. As she explores new ideas and materials, each piece is connected to previous efforts and builds on earlier ideas. One of the threads that connects all of her work is texture – "the lushness of paint itself."
"Paint itself is an important expressive element in what I do. I believe it is important to not overly control the materials and look at what the paint itself can suggest," she said. "While these are paintings, it is important to always have a sense of the moment and energy of the sketch, the excitement of color felt in the translucent paint and thicker layered areas."
Renée, herself, is a work of art, graceful and articulate, thoughtful and empathetic, animated when she speaks of her process and almost shy when it comes to accepting compliments, which must happen quite regularly, considering her talent and her body of work.
"Often my paintings cannot be easily translated into words," she said. "But that serves to remind us that the visual and verbal are two different art forms."