An elephant on a roller coaster, riding off into a rosy sunset. Blue-spotted giraffes craning over buildings in a strange city. A crowned whale swimming otherworldly depths. These are just a few of the works that have sprung from the distinctive imagination of Erin Alice Gray.
A Southern Illinois native who now lives in Marion, Gray crafts a wide range of one-of-a-kind decorative items, such as encasings, desk bling, pocket mirrors and tin containers. Her primary focus, however, is her acrylic paintings, which typically incorporate other media — lace, paper, fabric and even metal objects sewn into the canvas.
Gray's love for making mixed media art began at an early age when she and her father worked on pieces together.
"My dad's really creative, and we would work with junk jewelry and resin and make paperweights and stuff when I was kid," she said. "I went to a couple of craft fairs when I was 11 or 12 and sold some things, and so that's where I came back to with my mixed media stuff. I have several artists in my family, so it just always came very natural. We always had art supplies around the house when I was growing up, and it was just always like a standard thing — like you could go paint if you wanted to, that's how our house was."
Later, Gray attended SIU Carbondale for graphic design and worked as a graphic designer for 17 years, but she ultimately felt she "had to get off the computer and start doing something tactile again." After her sister bought her an acrylic paint set for Christmas one year, she used it so much she barely had room in her house to store all of her paintings. Encouraged by her husband, she started looking for places to sell her work.
Gray dubbed her business Alice Art, partly because Alice is her middle name, and partly because she derives inspiration from the peculiar, fantastical world of Lewis Caroll's "Alice in Wonderland."
"I love that quote of Alice's, 'Sometimes I've believed as many as six impossible things before breakfast,'" she said.
Gray has been selling items at Nest Art — previously known as Dayshift Boutique—for the past five years. She credits store owner Chris McKinley for giving her a space to showcase new material.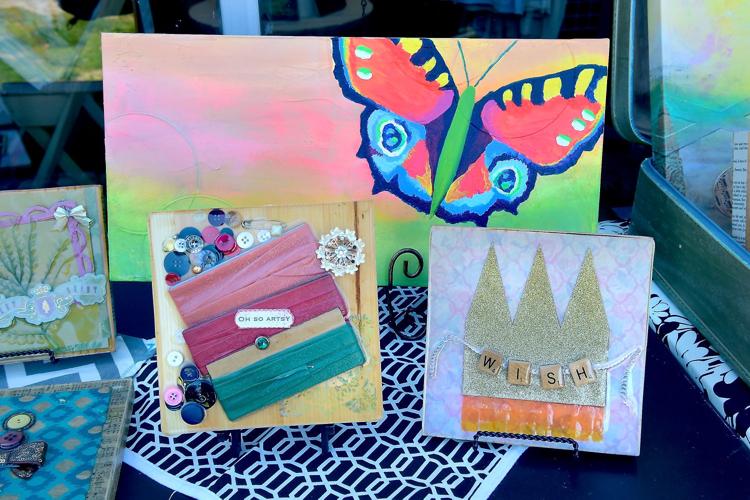 "I think it's such an amazing shop here in Carbondale. There are so many local artists who don't get the opportunity to be in any big stores, and to be able to have your stuff on display like this is really awesome," she said.
Alice Art can also be found at 6 Pence Gift shop in Carbondale, Visions on the Makanda boardwalk, Urban Sassafras in Springfield and on Etsy.com.
"Believing that someone would want to buy something that I made is just kind of crazy. Like, really?" she laughed. "OK, that's great! It's just — I feel so honored whenever somebody does. It's really special to me because I know people work really hard for their money, and to spend however much they spend on art is a luxury. It makes me feel really special that they would choose something of mine to hang in their home and look at every day."
In a world where mass-produced décor items are readily available for a low cost at big box stores, Gray thinks there's something to be said for owning locally made, handcrafted works of art.
"You have the opportunity to actually meet the person who made it. You can learn more about the backstory of a painting or a piece of art. To me, that makes all the difference," she said. "It becomes a heritage piece, almost, something you hand down from generation to generation."
Asked about her artistic goals, Gray said, "I just want people to smile. There's so much bad stuff in the world — everybody just needs something that is going to bring a smile to their face. That's what I'm trying to do."
And, with luck, she will continue to make people smile — and believe impossible things before breakfast.