Carbondale newcomers Henry Neubig, and his wife, Linda, have both worked extensively with mud.
For years, Linda took mud and made clay and sculpted with it. Henry still dries and grinds his, making pigment, and then painting with it.
Don't let the mud fool you. This most basic of elements, in Henry's hands, transforms into a medium, which brings the lush atmosphere of Louisiana's southern bayous to life in graceful, earthy paintings. His wildlife studies evoke Audubon's botanical studies, or paintings seen in Birds of America. He details Old Plantations and records a rural life that moves at slower pace.
After a career spanning more than 20 years, with hundreds of gallery shows, several international exhibitions, and what sounds like thousands of painting demonstrations behind them, Henry and Linda left their longtime home in Baton Rouge a year ago to be closer to their son, an assistant professor at SIU; his wife, an Administrator at SIH; and their 4-year-old grandson.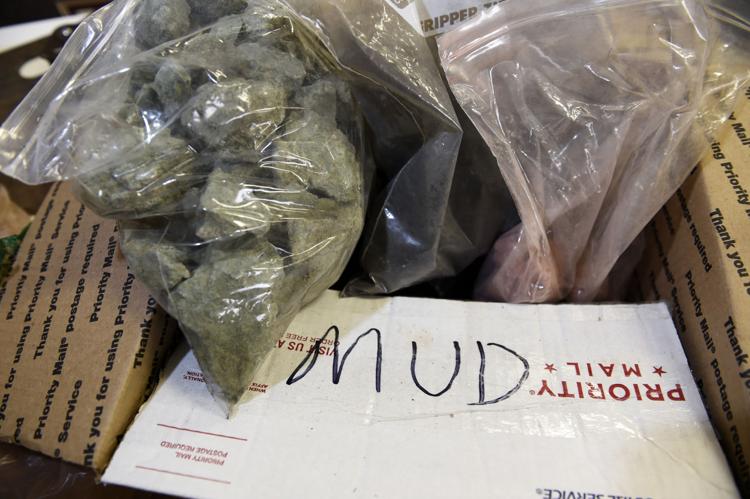 "They felt he needed to see more of his grandparents," continued Neubig, "This was a second marriage for both of us — Linda had two kids, and I had two kids, and we had one together, who of course married and had a boy, and he named the boy after me, and he adores me — so here we are."
Henry said they bought their house primarily for the second garage. Moving here, he said, was no small feat.
"We had thousands of prints to bring up and build storage for," he said.
So, a second garage got an upgraded to a studio, and currently looks like you think a studio would look. A large, center worktable stands covered with paper, brushes, and pigments in plastic bags. Shelving along one wall holds hundreds of prints. Framing supplies stacked to the ceiling lean against another.
"I started painting with mud, because I wanted to do something different. In 1989, the Department of Agriculture asked my wife and me to participate in a show," he said. "I saw an opening for a change. As we were raising five kids, we would go on camping trips, and I had saved different colored rocks and different types of muds I would find. By 1989, I had four different colors of clay, and I decided to try to make them into a paintable medium."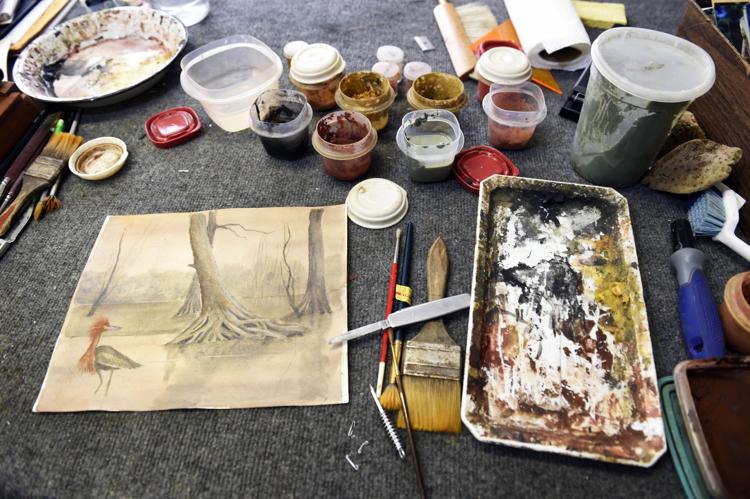 So Henry made several paintings, priced them moderately, and, as he said, "They disappeared, so I thought I ought to paint some more."
Soil from 33 states dumps into the Mississippi River, and empties though Louisiana, which is on a delta. Over centuries of flooding and wind erosion, deposits of varying colors and consistencies have stratified along the banks.
Henry explained that from the east bank, all deposits were created by wind erosion. On the west bank, alluvial soils, which result from flooding, collect.
You have free articles remaining.
Keep reading for FREE!
Enjoy more articles by signing up or logging in. No credit card required.
"The muds have different textures and colors. It all depends on what you harvest and from where," Henry said as he pulled out a Ziplock bag from a box "This black, for instance, is from down in south Louisiana where they have sugarcane. The carbon from burning the cane is what gives it the color."
When you see these pigments in their natural form, they don't seem very impressive. When you take them and add water, their colors become darker and more intense. After much experimentation, Henry decided to use egg yolk as a binder because it is natural. Egg yolk, as it dries, helps keep the pigment a deep, intense color.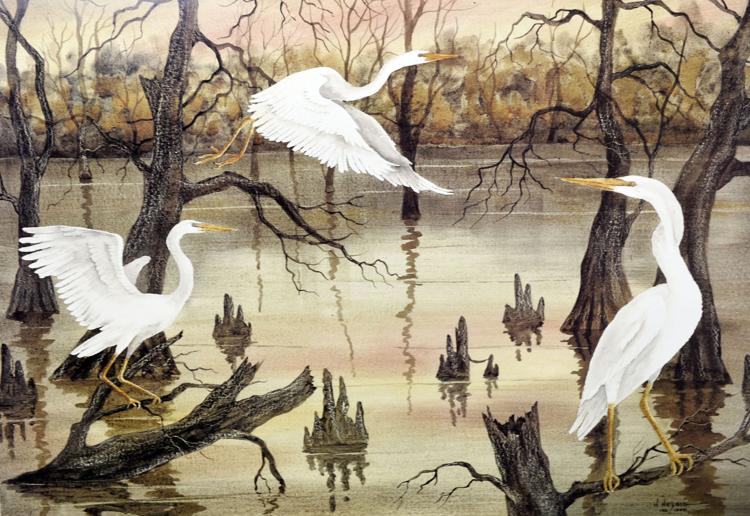 "People send me mud from all over the world," Henry said. "I have been publicized in both national and international media, so people have sent me mud from some pretty far-flung places. But, I found out that the mud in Louisiana is as good as that from anywhere else. Dirt is dirt."
Henry's success is more a matter of application. He has been painting a long time, so he can produce. He had to. If he wanted to keep painting as a profession, it had to provide for a wife and kids.
One way he did this was to open his studio for painting demonstrations. He had brochures made and distributed through the State Department of Tourism to most welcome centers and tourist stops in Louisiana. Bus tours would stop at his studio and watch him work.
"We had space for 50 people at a time." Henry said. "And while I don't keep track of the time when I am working, Linda and I once estimated that it takes about 24 hours of actual work to make one of the more involved paintings." On a typical day, Henry said, "I could do a painting in half an hour. It wasn't a museum piece, but it was a painting. It's a very fun way to make a living."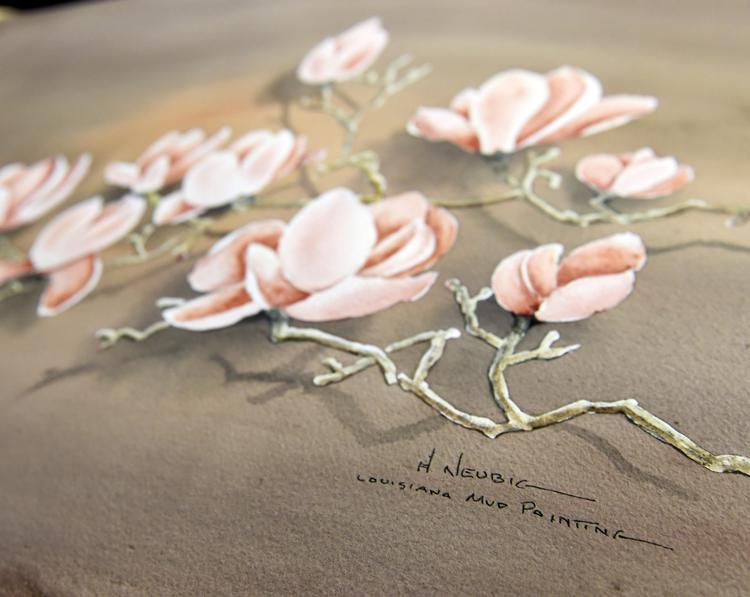 Henry is a working artist. And with that comes concern over money. He and his wife had three studios where they taught. He made — and still makes — his own frames. The brushes he uses are usually what is on sale down at the Hobby Lobby.
"But it's not the brush that makes the painting," Henry chided, his wry humor more so for his Louisiana accent.
As far as upcoming shows in the region, Henry said that Linda says no.
Then he laughs. "We have a show at a Natural Museum a friend runs in Michigan, and a show in September, and that's it, for the moment. My contractor keeps trying to push me back into business – but I never liked the legwork, and I want to keep the money I generate, so our website serves as our more broad-based gallery."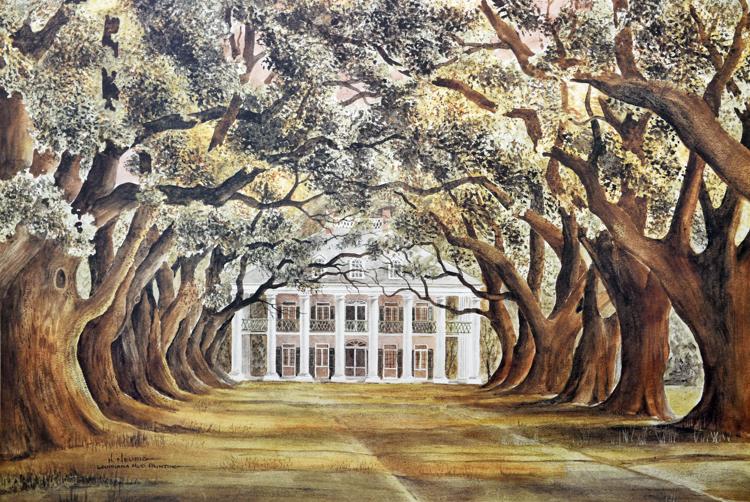 If a collector is looking to buy one of the larger originals, that is still possible, but by appointment only.
Welcome, Henry and Linda.