Peter Toth is swinging his mallet into a chisel which rings as it digs in to the wood. For those of you unfamiliar with the statue, it depicts a Chickasaw Chief whose name translates as "to have understanding," stands 35 feet tall, and is carved from a 56,000-pound piece of Red Oak. Toth carves his statues by hand — no chainsaws or power tools here. And he's on a mission.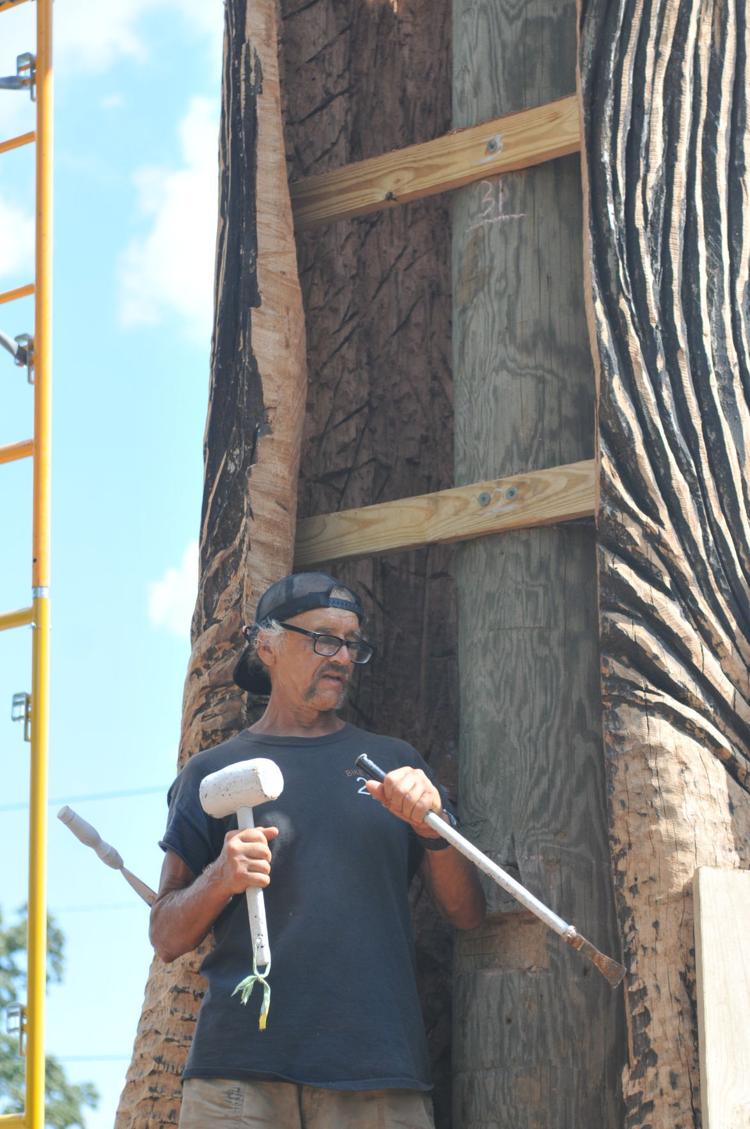 "The City of Paducah knew there was a problem when the feathers fell off the statue," said Toth.
Toth is trimming the rot off the statue of Wacinton (Way-chin-too) that stands in Paducah's George Noble Park in front of the tennis courts.
"So they got in touch with me and I thought I'd better come fix it," he said.
"People say to me 'I don't get why you do it,' but I say, it's about honoring people who have faced hardship and injustice — specifically the Native American people of North America. This is my way of bringing attention to their plight."
Toth experienced persecution first hand as he and his family were driven from their homeland in the Hungarian Revolution of 1956. As a boy, he and his family lived in exile in Yugoslavia after the Soviets crushed the 1956 uprising there.
"It made me aware of what could be taken away," Toth said.
Toth's family finally emigrated to the United States. By the time he was in his 20s he found himself living in California where he was inspired to carve his first monolith into a large stone edifice at Wind and Sea Beach in La Jolla, California. Toth soon switched to wood, and was moved to sculpt a second, monumental sculpture. During this process, he had an epiphany about what would become his life's mission: to make a sculpture of a native American in each of the 50 states, as a way of honoring them. Thus, the "Trail of Whispering Giants" was born, and in May 1988, Toth completed his goal of a statue in each of the fifty states with a statue of a Polynesian in Haleiwa, Hawaii.
You have free articles remaining.
Keep reading for FREE!
Enjoy more articles by signing up or logging in. No credit card required.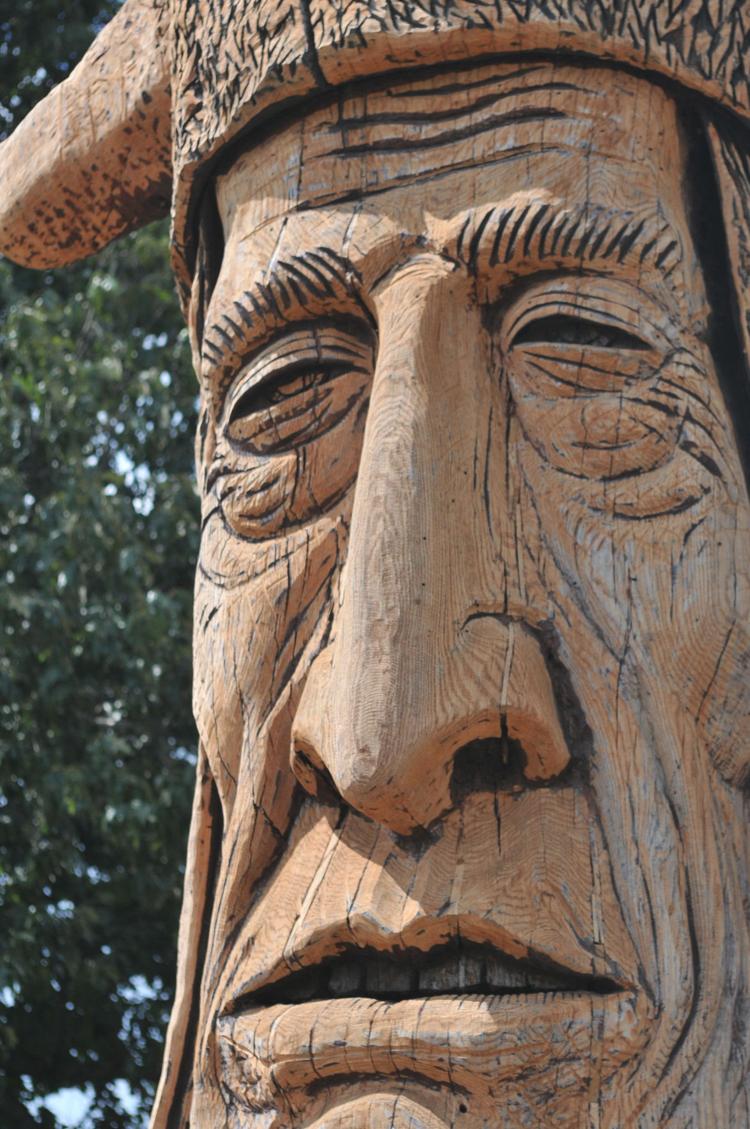 Toth received no payment for his sculptures, only some lodging, meals, and the donation of the tree from which his sculptures were made. He still doesn't receive payment. He supports himself by selling his own art, though usually not that of the 55-foot nature. Toth paints and sculpts, and shows his work out of his studio "on the southwest corner of 102 Arthur Avenue and US 1 in Edgewater, Florida." Toth also draws an income from the sales of his book, "Indian Giver", which chronicles his work and is available on Amazon.com.
Toth's restoration of Wacinton took over three weeks. He installed a telephone pole in the back of the statue, braced by Steel plate in the back, and a steel boot at the base, to stabilize the sculpture. Paducah Power System donated their time to set poles around the structure to be used in the stabilization process. And all this in 98 degree weather with humidity that pushed the heat index even higher. But this does not seem to bother Toth, who relates that he is used to extreme temperatures. He worked on a statue in Valdez, Alaska and in subzero cold in Delaware, for six months. Another time he worked during a two-week heat wave in Lincoln, Nebraska, where the temperature reached 105 degrees.
Whenever he is working on one of the Giants, he said "I feel closer to nature; closer to the Great Spirit."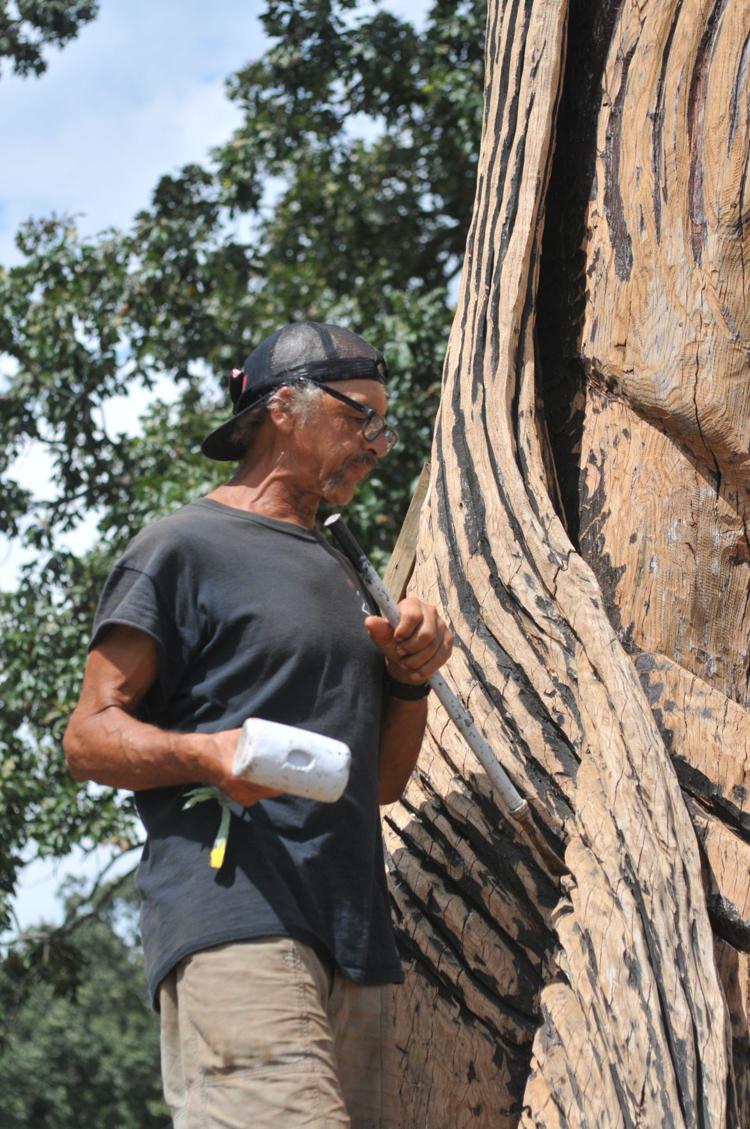 Toth has been honored for his work by many Native American tribes, and has been made an honorary member of the Chickasaw Nation. His is also proud to be an American.
"It's the best nation on earth. But we have our shortcomings and must always strive to do better. I also made these statues to raise our nation's conscience to remind us to do that," he said.
Visiting Toth's sculptures has also become a pastime for some people. Folks involved in Geocaching have pinpointed many of the Whispering Giants throughout the US and around the world. Others keep a checklist and cross the statues off as they visit them. Googling "Trail of Whispering Giants" will bring up information about a statue near you.