Stephen Grimmer is an artist who has recently returned to his roots in Southern Illinois, and his art, ceramics and pottery. He and his wife, Kristie, own Alto Clay Works in Alto Pass, home of Steve's studio, a showroom featuring his handmade functional pottery, a classroom for adult and youth pottery classes, resident artist studios and, soon, a large wood-burning kiln.
Steve's pots are wheel-thrown and slip-cast porcelain and stoneware (oven, dishwasher and microwave safe) and functional. His work runs the gamut of shapes and sizes from big beautiful serving bowls to cups that are small enough to wrap your hand around, all in truly lovely layers of natural colors.
"I believe pottery is at its best when it is used regularly, both for everyday meals and special occasions. An unused pot is a lonely pot. So, all of my pots are quite durable and with care, should provide many years of happy service."
Steve fell in love with pots and the pottery-making process during his first clay class at the University of Iowa, where he was a math major.
"I pretty much lived in the ceramics studio," he said. "The process is very hands-on: nothing happens if you don't make it happen. You get to play in the mud and the fire and make beautiful, functional things. I just love everything about it.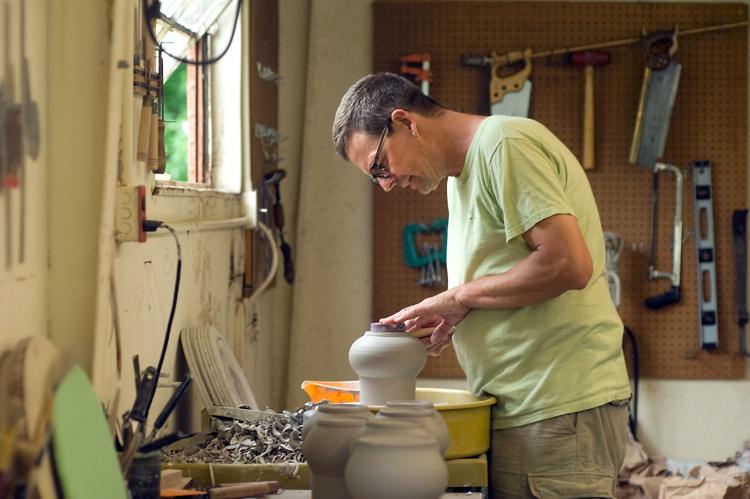 "I love the transformation from the clay to the fired ceramic material. I love seeing what happens, how the piece becomes smaller and harder and how the surface changes. It's always a little bit of a surprise, what comes out of the kiln, and it's usually a pleasant surprise."
After earning his bachelor's degree in mathematics in Iowa in 1989, Steve returned to Southern Illinois, where he heard about the ceramics work being done by Harris Deller at Southern Illinois University at Carbondale.
"Harris gave me permission and took me seriously," Steve said. "That's a powerful combination."
After Steve had worked at SIUC for about a year, Harris told him that he just had to go to Kansas City and work with Ken Ferguson, a major educator and artist. People from all over North America were making the trip to the Kansas City Art Institute to work with Ken. So, Steve went, stayed and earned his bachelor's degree in fine arts there in 1993.
"You couldn't help but be caught up in the enthusiasm for the arts at Kansas City," Steve said. "Ken's students were all really enthusiastic."
In 1993, he returned home to Southern Illinois, to housesit for his parents for the summer. That's where he met his wife, Kristie, and just like ceramics, it was love at first sight.
What followed – after Steve earned his master's degree in fine arts at the University of Massachusetts – were instructor positions at Bowling Green State University and SIUC.
"Ken Ferguson called me and sent me to Bowling Green and Harris Deller called me back to SIU, where I worked for five years. Kristie was teaching in Marion, so we moved there, where I built a kiln and began making and selling my own pottery. That's really where my work started to be my own.
You have free articles remaining.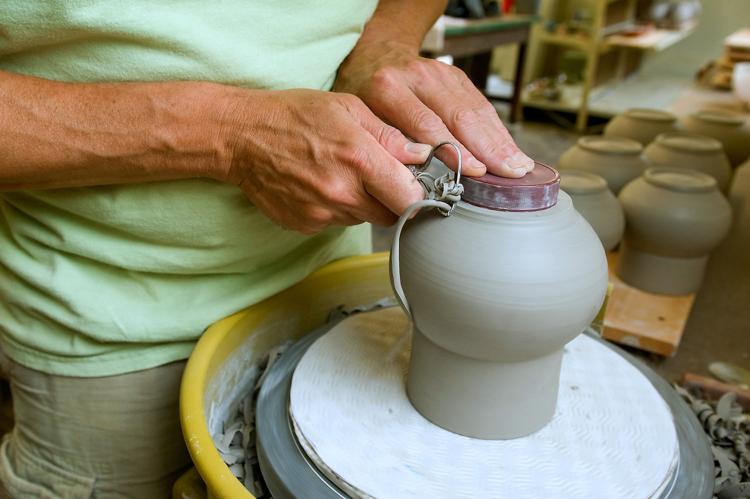 "People were becoming really excited about my functional pots, and I was constantly creating and selling my work. I loved experimenting with layers of color, but I also longed to be using a wood-burning kiln like the ones I had used in Iowa and Ohio. I loved the rough, natural surfaces they created.
"I really like the process of the wood-burning kiln," he said. "You can sort of guide it, but the wood and the speed of the fire do the work."
So, when a position at the University of Manitoba opened up in 2005, Steve and his wife took the leap, packed it all up and moved north. That's where he served as assistant professor and area chair in ceramics. Kristie taught second grade. They lived and began raising their three children, Grace, Greta and Erick.
"You know how it is, you take a job that's directly related to your creative passion, but you end up spending so much of your time on administrative tasks that you feel as though you have lost what brought you there in the first place. They had a good-sized wood kiln there that we wore out and I enjoyed the process of building a new one. I learned a lot in Canada, but I couldn't help feeling that I was not spending the time I wanted to spend on my pots."
So, in 2012, Kristie and Steve started talking about their next move. That's when they heard through friends that the Alto Pass Grade School building had become available. The owners – the Austins, owners of Austin's Antiques – had decided to retire and sell their lovingly restored 1928 elementary school building.
"We came down here in the winter of 2012 and 2013 and looked at it," Steve said. "It was so big, it was overwhelming and so beautiful, too, so lovingly maintained. The building was perfect for living upstairs and teaching downstairs, but it was the outbuilding, what would become my ceramics studio with two electric kilns, and the barn in the back, big enough to house the kind of large, wood-fired, Japanese-type chamber kiln that I wanted, that tipped the scales."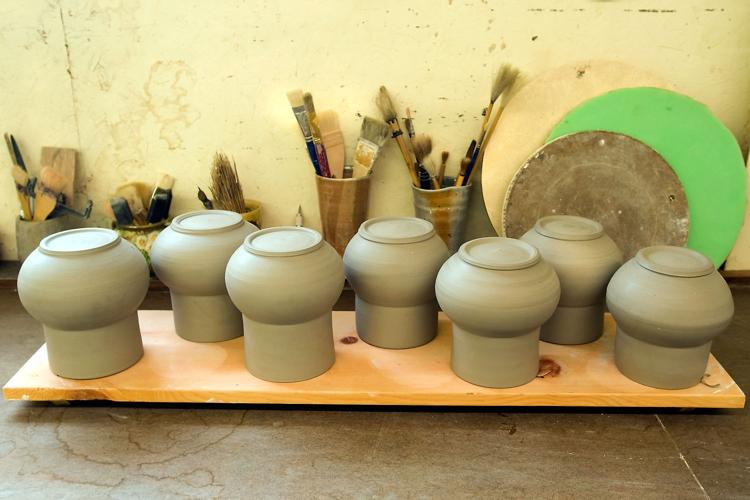 By the time the Grimmers returned the following winter, they had decided.
"We packed up home and studio and drove 1,100 miles south to the beautiful village of Alto Pass. Kristie got a job teaching at Unity Point, and the kids were on board, too. They were happy to be so close to both sets of grandparents.
"What really sold us on living here was the friendliness of the people. They're so welcoming. They're good people here. We're always walking around Alto Pass, to the post office or bank or Grammer's Market to catch up on the village news, and everyone stops to say hello or to talk. We love the orchards and wineries all around us and we love getting involved in community events.
"Right now, we're holding our clay camps for children – Kristie plans those lessons – and I'm working toward getting my big wood-fired kiln built before our next resident artist, Yoshi Fuji, arrives at the end of August."
Steve designed the two-chamber kiln that will be built from 4,000 fire bricks, currently stacked in the barn. The first chamber will hold mostly unglazed pots that will receive intense wood-fired surfaces reminiscent of Japanese Teawares, with a more rough and natural finish. The second will be for firing soda-glazed ware with clean, smooth surfaces.
"We hope to start firing in September and making lots and lots of pots," he said, practically giddy at the prospect. "I hope we can meet a need and build a community of artists around that kiln, all helping me build, fire and maintain it while producing some really beautiful, interesting and, of course, functional pottery!"