After driving a few miles of a straight and nondescript stretch of road west of Carbondale, the property in the near bend comes as a bit of surprise.
Snapdragons, standing tall like sentinels, are the first flowers to capture your attention. Quickly coming into view are sunflowers, prairie roses, pampas plumes, zinnias — or zeenyas, as we say in Southern Illinois — in seven varieties.
There is no mistaking it; you've arrived at Chautauqua Bend Flower Farm.
There's power in those flowers, which cover an acre of the three-acre property owned by Jerry Bradley, partner Chrissy Turner and their barely-toddling daughter, Bernadette.
"Mostly, it fits our desire to spend time outdoors, in all this nature, with our daughter," Jerry says, holding Bernie snugly on his hip. "We get to be home with her, with no outside job demands."
Jerry says that is one of the most important reasons he and Chrissy started flower farming. Looking around the large flower beds and herb gardens, he says, "It was important that she get this experience. It is so much better than the other options that were available to us. We wanted her to grow up this way."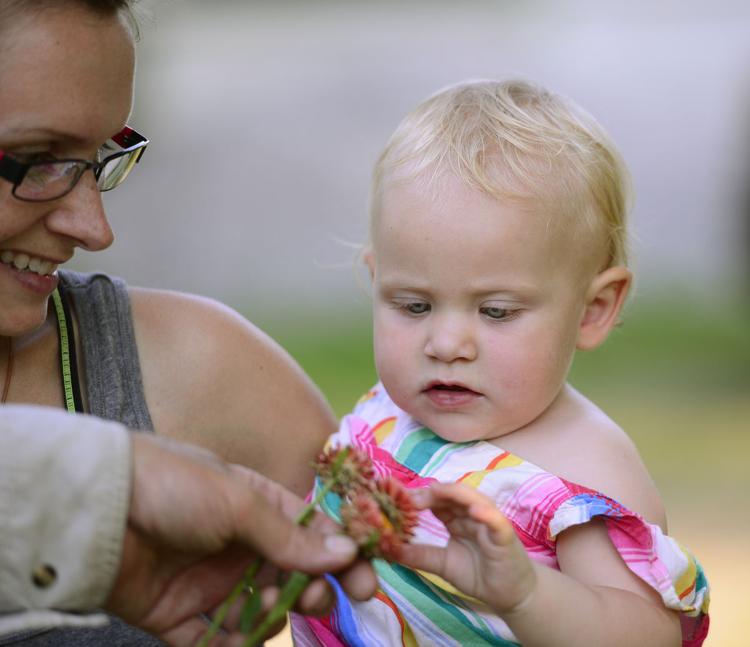 Also important is that this way of life fits neatly into the family's simple-living lifestyle and Jerry's farming philosophy, one he's been following almost nine years, as a small-vegetable farmer and as a proponent of organic eating. You might recognize Jerry from his years at Neighborhood Co-op Grocery and at Carbondale Farmer's Market, where he now sells his flowers.
"This kind of operation really allowed us to do something we love and that we believe is a better way to do things," he says. "So many flowers we buy in the store are from South America; we don't really know what they use there. Who knows what chemicals are used?"
Jerry saw an opportunity for this livelihood and way of life after receiving an inheritance from his beloved grandmother. It was enough to buy the land and the house and start the budding business, all tended to by hand with no pesticides.
He also practices succession planting; different seeds are planted in ways that provide a constant blooming, one species after the other or a few at the same time.
"There's always something coming and going," Jerry says.
Look west and south, and you'll see row upon row of Black-Eyed Susans, Cockscomb, Sweet William, Pampas Plume, Cosmos and ornamental grasses. Jerry points out another flower, a small, rainbow-colored flower – Xerochrysum bracteatum – commonly called strawflowers. They look as if they've been tie-dyed, and the tiny petals feel like paper or straw.
"I think this one should be the official flower of the Grateful Dead," Jerry says, grinning.
From all these flowers, they sell single-stem bunches to local florists such as Cinnamon Lane in Murphysboro and Twig Floral Designs in Carbondale. Chrissy creates arrangements that can be found at Cristaudo's Bakery, Town Square Market, and the farmers' markets in Carterville and on Carbondale's west side. The couple also offers their flowers and arrangements for weddings and special events.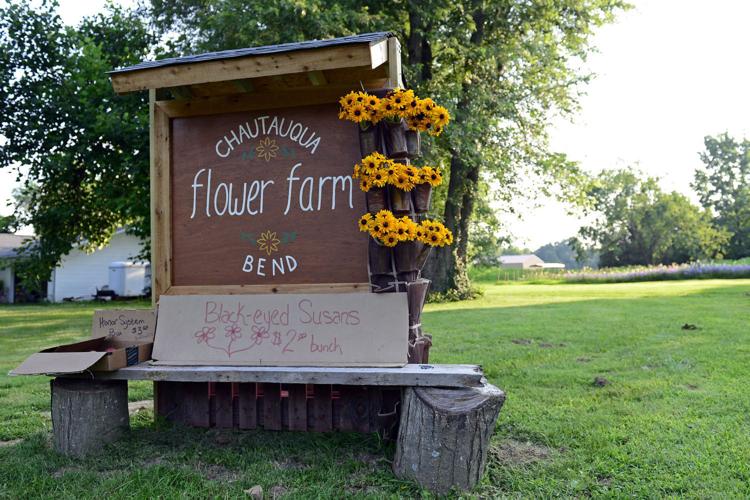 Chrissy often leaves small bouquets on the bench that is part of the farm's roadside sign, for sale on the honor system, which both Chrissy and Jerry say works just fine.
The couple has also been on the receiving end of praise from neighbors.
"So many times, a neighbor moves in and does crazy things that established neighbors don't like," Jerry says. "But, we've had many neighbors come to visit and share that they love what we're doing here."
So, the flowers also have had a powerful impact on his relationship with people and, especially, his neighbors, which fits into the slow-living lifestyle.
"People will drive by and give us the thumbs up as they see us working out here," Jerry says. "Some have even walk over to visit and get a closer look at what we're doing. And, I think that's just a great thing."