"Oh Christmas Tree, Oh Christmas Tree, How steadfast are your branches!" This popular Christmas carol is based on a German folk song, "O Tannenbaum," the lyrics of which were written in 1924 by Ernst Anschütz, a german teacher and composer. Although the song does not refer to Christmas, it became associated with the holiday by the early 20th century.
From the Christmas carols we sing and the markets we shop to the food we eat, German traditions are hidden in our modern-day Christmas traditions. The Christmas tree itself is a relatively recent tradition at only 400 years old. The tradition originated with the use of evergreen branches as decor. Eventually, people started bringing in the whole tree and, by the 17th century were decorating the trees with red apples and gingerbread to create an illusion of a tree in full bloom.
Our contemporary Christmas trees are decorated with strings of lights and a variety of ornaments, some of which have likely been passed down through a few generations or made by children and given as gifts that reappear each season. The Christmas tree has traditionally been the center of Christmas Eve, but our American version of this tradition often finds us decorating immediately after Thanksgiving as we leave the tree up for a month or more surrounding Christmas day.
While this tradition may be the most commonly practiced German tradition among Americans but there are several more that may be familiar.
Christmas Meals
Christmas Eve is often filled with normal chaos as the tree is decorated, gifts are wrapped, and food is prepared. German Catholics will attend midnight Mass and most do not eat meat before heading to church. The evening meal is light and often includes fish — salmon and carp are common — potato salad or boiled potatoes, and cucumber salad.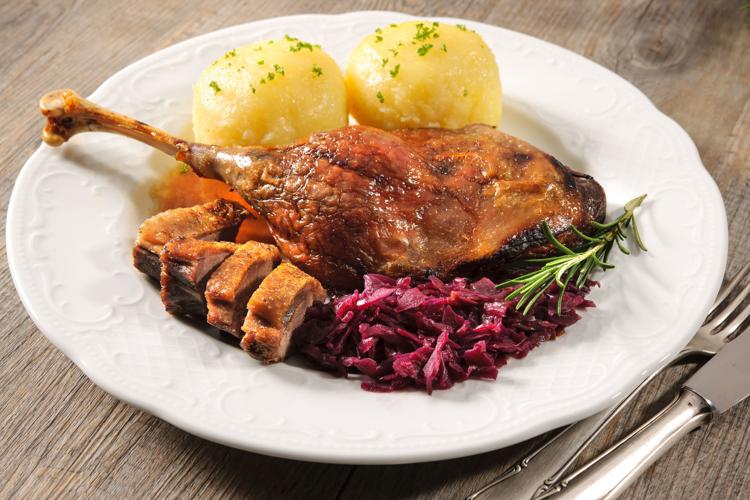 Christmas dinner is the perfect time to bring everyone together. The traditional German meal centers around a roast goose. Gänsebraten is not only delicious but somewhat practical in the cold winter months. It remains moist on the inside while crisping up nicely on the outside and providing an abundance of drippings to be used in later meals.
You have free articles remaining.
Keep reading for FREE!
Enjoy more articles by signing up or logging in. No credit card required.
Roast duck and turkey or a beef roast are also popular meats. Whichever the choice, the main meat is accompanied by sides like apple and sausage stuffing or chestnut stuffing; potato dumplings (serviettenknödel) or potato pancakes (kartoffelpuffer); and braised red cabbage, sauerkraut, or stewed kale.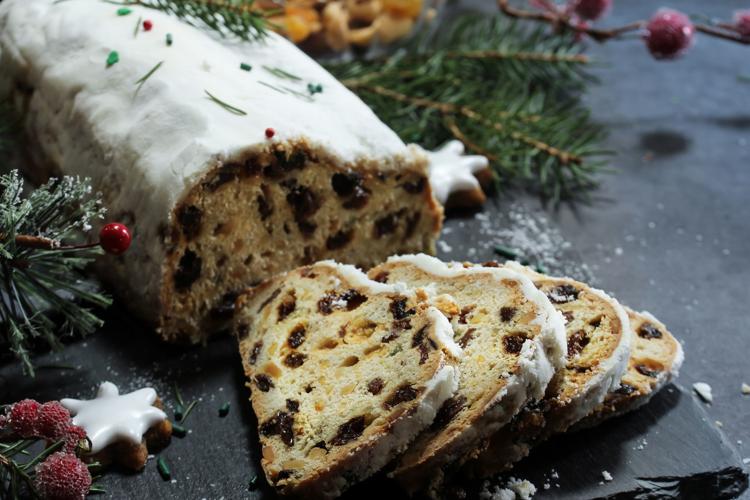 A Christmas stollen is usually served for dessert. Stollen is a traditional German cake-like bread that includes dried or candied fruits, nuts and spices and is coated with icing or powdered sugar. Lebkuchen, a gingerbread cookie, may also be among the desserts. These heart-shaped cookies can be as big as a dinner plate itself and are intricately decorated with icing designs.
Wine and Punch
Have you ever sipped on a glass of mulled wine in the winter? If you have you are partaking in an old German tradition. Glühwein may be the quintessential Christmas beverage. It consists of hot red wine that has mulled spices like clove, cinnamon, and star anise added, along with oranges and even raisins. A shot of brandy is often added to the drink that is traditionally served in ceramic mugs.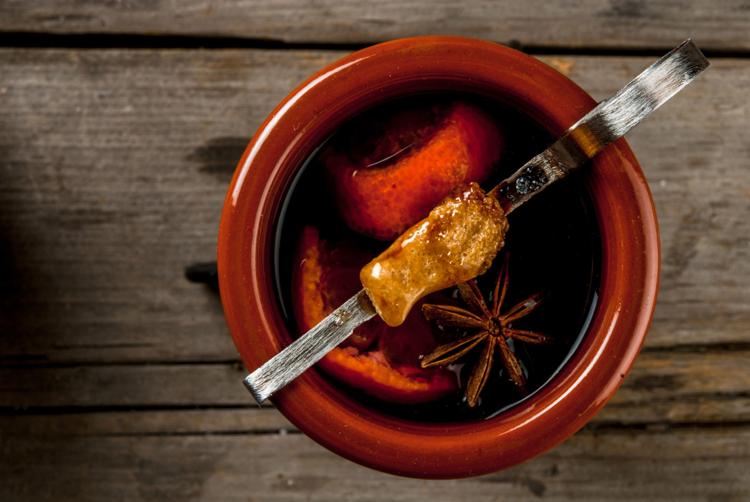 A lesser-known German holiday beverage is Feuerzangenbowle, literally translated as "fire-tong" punch. Mulled wine is still the base of this punch. A sugarloaf is soaked in high-alcohol rum which is then light on fire. As the sugar melts, it drips into the mulled wine adding a sweet rum flavor to the wine. The drink became popular in Germany after a 1943 comedy movie, "Die Feuerzangenbowle", showcased the punch. The movie has become a cult classic in Germany, and the punch has burned its way into holiday traditions for many.
While much of this may be familiar from childhood or, hopefully from last Christmas season, there is little doubt that the German heritage of the Midwest is alive and interwoven into our various family traditions.