I landed in Lisbon on a sunny Sunday morning.
I waited in a long, low-ceilinged, tiled room next to the baggage carousel until my giant, dark green backpack came around. I strapped it on, and waited for Dani, watching European families in fashionable hats and smart shoes walk confidently past.
I hadn't seen her in more than two years.
Danielle, or Dani, is exotically beautiful, with bright, brown eyes, thick, wavy, dark hair and a wide smile that curls at the edges. Her infectious laugh is like a sob.
We had become fast friends when she was going through a bad breakup. I was close with her brother, and he suggested we spend some time together. I drove her to exchange some personal effects with said ex-boyfriend. She got back into the car, and realized she still had the key to his house. She threw it out of the car window, at my urging, where it made a pathetic little ding as it hit the asphalt, and we laughed like mischievous children and drove away.
That day started a long and strong friendship. I helped her study for her Spanish class, and she helped me set up an online dating profile. We indulged each other's interests — a night at a dance club, a night at a burlesque show, a night at a midnight cult movie, a night at her house drinking cheap wine. She's my original dance partner — in my bashful, awkward early 20s, she dragged me out on dance floors all over Missouri (now I teach friends how to dance in my living room). We have laughed and cried and feuded, like all friends do.
The last time we'd been together, she had spent the weekend helping my partner and I pack for our move to Colorado.
About a month after we moved, Dani would be moving to Zambia, Africa, where she had been assigned to serve for her volunteer post in the Peace Corps.
My life was changing a little. Her life was changing a lot. She would have to learn a new language, a new culture. She would be a world away from family and friends for a solid two years at least.
For two and a half years we traded letters, emails, care packages and Skype calls. There were boys and bosses, new jobs, big moves, grand adventures and everyday minutiae.
After more than two years in Africa, Dani wanted to travel, but she longed for the comforts of home. She wanted to visit familiar faces in exotic places. She asked me to meet her in Spain. I had been there twice, once to study abroad in college, and another time to visit the host family I had lived with. I knew the language and the culture, I knew the good bars and the bad in the college town where I had lived. But I didn't want to just go somewhere I'd already been. I had long heard Portugal was cheap to visit, and beautiful, and it's right next door.
We spent a week wandering around Portugal's most famous cities. Everywhere we went, we met people who were friendly and welcoming, and spoke very good English. We mastered the most important phrase for traveling in a foreign country — thank you (in Portuguese it's "obrigada" if you're a woman; "obrigado" if you're a man).
All of Portugal seems to be paved with colorful, beautiful tile. Mosaics of geometric shapes and the likenesses of sea animals cover miles and miles of road and sidewalk. Every building — from the most grand to the most basic — is outfitted in colorful patterns.
We had no specific destination, no schedule. We climbed Lisbon's and Porto's steep hills and leisurely strolled Lagos' beachfront, wandering in and out of shops until we felt like eating or drinking. Mostly we made up for our lost time.
Lisbon
It's often said a good friendship can pick up right where it left off. I prayed that Dani and I would experience the same, that we would see each other and hug, and be glad, and spend the next two weeks drinking wine and dishing all that had happened — at least, the things that hadn't made it into those letters and Skype calls — and pulling the best and most fun parts of ourselves out of each other.
What would it be like to see her again? To be with her nonstop for two weeks, sharing small bedrooms and hostel bunks?
When I saw her wandering around near the baggage carousel, she looked just the same. We slowly made our way toward each other — we were both weighed down with giant backpacks, and exhausted — and hugged, our hands barely able to reach around those giant packs.
She told me all about the 12 hours that had led up to her landing in Lisbon, including the amazingly fun bonfire and cookout with new friends she had made during her few days in Berlin, while we stood outside the airport puffing on Camels.
Lisbon's subway system is extremely easy to use. The trains are color-coded, transfers are easy to spot and signage is simple to follow.
We bought Viva Viagem cards at the airport subway station, and reloaded them in machines in various stations as needed. Our Airbnb was in a residential area a quick subway ride to anywhere.
My travel philosophy is to plan, mostly, but leave room for spontaneous moments. Get to the metro stop nearest to your destination, and walk around until you find what you're looking for. I had read a Portugal guide book, but hadn't really planned a strict itinerary based on it. A quick look at a map before we headed out told me what we were looking for, but I mostly delight in getting off the metro and wandering until I find something good, whether it was what I initially set out to find or not.
Vinho verde: Made with immature grapes, it's crisp, tart and refreshing with a slight fizz. …
We wandered upon Rua das Portas de Santo Antão, Lisbon's restaurant row, an endless line of eateries mashed in a sort of wide alley. Tables and chairs spilled from the front of every restaurant, and an international crowd dined in the balmy early evening. All the Portuguese restaurants advertised "caracóis" — snails. Dani had to try them. Outside of every restaurant we strolled past, a waiter hopped upon us and set in trying to coax us into his place.
"Ladies, ladies," they'd call. "Are you hungry, ladies? We have the best Portuguese food. Authentic, Portuguese food right here. Come on!"
It's downright stifling. A local told me a couple nights later that a simple smile and "obrigada," gets them off your back. Worked like a charm.
We settled on a patio with a doting waiter and ordered caracóis, seafood stew and our first taste of Vinho Verde.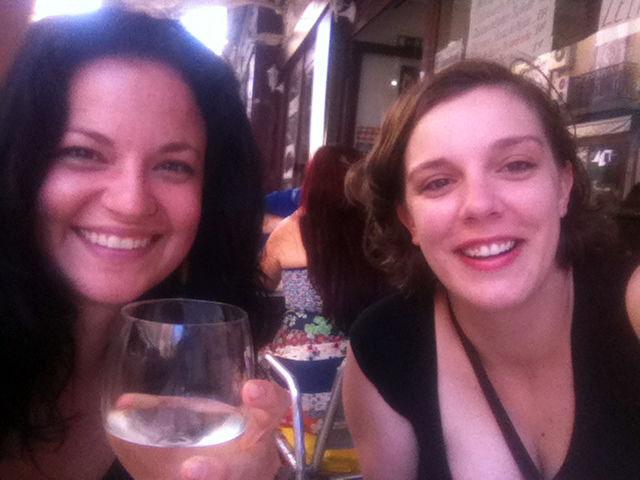 All over Lisbon, there are tiny storefronts selling ginjinha — a Portuguese liqueur made with sour ginja berries. We wandered upon Eduardino, just down the way from our restaurant, and ducked inside for a little dessert drink.
We explained to the man behind the counter that it was our first taste of ginjinha. We each bought a shot of the traditional-style liquor, and one of the special-to-the-house infusions, which had orange and anise flavors. It was heavenly.
We wandered. We followed the sound of music drifting from a side street, and found a stage set up next to the Rossio train station — a man played guitar, and a woman sang. We found a seat on a patio, ordered a little more ginjinha from the bar, and listened to the rest of their set as the sun ducked behind buildings. We wandered some more, up the hill into Bairro Alto neighborhood, where the streets were packed with tourists and locals, meandering around in the warm summer night, and shops were bright and beckoning. Tuk-tuks swerved around lines of cars and people, zooming up the hills as those of us on foot huffed and puffed and wondered where we could rent one.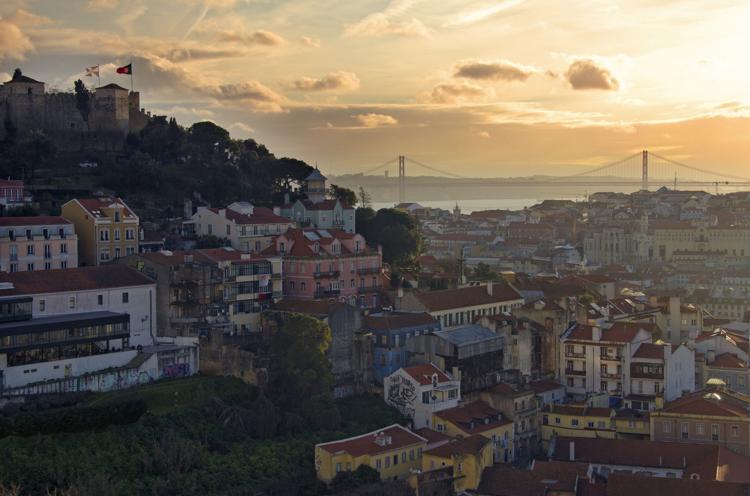 One of our splurges in Lisbon was a food and wine tour, booked through Inside Lisbon, which we did on our last day in the city. We should have done it the first day. We learned so many useful tidbits we wish we would have known sooner from our local guide, who was in her 20s, spoke excellent English and is an aspiring journalist.
For example, she showed us how to get to the best bar district in town, in the Chiado neighborhood. Dani and I had wandered one night into "Bar Iberico," a quiet, cozy place in a residential area, after giving up on our search for the bar district. It was quiet and mostly empty, but that wasn't a total loss — the bartender let us stay hours after closing, was extremely friendly, and way undercharged us.
Lagos
We ventured south for a few days, to the touristy beach town of Lagos, in the Algarve region of Portugal. On the Atlantic, there's not much to do in Lagos but soak up the sun, take a dip in the ocean, and enjoy the food and nightlife. We found quite a few more expats here — our host at the Algarve Surf Hostel had transplanted from Australia, and we found ourselves in an expat bar one night, where a long-haired surfer dude played mediocre renditions of pop-rock covers to a mass of tourists drinking overpriced cocktails.
When we weren't lying on the beach, we wandered around town, in and out of bookshops — I bought a killer vacation book in The Owl Story, which billed itself as a "proper English bookshop" — ate long and leisurely meals and drank a lot more vinho verde.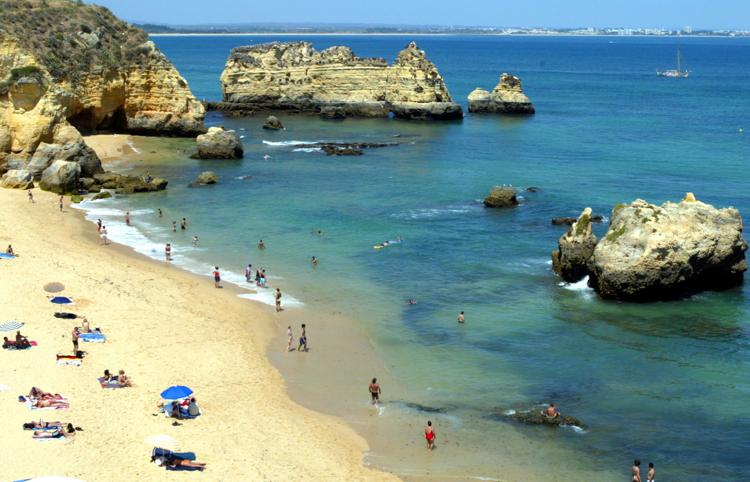 Finding ourselves in the heart of town one evening before any of the restaurants opened for dinner, and having already toured the town, we did the ultimate touristy thing and had our portraits drawn on a main drag where street performers gathered to cash in on tourists coming off the beach for the day. The Scot who drew our caricature claimed to be the father of Ewan Bremner, an actor who was in "Trainspotting." We Googled him later, and the likeness is striking.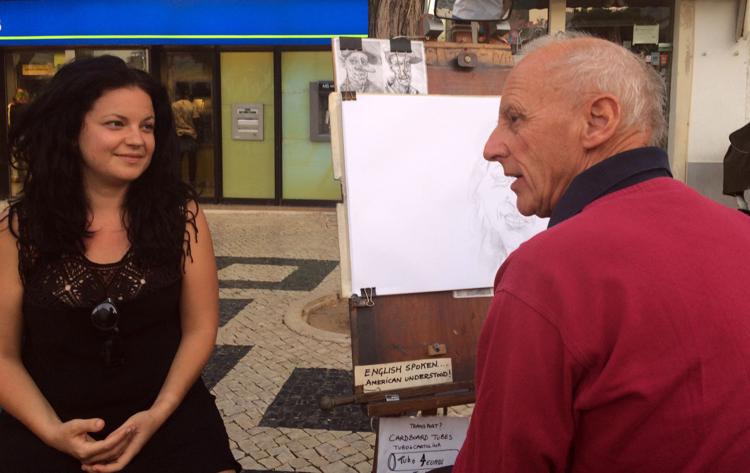 Guide books will tell you Lagos is overpriced and touristy. Touristy, yes, and maybe more expensive than other parts of the country. But for a couple of tired, traveling gals, the slow pace and unending sunshine was welcome — and still affordable.
Porto
We hopped a bus and headed north to Porto — the more offbeat large city in Portugal and home, of course, to port wine.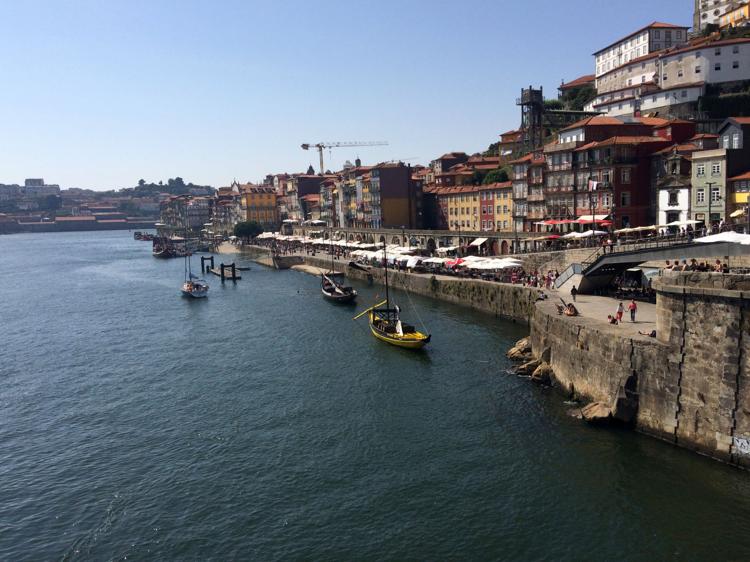 We spent a lot of time on the Douro River in the Ribeira district, and mostly traveled the city by foot. In early September, the weather had started to turn chilly, especially at night, and we wrapped our scarves and jackets around ourselves as warm days turned into wind-whipped, chilly nights.
Across the river from Porto proper, many port wine cellars are actually in another town, called Vila Nova de Gaia. Crossing the bridge as a pedestrian is harrowing, with a tiny raised sidewalk requiring walkers to pass in single file while cars and motorcycles zoom by on one side, with the river visible over the bridge's railing on the other. Tanned teenage boys climbed the bridge railings and dove into the river from terrifying heights.
All of the port wine cellars are clustered together on the street facing the river across from Porto. We walked up and down the row before settling on a tour of the Burmester cellar. The tour was obviously designed for tourists who were just going through the motions for a taste of the famous wine. But it was worth it for that taste. I never knew there were so many types of port wine — including a white port that deviates from the tawnies and rubies we all know here in the states.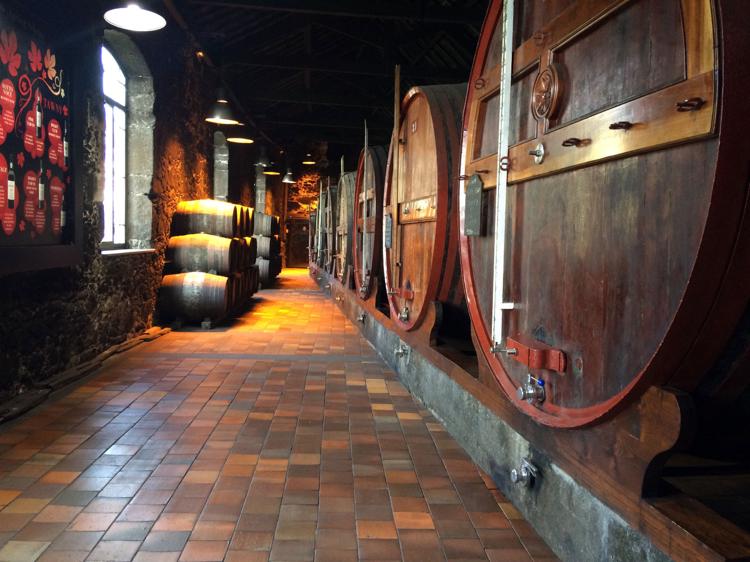 We had our best meal of the trip in Porto, in a trendy little place called The Wine Box. The cozy joint specialized in small plates, which were ordered from menus on iPads. We spared no expense and ordered everything we wanted — several glasses of wine to pair with each dish, razor clams, which Dani had seen in a case in a bar in Lagos and couldn't stop wondering about, peppers cooked in oil and covered in coarse sea salt, and a cheese course with four different varieties.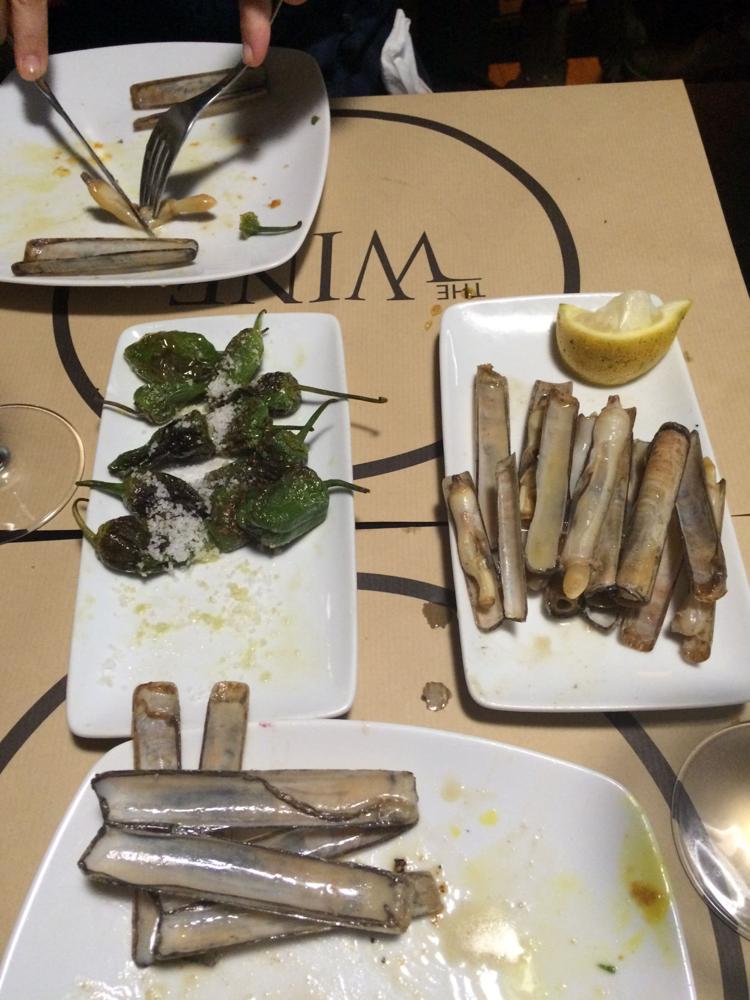 Over cocktails one night on a patio looking out on the river, I asked Danielle to speak at my wedding. I had told myself, in my anxiety of reuniting with her after such a long time apart, that if our reunion proved to feel like no time had passed, I'd ask her.
We were sitting by a gas heater, singing along to the pop covers blaring over the expansive patio, watching the people go by. We had spent a week sharing living quarters, and we hadn't killed each other yet. On buses and trains up and down the country, we filled in the past two years. She showed me photos and videos that illustrated her life in Zambia — her house, with its thatched roof and a metal tub for bathing. She introduced me to her cast of characters and explained her daily life. She had been present for births and weddings. She had given her village's chief a bowl her grandfather made and attended traditional celebrations and ceremonies. She ran a summer camp for girls. She had worked with a woman who had approached her when she'd arrived in her village and said, "you are going to teach me everything."
She was different. I was different. We had grown up. Our friendship was almost easier than it had been when she and I packed up my house together more than two years before.
We headed to Spain next. I had studied abroad there the summer of 2010, at the University of Oviedo in the northern region of Asturias — a mountainous, green oasis on the Cantabrian Sea that guide books rarely even mention. Spain's various regions have distinct cultures, cuisines, and even languages. Thanks to two amazing women who hosted me, I had learned all there was to know about Asturias. I had been to their protected forest, Muniellos. I had hiked in the Picos de Europa — a rocky mountain range that gives way to green, rolling hills — and marveled in their shadows. I had tasted the hard cider and pork-and-bean stew you can only find in Asturias. I had heard the music from the gaita, an instrument that looks and sounds very much like bagpipes. I had walked on a bridge that was built before the Roman era.
My time living in Spain catapulted me into an adult sense of independence and security. I learned how to talk to strangers — and not in my native language. In the rural setting, English is seldom spoken. I learned how to cope with real loneliness, and how to say yes to adventure. My host mom's common refrain was "disfruta todo," — enjoy everything.
Spanish Tortilla: Basically a potato omelet, usually served at room temp on top of a piece o…
You have free articles remaining.
Keep reading for FREE!
Enjoy more articles by signing up or logging in. No credit card required.
Vigo
The region of Galicia sits between Portugal and Asturias, and we were passing through, so we decided to explore.
My Asturian host mothers had recommended Vigo, the most populated city in Galicia. I booked lodging on Airbnb for us for one night, and I immediately got a message from the host, urging us to stay one more night so that we had time to visit the Cíes Islands. I had the sense the host was just trying to get another night's worth of money out of us, so I had to research this place for myself.
Headlines that popped up in Google news declared the Cíes Islands to be a hidden gem; The Guardian even named them home to the best beach in the world. The peaceful, postcard-pretty islands are protected by the government to maintain natural beauty and protect endangered species. The photos I saw online made the place look like an absolute paradise. I extended our stay in Vigo one more night.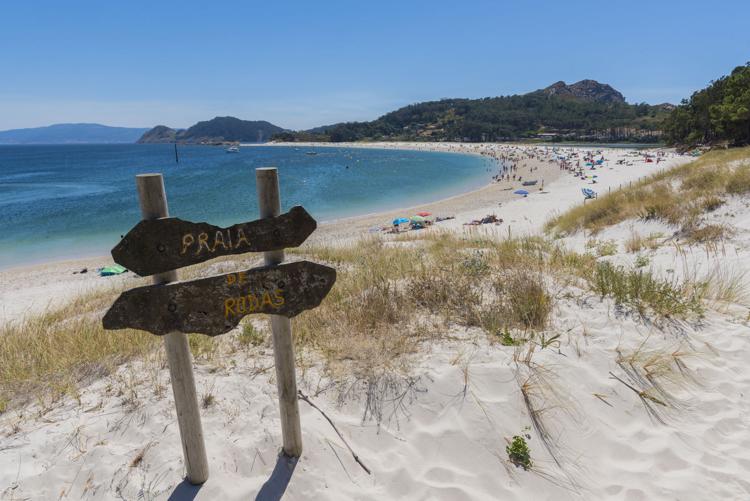 Too bad we never got to meet the friendly Airbnb host who had suggested we stay an extra night. When we arrived at her house at the agreed upon time, there was no answer when we knocked and rang the bell. We settled into a table on the patio outside the cafe next door for a coffee and free Wi-Fi.
We waited. The cafe owner was extremely welcoming, and didn't rush us, even though we ended up sitting there for two hours, waiting, calling and messaging our host, taking turns walking over and knocking and ringing the bell some more.
Outside the cafe, a man stood underneath an umbrella stirring the contents of a giant stock pot that came up to his bellybutton. 
His first customer handed him five euro, and the chef stuck a giant hook into the pot and pulled out an octopus. It was bright pink, with purpley suction cups that shimmered in the early afternoon sun. He flung the thing onto a table next to his giant pot, and began whacking away at its tentacles. This was Galician-style octopus, or pulpo a la gallega.
The customers who sat on the patio bought portions the cook cut into bite-size pieces and served on a wooden plate. He carefully stuck toothpicks into each bite-size piece for easy snacking. People would stop their cars in front of the cafe, stepping out with pots in hand that they had clearly brought from home. The cook would slice off portions of the cooked-up creature and place it carefully into their pots, and the people would secure their lids, get back in their cars, and drive away with their afternoon's lunch in tow.
We decided after more than two hours at the cafe to give up on the Airbnb. We rang our host's bell one more time, and walked toward downtown in search of a hotel. 
After we settled into the hotel, we wandered downtown and ordered pulpo a la gallega for dinner.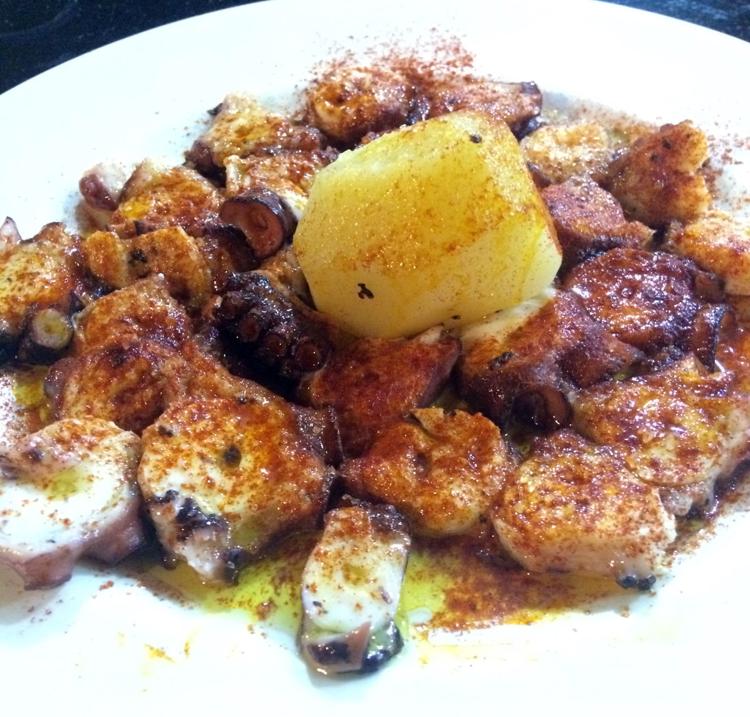 The next day, we woke up early and hopped a ferry to Las Islas Cíes, where the white sand shimmered like snow in the sunlight. We were on the earliest boat to the island, so we had a quiet hike up to a rocky outcropping, where we could see most of the island — giant grey rock formations butted up to the sapphire-blue sea water and the glowing paper-white sand. We spent the rest of the day on the beach, watching seagulls stalk napping sunbathers in search of free lunch.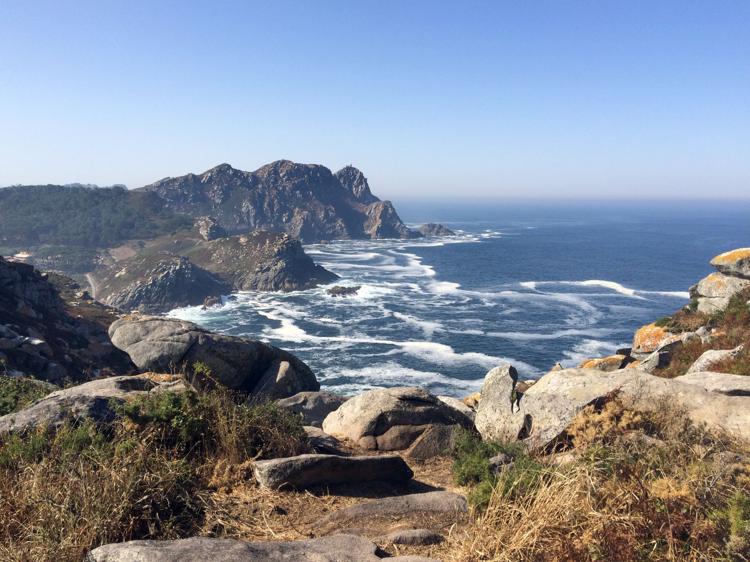 Santiago de Compostela
This is a sacred city. It's the end point of the famous Camino de Santiago, or St. James' Path, which stretches from the French border through the north of Spain to Santiago de Compostela.
Walking the entire route takes weeks — a group of Norwegians at the table next to us at dinner had just finished, and said it took them five.
A scallop shell marks the route, and the pilgrims who walk the route wear the shells on their packs. Their rugged, tired faces wear every step of the walk they've taken before they've ended up in Santiago de Compostela.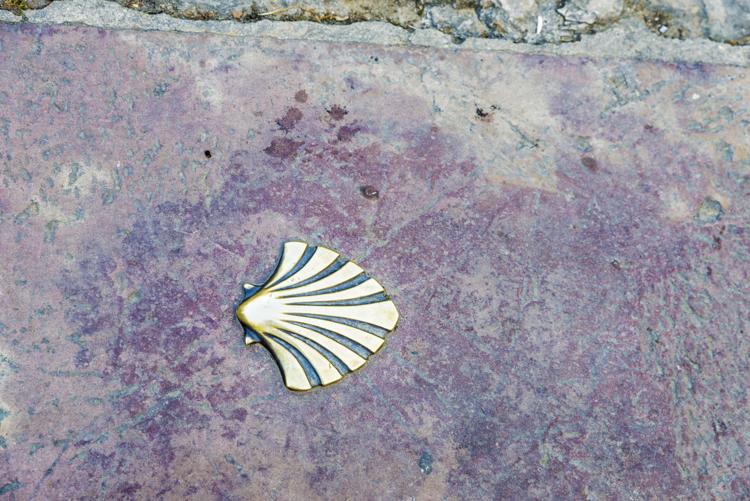 The centerpiece of town is the cathedral — Catedral de Santiago. We wandered inside in search of a candle to light for my departed Catholic grandmother. As we moseyed around, we noticed several people had filed into the pews. The organ struck a chord, and several priests filed past us. Mass was starting.
"Let's get out of here!" I whispered urgently. We bailed out of the nearest door and headed to dinner.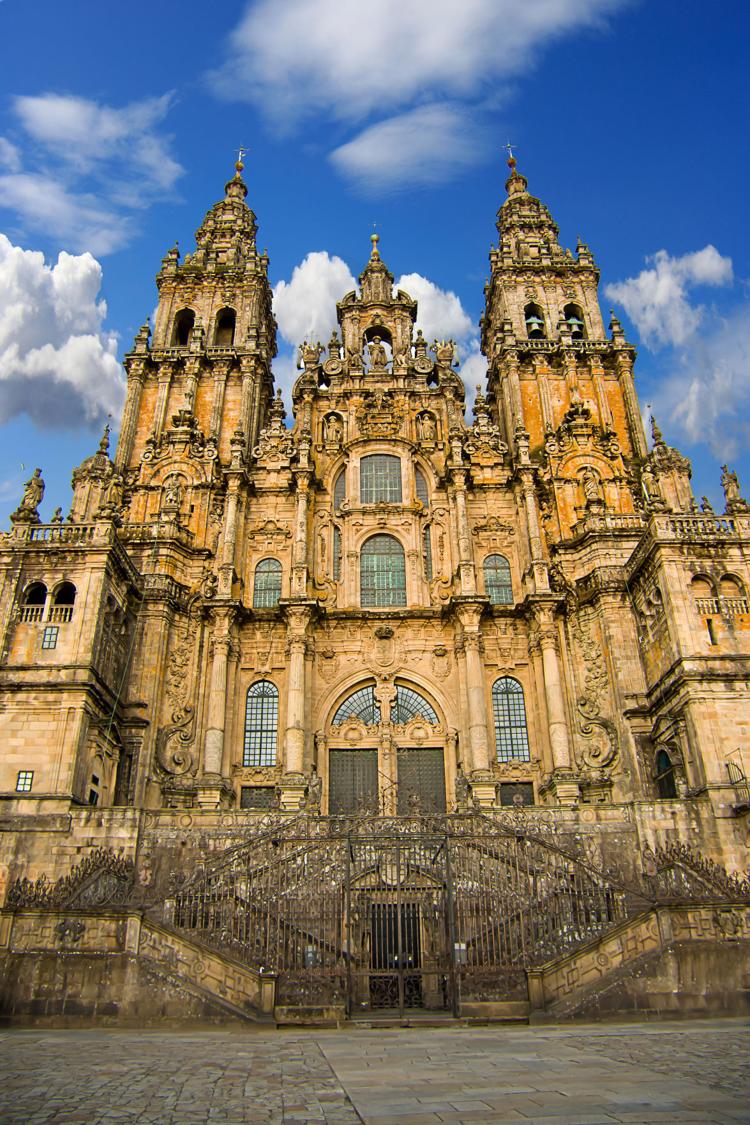 After the sun had set, we wandered through the narrow, ancient, winding streets that surrounded the cathedral. On that particular night, the old town was pulsing with music. We heard singing echoing through a narrow alley, and followed the sound. About ten men were standing underneath a portico across from the cathedral, dressed in velvet capes and wearing a variety of embroidered patches. The sound of their guitars and voices amplified naturally by the ancient stone that surrounded the cathedral plaza. A crowd had gathered, and everyone clapped and sang along. People were sprawled all around the plaza, taking in the tunes, some of them lying on the ground, staring up toward the sky and the cathedral's facade.
We walked onto another side street, and found a three-person band. One person played a large, triangular upright bass. Their music was a slow, minor-key funeral march.
We wandered into a bar where several young, hip-looking people were gathered outside. The bartender was thrilled to meet a couple of Americans, and regaled me with stories of his time in Utah. He poured our drinks extra-strong, and scared some locals out of a table so we could sit on the patio outside.
Oviedo
Stepping off the bus in Oviedo was like coming home.
I can still close my eyes and walk the streets of Oviedo in my mind. When I open a bottle of Asturian sidra — hard cider — the funky smell transports me to the plaza where I celebrated with the locals after Spain won the world cup of soccer for the first time.
The whole city smells like that sidra. Bottles are cheap — usually less than 2 euro — and are shared. A small amount is poured into a wide-mouth glass and downed in one gulp. The tradition is to leave a small bit of sidra in the bottom of your glass, and dump the remainder onto the ground. To aerate the drink and add a bit of fizz, the sidra bottle is held in one hand high above the head, and poured into the glass, held in the other hand as low as the arm will allow. As a result of these traditions, sidra is poured and spilled everywhere.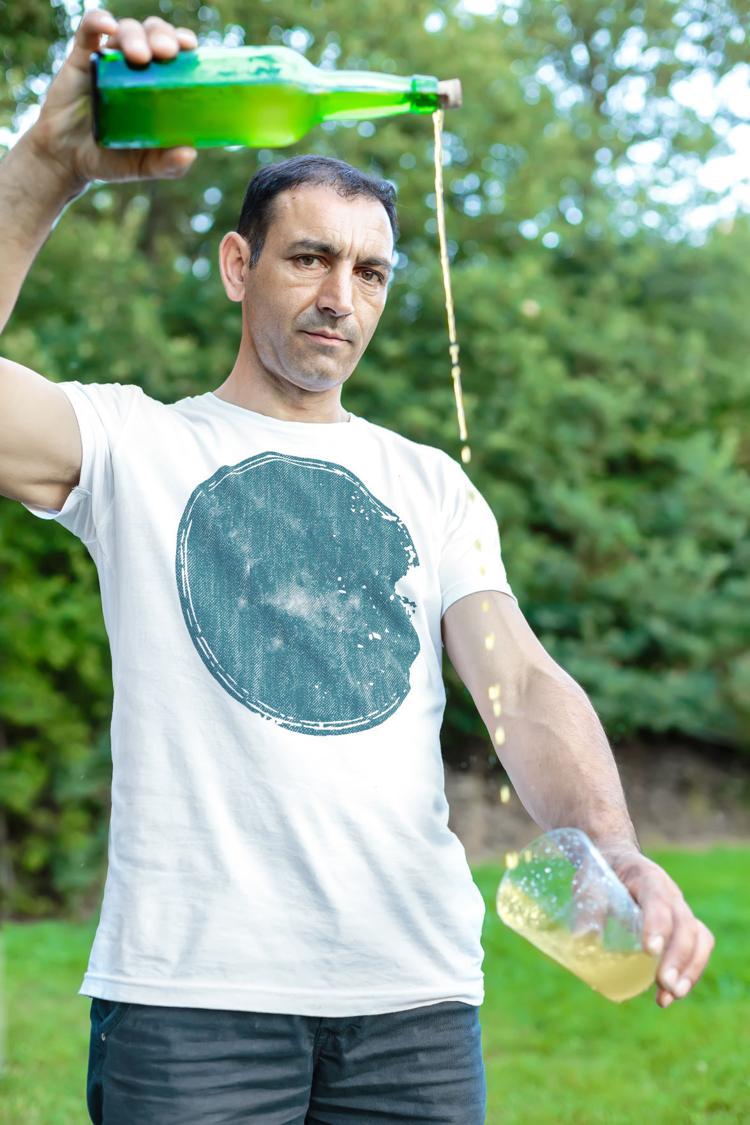 I took Dani on a tour of my Oviedo. We walked through the university campus, past the apartment where I had lived, past the spot where I had made out with that guy from Oregon who I met at school. We had coffee with my host mom and her whip-smart preteen granddaughter, who speaks better English than I speak Spanish.
Our first full day there was Día de Asturias, the feast day of the province. People swarmed the streets, and bands of people in traditional dress — wooden clogs, conical felt hats, fluffy skirts embroidered with flowers — marched through the streets playing traditional music on Asturian drums and gaitas.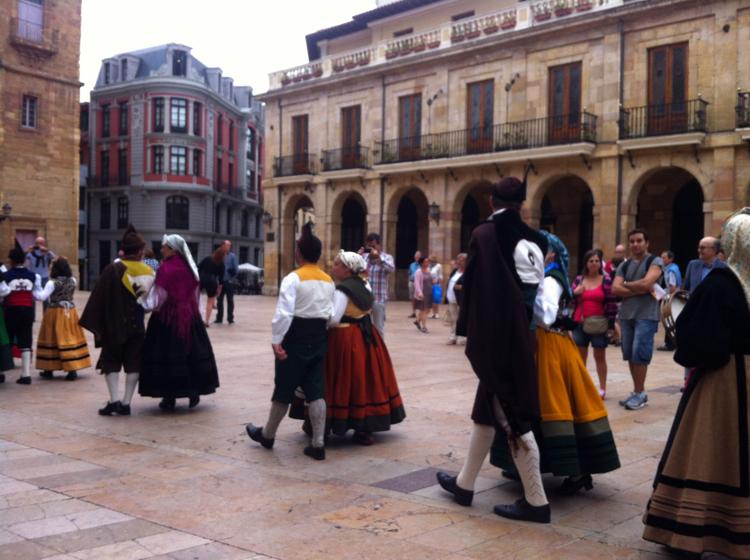 We walked up and down Calle Gascona, known as cider alley, where sidrerías serve hard cider — waiters can be seen all along the street pouring the cider from high above their heads — and Asturian tapas and dishes.
The first time I had been in Oviedo, I was treated to the Asturian tradition of an espicha. An espicha is a specific kind of party, where everybody stands around (there are no chairs in the room) and snacks on tapas, drinks lots of sidra, and listens to a live band. Dani and I took a bus to Tierra Astur, a chain of restaurants that specializes in espichas and all edible and drinkable things Asturias.
The food is served family-style at espichas, which is sort of a strange experience when you're standing around a long table with 15 strangers, and Spanish is your second language.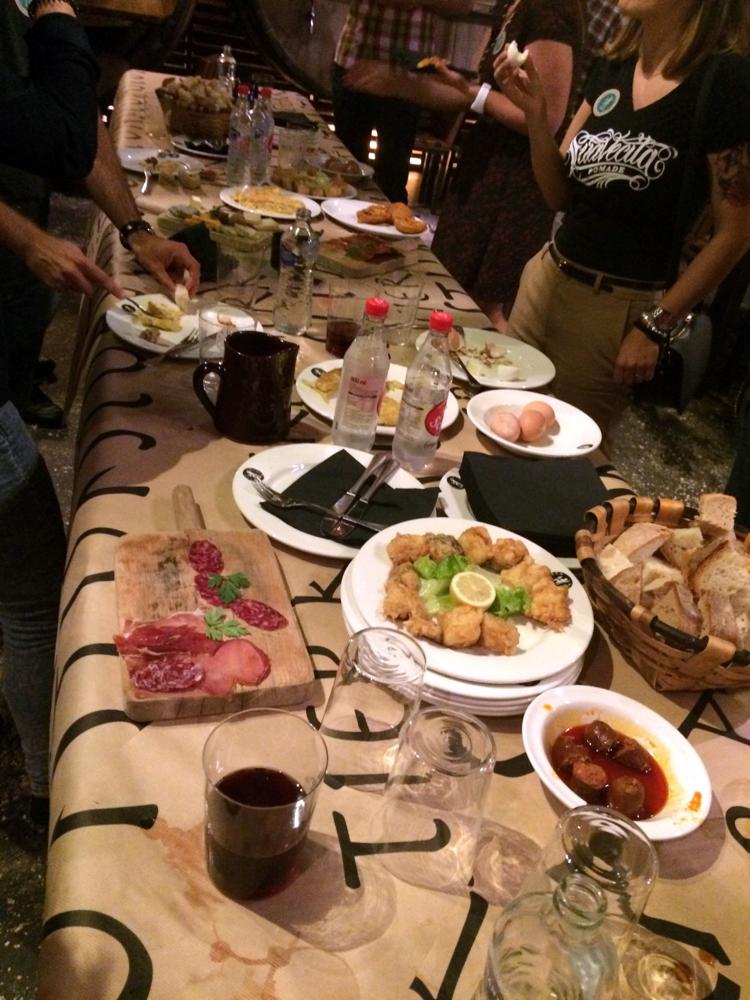 Dry, earthy red wine is served in clay jugs, and mixed with Gaseosa, a sweet sparkling water. Sidra is served out of spouts on giant barrels. Food comes in several courses: a cheese plate and bread is accompanied by a plate of Spanish ham in different varieties, followed by chorizo sausages cooked in hard cider, followed by little bits of fried fish, followed by croquettes, and boiled eggs, Spanish tortilla, and on and on.
After everyone had had their fill, the plates were cleared, and the band started. We were the only Americans in the room, and had felt out of place. The pop-rock four piece played a lot of American covers, and we felt emboldened to sing along. All our bashfulness went out the window when Ephram, an energetic man who had been enthusiastically air-guitaring alone in the middle of the dance floor, grabbed us to dance. We danced with him and his group the rest of the espicha.
Ephram introduced us to his wife and their friend. They decided they liked these two American girls, and insisted we accompany them to some clubs after the espicha ended.
We hopped in the car with them and drove downtown. These three were boisterous, and completely insane, and all Dani and I could do was giggle in the back seat while the three of them yelled at one another in that comfortable way friends and partners yell at one another.
We faded away from them after two clubs, a few drinks, and a few dances. The dance clubs that had seemed to appealing to us at 21 were now just hot and uncomfortable, and we couldn't imagine staying awake into the wee hours — Spaniards typically party until the sun comes up — so we faded away and walked back to our apartment.
We woke up late our last day in Oviedo and assembled a mismatch lunch out of savory pastries from my favorite bakery and little snacks from the grocery store. We headed to Campo de San Francisco, a large park the locals call "the lungs of Oviedo" that's home to many species of trees from all over the world and a few peacocks.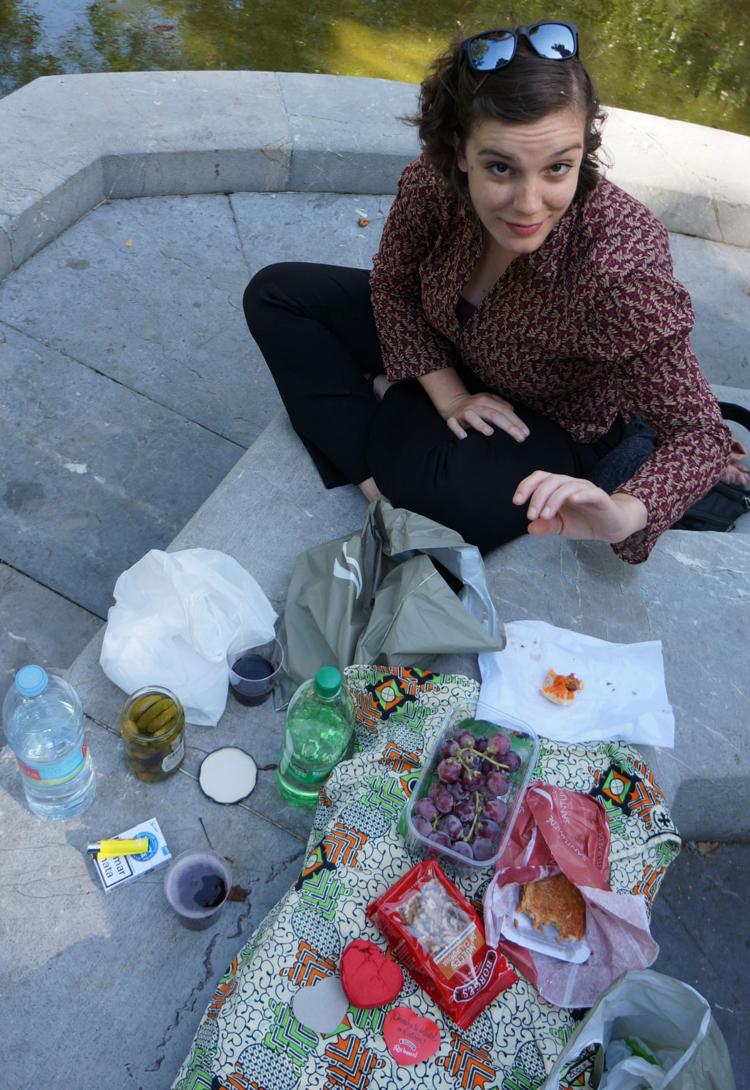 We posted up under several large, old trees and feasted. We whiled away several hours telling secrets and talking about our futures.
This park is where I had spent afternoons writing in my journal on my loneliest days living in Oviedo. Now I was here with one of my greatest friends, feeling right at home.
Madrid
We took a train to Madrid, where I had booked us a budget hotel near the airport.
We took the metro into downtown, where I got us very lost in search of Plaza Mayor. At last we found it, and we watched the people and street performers go by while we sipped sangria and ate salad and fried snacks.
We decided not to sleep our last night in Spain. We both had early flights to catch the next morning, and thought it better to just stay up and head to the airport in plenty of time.
As we packed up our last few belongings, Dani played a song on her laptop, "See you Again," by Wiz Kalifa. The refrain stuck out: "It's been a long day without you my friend, and I'll tell you all about it when I see you again. We've come a long way from where we began. Oh I'll tell you all about it when I see you again."
We had survived more than two years apart. We had reunited. We had spent two weeks with only each other's company — save the locals we met along the way — in closet-sized bedrooms, in cramped hotel rooms, in tiny studio apartments, on trains and buses and the backs of cabs. 
We had picked up exactly where we had left off on that day we hugged and said goodbye outside of my house in Carbondale, and I had climbed into a U-Haul headed west, and she had headed to the opposite side of the globe.
The moment I lost sight of her in the Madrid airport, as we headed toward our respective gates, I missed her already.
But my heart glowed as I flew back toward home. I'd see her again in a few weeks, when she finally made her way back to the Midwest. To stay.