Around a hairpin turn on the remote Remhoogte mountain pass in western Namibia, we met our match. A few stood. Some reclined in the shade of a tree. A herd of cattle — cows and bulls — blocked our path.
This was not how I envisioned my first African wildlife encounter.
The apparent leader, a white-and-tan bull with two pointy horns atop his broad head, stared at us in our 4x4 truck. We approached slowly, and he lowered his head and pawed the ground. Wisps of dust rose from the gravel road. City girl that I am, I recognized the challenge.
My stomach turned over, and my heartbeat raced. Visions of a charging bull, a ruined rental car and a night spent deserted in the Namibian desert flooded my brain. We hadn't seen another car out here in an hour. Surely our grand African adventure wouldn't be over before it began.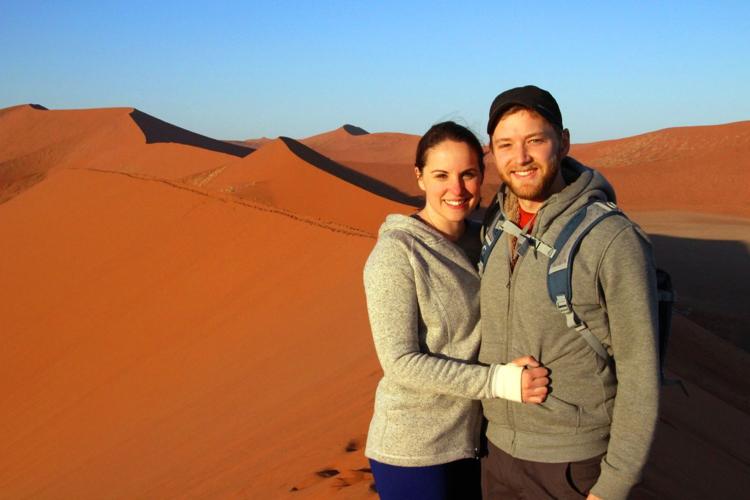 My husband, Teddy, and I thought about pulling out the emergency satellite phone and placing a pricey call to the rental company for advice. Should we honk at him? Drive up slowly and ask, ever-so-politely, that he vacate the thoroughfare? We imagined the owner snickering. "Silly Americans," he'd surely say. We put the phone away.
No, this was our challenge. This bull was the bridge-toll troll of our Namibian experience, and we weren't going to let him stand in our way.
Namibia: Of dunes and wildlife
I've always been a somewhat nervous traveler. I toss and turn on trans-ocean flights, jumping at the slightest bump or speed change. On a mountain road in northern Mexico, my family watched with a mixture of concern and confusion as I hyperventilated into a paper bag, worried our driver would make too wide a turn and tumble off the cliff beside us.
Still, adventure's call is louder than fear's, and so I keep exploring. In Namibia, a sparsely populated southwestern African nation about the size of Texas, my nerves would be put to test once again.
We'd decided on Namibia on the advice of family members who had traveled there before.
My uncle had done some non-governmental organization work there. The people, he said, were kind and welcoming, and the terrain was incomparable.
My sister took an excursion there while studying abroad in Namibia's southern neighbor, South Africa. She brought back photos of eons-old dead trees rising from a cracked white saltpan, of bright orange sand dunes and vast canyons. These, we would discover, were just a few of the dozens of otherworldly landscapes Namibia has to offer.
We also knew Namibia offered one of Africa's best wildlife sanctuaries. Etosha National Park sits on a stretch of semi-arid land about 400 kilometers north of the capitol city, Windhoek (pronounced VIND-hook).
During the dry season, nearly 150 mammal species, including endangered black rhinos and black-faced impalas, crowd the park's watering holes. They're the perfect place to view animal politics, as species jockey for prime drinking space.
We'd spent months planning a so-called "self-drive safari" that began in Windhoek and proceeded in a wavy circle around Namibia's northwestern quadrant. We worked with a company, Wild Dog Safaris, to fine-tune our itinerary and book our car and hotel reservations. From there, we were on our own. We wanted to see the country on our terms — not from the seat of a crowded tour bus.
Still, we embarked with lingering trepidation. This was the first trip for both of us to sub-Saharan Africa. We'd heard the roads in Namibia were decent, but neither of us had ever driven a 4x4 truck before, let alone on gravel roads. We'd never camped under African stars or come within feet of wild animals that we'd only ever seen behind glass at the zoo.
The prospect was both exhilarating and terrifying. That first day, facing down our Namibian bull, we confronted our fears.
Sossusvlei: Of dunes and dead trees
It turns out, the way to get a bull out of the road is to do nothing at all. We tried honking, but that only angered our bridge troll. We tried inching forward slowly. That didn't work either.
And 10 minutes later, the horned bovine — and his crew — moved off. As we drove past, my stomach turned again. Still, I couldn't help but smile. Well played, sir.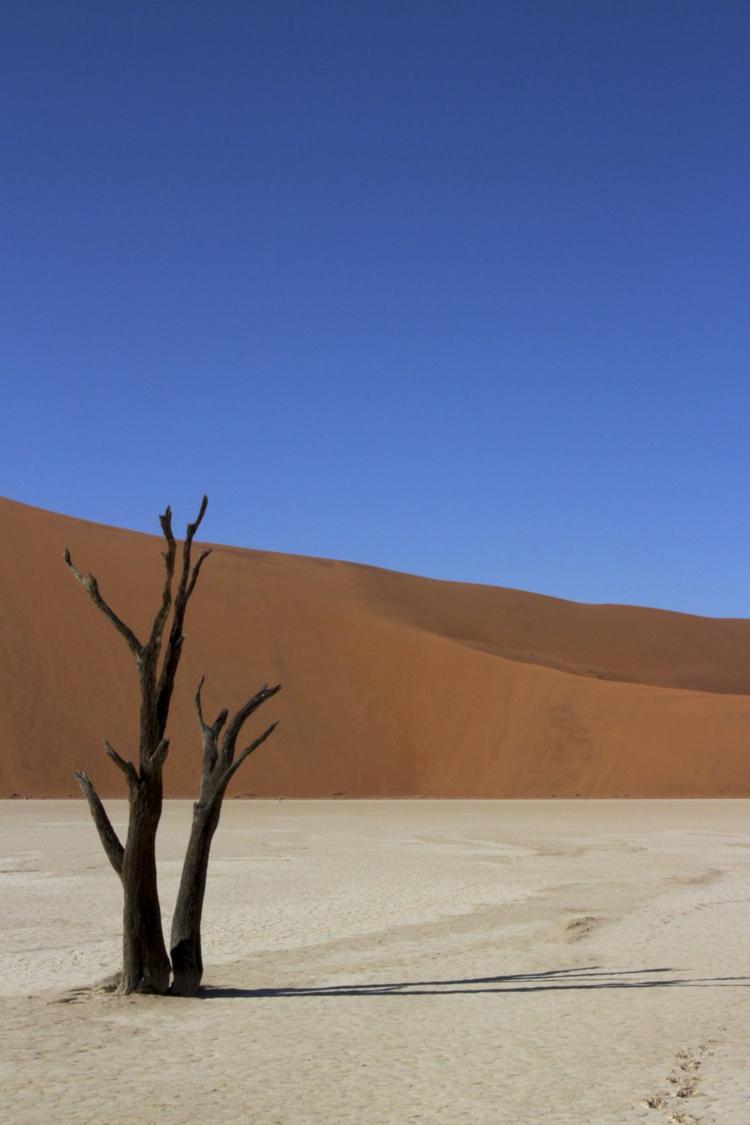 A few hours later, just as the sun was setting over the red hills in the distance, we arrived at our first destination.
Sossusvlei is a mostly barren salt and clay pan located in a protected area within the Namib Desert. Characterized by towering reddish-orange sand dunes and the flat earth beneath, it's Namibia's most popular tourist destination — and the place I felt most excited to see.
That night, we checked into a campsite and slept in the pop-up tent perched atop our truck. Luxury villas line the hills outside Namib-Naukluft National Park, but we wanted to rough it that night.
We bundled up for the chilly desert evening and snuggled in. Every few hours, the pitter patter of animal paws or the rustling wind jarred me awake. It was hard to forget the wild world outside our canvas door flap.
There's no wrong time of day to see Sossusvlei. In late morning, the climbing sun deepens the salmon-colored dunes, while casting long black shadows on their western slopes. At sunset, the sky turns nearly as red as the land. We opted to leave early.
We rose before sunrise, packed our things into the truck and headed through the park gate at the tiny outcrop of buildings known as Sesriem.
Most of Namibia's roads are gravel, but thanks to booming tourism at Sossusvlei, government officials invested in a paved road to carry passengers into the park. It was one of the few paved roads we drove on during the two-week trip.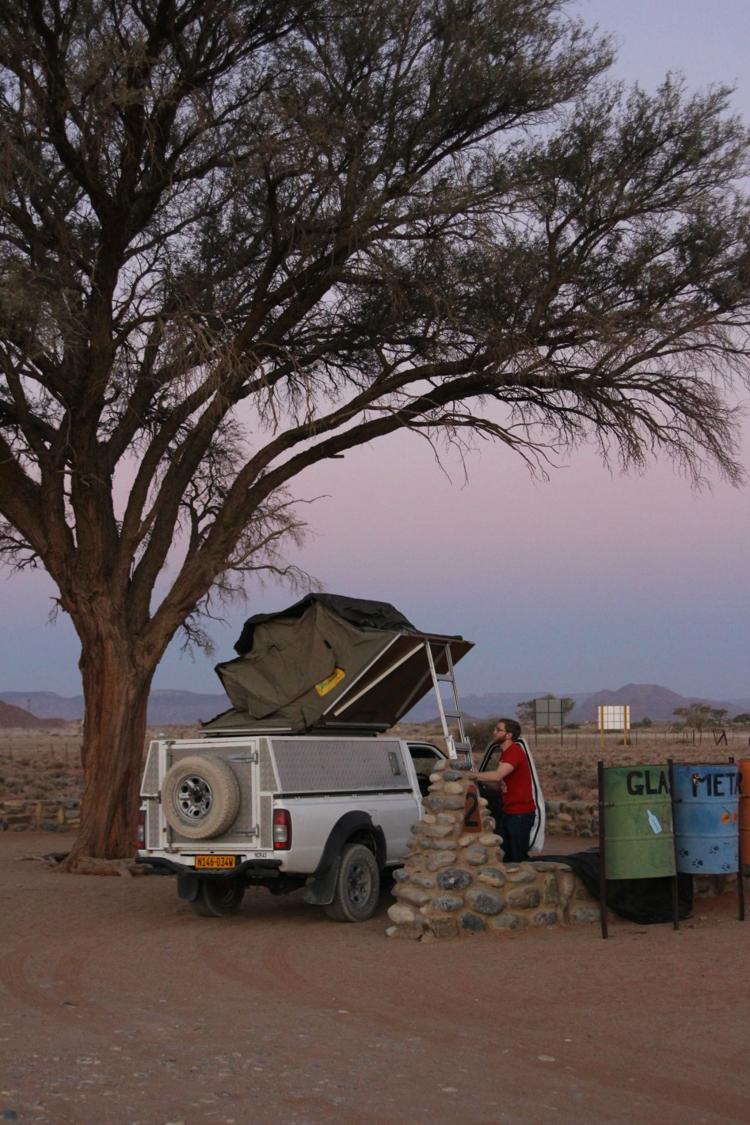 Despite the increase in tourism, we saw few cars on the 60-kilometer trek. The road, a black ribbon stretching to the distant horizon, punctuated the pan's light cream-colored cast. On all sides, towering dunes rose from the flat earth in the distance. Soft blue, pink and yellow hues announced the sun's arrival. The morning air was silent.
Every few miles, a lone oryx, or two or three, scampered across the road. This large antelope, Namibia's national animal, features color-blocked white, black and brown fur, ovular ears and two tall, straight horns. This was the first of many sightings.
That morning, we reveled in Sossusvlei's otherworldly beauty. We hiked 550 feet to the top of Dune 45. Perched on its 5-million-year-old sand, we saw expansive views of the surrounding desert.
The star of the show, though, was Dead Vlei. In an expansive cove surrounded on all sides by dunes, dozens of dead Acacia trees rise from the cracked white saltpan below. Thought to be some 600 to 700 years old, the trees are remnants of a time when water fed the desert more frequently. At some point, access from a nearby river was cut off. The resulting climate was so dry that the trees died and dried where they stood.
Still they stand, ghostly black. Behind them, towering red-orange dunes and a clear blue sky. All together, the view felt spiritual, somehow.
Swakopmund: Where the desert meets the ocean
Our driver called it "Space Mountain-ing." Aside from the bright Namibian sun overhead, he wasn't too far off.
Five hours after leaving Sossusvlei, we arrived in Swakopmund, Namibia's fourth largest city, just south of the infamous Skeleton Coast, on waters of the Atlantic Ocean.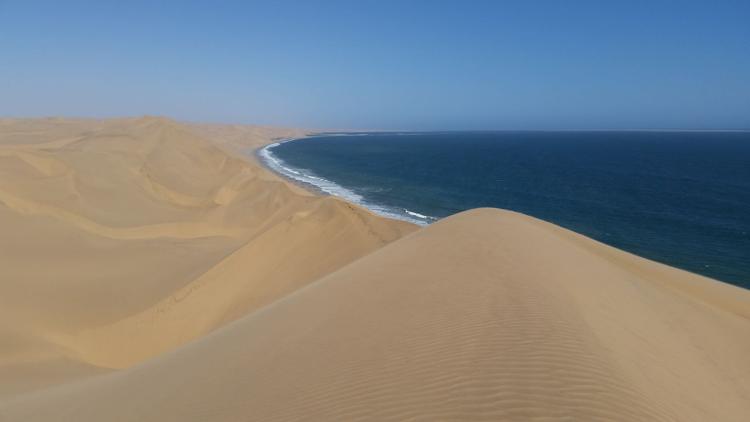 You have free articles remaining.
Swakopmund is known for its beautiful German architecture (Namibia was a German colony during the late 19th and early 20th centuries and still retains some German culinary and cultural ties), for its beach resorts and, above all, for adventure tourism.
Fancy sky-diving or dune surfing? Feel like taking a pleasure flight to spot shipwrecks on the Skeleton Coast? Swakopmund and nearby Walvis Bay cater to thrill-seekers.
We sought our adventure on the dunes south of town.
Our guide, a born-and-raised Namibian with Afrikaans heritage, had served as Charlize Theron's driver for a while when the actress was on-set in Namibia filming "Mad Max: Fury Road."
He was a talker. And a master of the 4x4.
The plan was to drive south to take in Sandwich Harbour, a deserted cove where the dunes of the northern Namib Desert bumped up against the ocean. The only problem? There are no roads to get there. Instead, four tourists and one driver piled into a 4x4, left the gravel and forged their way through the desert, dune by dune.
We could have taken the coastal path, he explained. But it was so much easier, and more exhilarating, to go dune hopping. So that's what we did. Up and down, up and down, at a speed that seemed careless but somehow made me feel carefree.
As we climbed and fell, my heart and stomach tagging along for the ride, my inhibitions left me. I remembered the first time I'd experienced Space Mountain — the thrill of the unknown, the adrenaline. I threw anxiety to the wind and enjoyed every second.
And our reward was so sweet. At Sandwich Harbour, yellow dunes and blue ocean span in opposite directions as far as the eye can see.
Etosha: Self-styled safari
From hundreds of yards away, that set of illuminated eyes didn't look much like a lion. We soon found out our guide had been spot on.
It was our first evening at Etosha National Park, and we'd signed up for a night safari.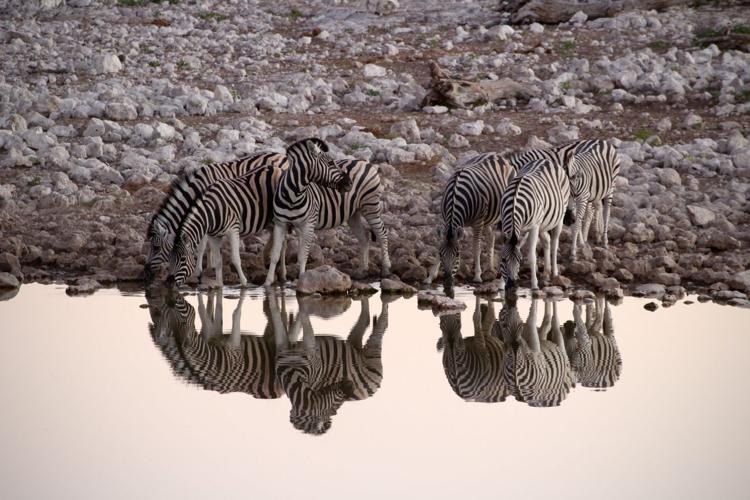 Bundled in blankets to protect us from the cold Namibian night, we set out with our guide and a few more eager wildlife spotters. It was pitch dark and eerily quiet.
Our guide shone a red light into the surrounding park. Its glare caught the eyes of sleepy springbok, zebras and giraffes, hunkering down for the dangers of a night in the wild.
If we had pulled up to the watering hole on our own, our untrained eyes would have missed it. There, in the distance, the light caught two eyes. Our guide grabbed his binoculars and stared.
"Yes, that's a male lion," he said. "He probably fell asleep, and the females left him to hunt."
We stared into the night. It was an exciting find, but our feline friend was too far away for us to get a real glimpse. Then, in the glare of the spotlight, we caught some movement. The cat started moving toward us.
He stopped at the watering hole and drank, then continued moving our way. Before long, we could make out his figure. And before we knew it, he was standing right in front of us. It was almost as though he was putting on a show.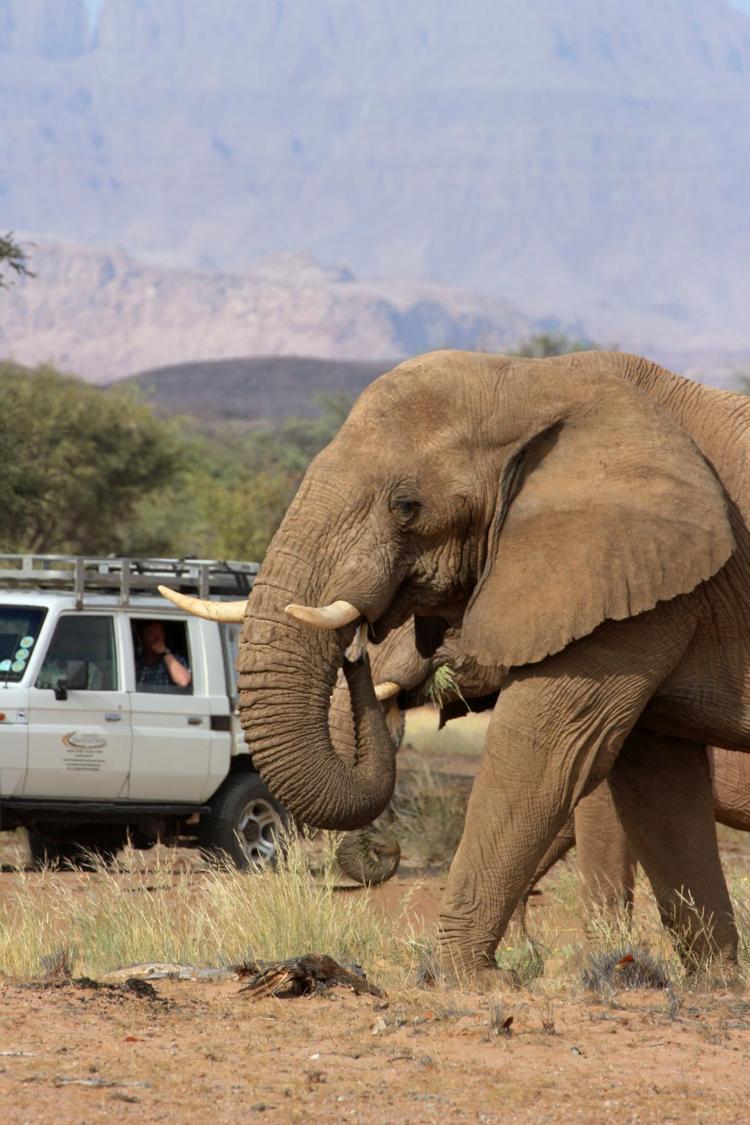 Etosha is a true African treasure. Though our tour that evening certainly had paid off, it's neither required — nor often necessary — to invest in guided safaris at Namibia's most popular wildlife refuge. It's easy enough to see animals from the comfort of your own vehicle. Why? Because they're everywhere.
Earlier that evening, during an hour spent watching, open-jawed, at Okaukuejo watering hole, we watched as two separate herds of elephants marched in line to quench their thirst. At the same time, scattered oryx and herds of plains zebra waded in knee-deep water.
On the horizon, we watched as timid giraffes assembled behind the distant tree line. One by one, they made their way closer, eyes scanning the horizon for predators. Their long legs force them to squat awkwardly to drink, making them especially vulnerable prey.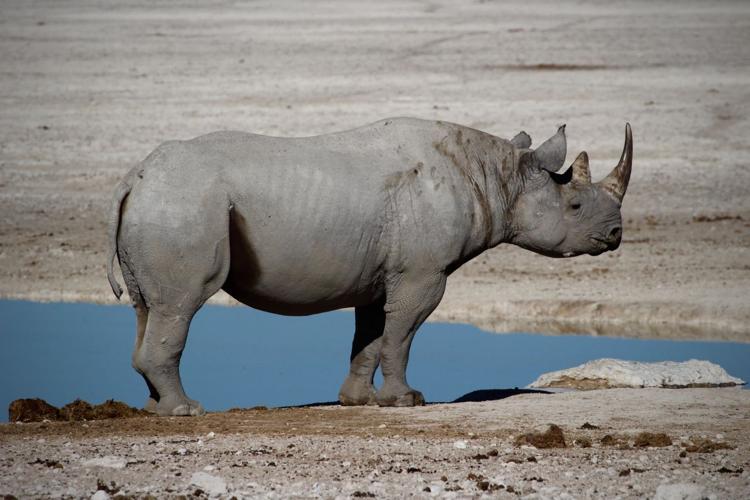 The next night, we watched a family of endangered black rhinos stop by for a drink.
Midday visits are great for catching the park's many species of antelope — curly-horned kudus, long-faced hartebeest, endangered black-faced impalas and the ubiquitous springbok.
Though they're elusive, leopards, cheetahs and lions also populate Etosha's landscape.
By the end of our visit, the sight of another zebra or springbok herd felt like old news. What never got old was the park's ever-changing landscape.
In the center of Etosha, near Okaukuejo Camp, where we spent our first two nights, the land is rocky, with sparse, semi-arid vegetation. As we moved east, that all changed. Yellow savannah grasses and woodland vegetation dominated.
One of Etosha's most startling features is the vast mineral pan that spans its northeastern rim. Standing on its edge, looking out, the flat, cracked white earth extends to the horizon. If you're lucky, you can spot an elephant or an antelope making its way across.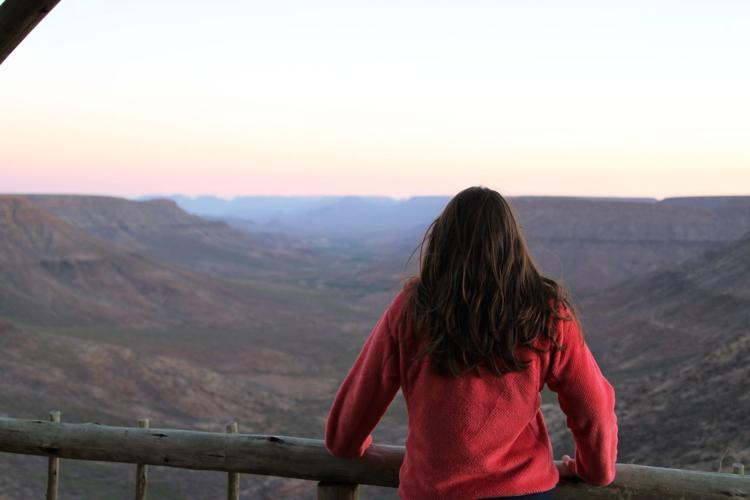 Detour to Victoria Falls: Natural wonder not to be missed
No trip to southern Africa is complete without a stopover at Victoria Falls, the largest waterfall in the world.
Every second, nearly 40,000 cubic feet of water free-fall into the depths below. It sits at the border of Zimbabwe and Zambia, about a two-hour flight east from Windhoek.
Locals call it Mosi-oa-Tunya: The Smoke that Thunders, and it was easy to see why. From the patio of our hotel on the banks of the Zambezi River, we could see the spray and hear the falls a few miles away.
Victoria Falls is another adventure-tourism wonderland, featuring white-water rafting, bungee jumping and helicopter flights over the falls.
Despite my fear of flying, we opted for a helicopter flight. I knew it would provide optimal views of the falls and the green and brown countryside surrounding them.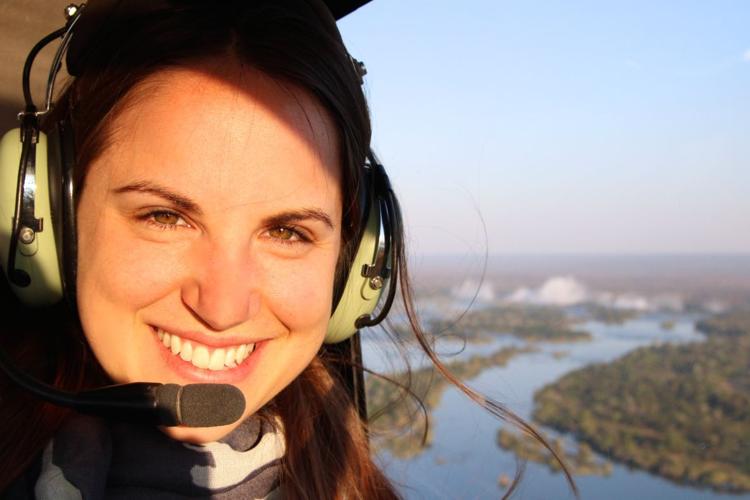 Walking to the chopper, I could feel my heart beat in my chest. Anxiety coursed through me.
But the view was overwhelming. Amid the thunder and spray, rainbows colored the falls. After tumbling 350 feet, the Zambezi's waters flowed, for what looked like miles, through a twisting, turning gorge. The bridge that separates Zimbabwe from its northern neighbor, Zambia, spanned the gorge. For miles in all directions, the African landscape spread out before us, dotted with roads and villages.
As the chopper circled, the late-afternoon sun casting golden light on the land below, I again felt that sense of euphoria only travel can inspire.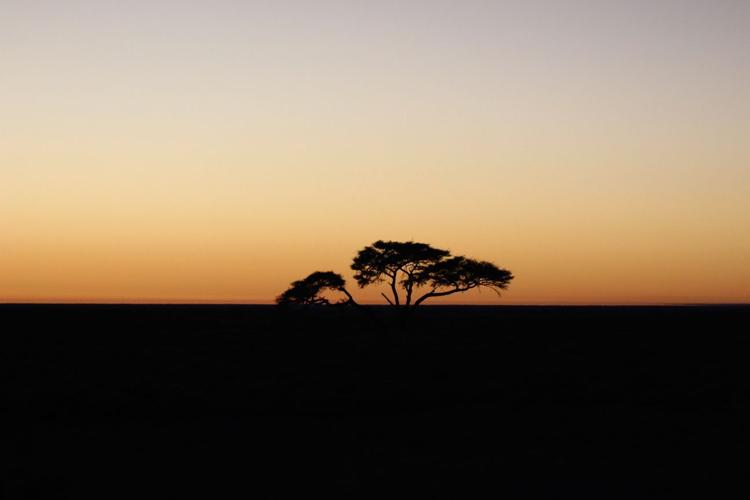 SARAH GRAHAM is a reporter for The Southern Illinoisan. Contact her at sarah.graham@thesouthern.com or 618-351-5076. She visited Namibia in June.