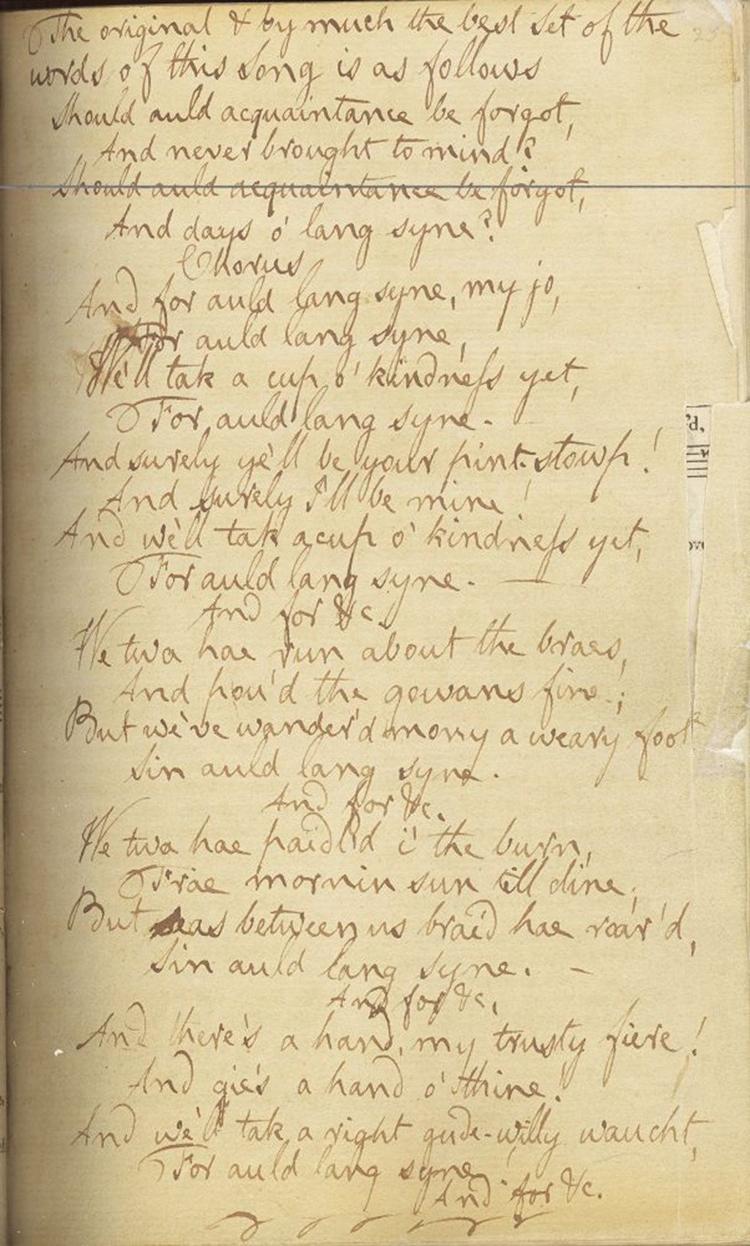 There's a scene near the end of the 1989 movie "When Harry Met Sally" when Harry and Sally finally realize they love each other. It's New Year's Eve and the crowd starts singing "Auld Lang Syne."
Harry (Billy Crystal) says to Sally (Meg Ryan) "What does this song mean? My whole life I don't know what this song means."
And that's Auld Lang Syne in a nutshell. We all sing it, but nobody understands what it means. Music historians call it the most famous song that nobody knows.
So, as you gather with friends or family or your cats on New Year's Eve and begin the countdown to midnight, you will sing a song that you don't understand.
And then you can make your first new year's resolution to plan a trip to Scotland.
The most influential Scotsman
Auld Lang Syne, which means "old long since" or "days gone by" was a poem written in 1788 by Robert Burns, the national poet of Scotland. Although he died in 1796 at age 37, Burns is still considered the most influential Scotsman to have ever lived.
Burns statues can be found in communities large and small around the world, often joined by Burns Societies that celebrate the poet's life in all sorts of manners, but most certainly at Burns Suppers on his birth date, January 25. There's a Burns statue in Garfield Park in Chicago and one on the campus of Washington University in St. Louis.
He is beloved for his simplicity, his ability to articulate a love of nature and observations of everyday life that we can all relate to. Burns was born poor, the son of tenant farmer, who farmed unsuccessfully for much of his life. Although he knew fame and success in his short lifetime, his legacy continues more than 225 years after his death.
Discussions of poems
On our recent visit to Scotland, we enjoyed dinner one night in the village of Tarbolton in South Ayrshire. The Robert Burns Bachelor's Club is nearby, a little gathering place where 16 serious men would discuss serious issues on the fourth Monday of the month in a respectful manner without vulgarity. Rules stated as such, and more.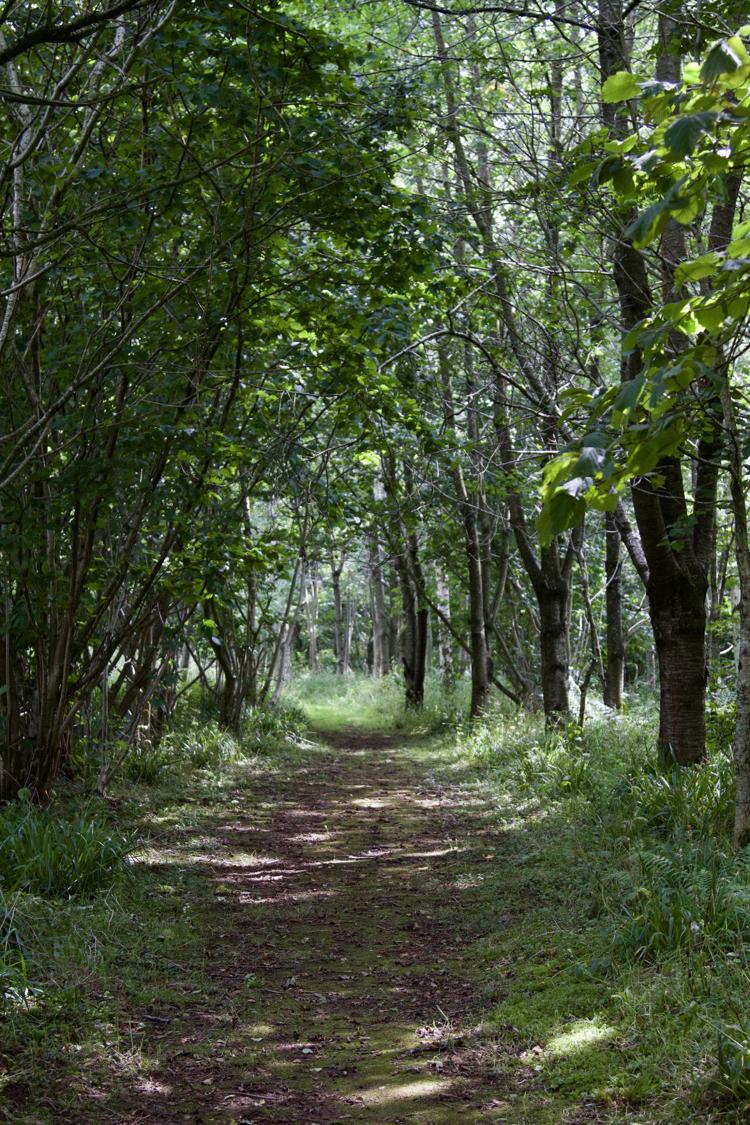 Our American accents immediately labeled us as visitors and, as people often do, we struck up a conversation with a couple at an adjacent table. Their little girl in a high chair kept throwing toys in our direction.
"Robert Burns," we replied to their question of what brought us to that part of Scotland. They nodded with understanding and told us that Robert Burns is still very much a part of ordinary Scots people. That sweet little girl gumming a cracker was named Afton from the Burns poem "Afton Water."
Flow gently, sweet Afton, among they green braes,

Flow gently, I'll sing thee a song in thy praise;

My Mary's asleep by thy murmuring stream,

Flow gently, sweet Afton, disturb not her dream.
The Afton is a river in Scotland that flows into the River Nyth, near Burns' Ellisland farm. And it's a beautiful little blonde-haired girl as well.
Getting around
When planning your Robert Burns trip to Scotland, it may be slightly more convenient to fly into Glasgow rather than Edinburgh. But in either city, you will need to rent a vehicle to get to the villages most associated with Burns. If you've always wanted to drive on the wrong side of the road, now's your chance. It's a little freakier than you might think.
A Scottish blessing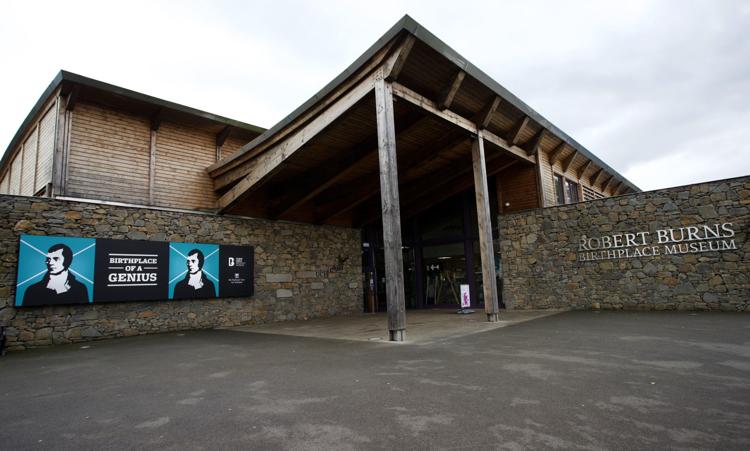 Find your way to the village of Alloway, Ayrshire where Burns was born in 1759. We arrived a few minutes before the birthplace and museum opened, so we killed time eating scones across the street at The Poet's Café. The words to "Selkirk Grace" are inscribed inside and out.
Some hae meat and canna eat.

And some wad eat that want it;

But we hae meat and we can eat,

And sae the Lord be thanket.
That's an 18th-century Scottish blessing for you. We're told it's said frequently at family gatherings in Scotland, and certainly at Burns Suppers around the world.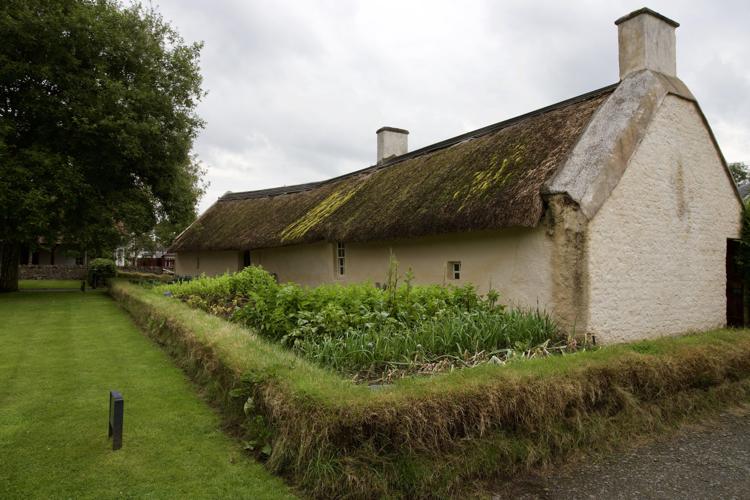 Burns' birthplace
The birthplace is much as it would have been when the Burns family lived here. Despite cattle living under the same roof, it felt warm and cozy, an introduction to the simple amenities of life that Burns would write about over and over again.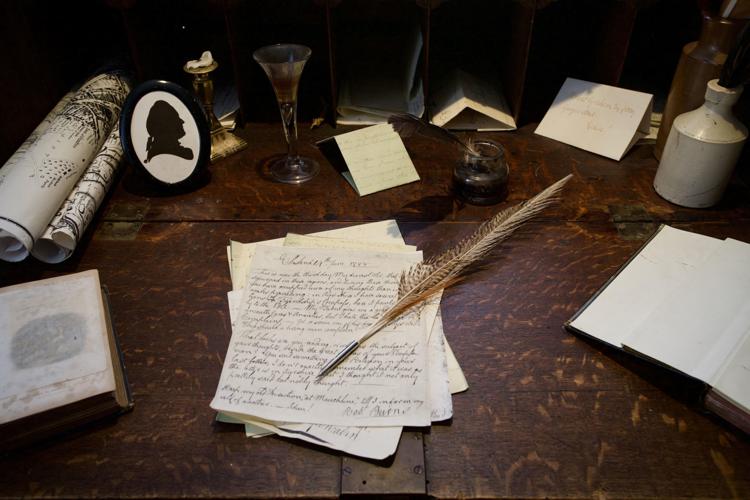 The museum, however, is all 21st century with interactive exhibits that present Burns words for discussion and understanding in a modern era. In addition to the basic biographical information about the man and exhibits that help set the era in which Burns was born, eight of his poems are illustrated and dissected in both 18th-century Scottish and modern English.
Among them are all five verses of Auld Lang Syne. And yes, it's a sing-along. All that's missing is a glass of champagne, party hats and confetti.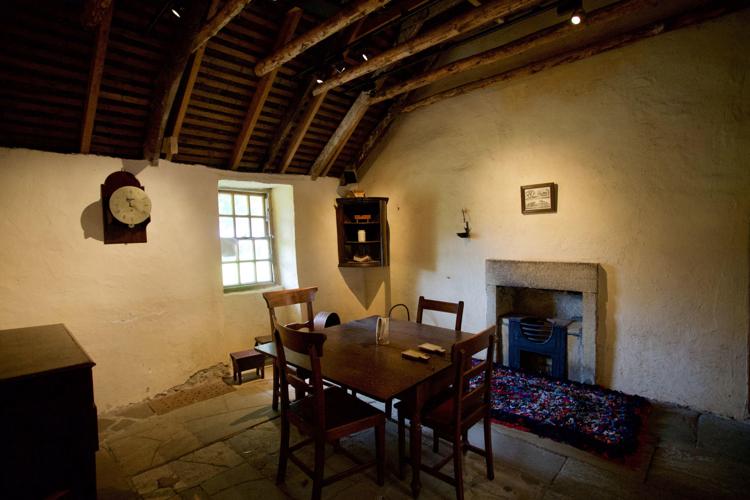 Dish up some haggis
You have free articles remaining.
Keep reading for FREE!
Enjoy more articles by signing up or logging in. No credit card required.
Continue the celebration in the museum's café, which always offers a dish of haggis on its menu. To the uninitiated, haggis is a common dish in Scotland that consists of the ground up internal organs of a sheep, boiled in its own stomach then served as a sausage using its own intestines. It's an acquired taste and the focal point of Burns suppers around the world each January 25.
Whether or not you choose to taste test haggis, a dish Burns called "the great chieftain of the sausage race," take a look at the windows around the café. Embellished with the words from Burns' poems, this is more than a design feature. Burns was famous for inscribing his poems on glass using a diamond point pen.
For his love
As you leave Alloway via Highways A70 and A76 heading toward Dumfries, plan on about an hour's stop at the Ellisland Farm outside of Auldgirth. Burns built this home, much of it with his own hands, for the love of his life, Jean Armour.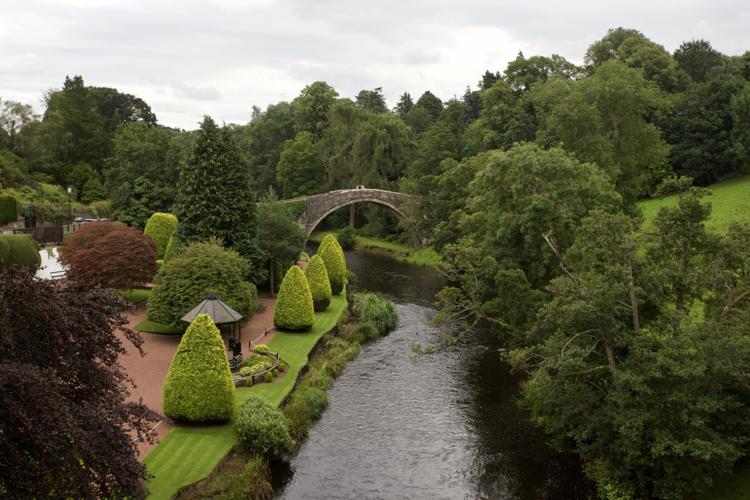 They lived here just three years, but Burns wrote more than a quarter of his work at Ellisland, including Auld Lang Syne. He called this home "a domicile for contentment and humility," and it is indeed beautiful. The River Nyth, little more than a babbling brook in places, is just behind the property. A beautiful path allows visitors to stroll in the exact footsteps where Robert Burns walked.
A down winding Nyth I did wander,

To mark the sweet flowers as they sprung.
It is said that Burns paced this very path as he found the words for Tam O'Shanter, a very popular yet lengthy narrative about good friends drinking in pubs. The characters from Tam O'Shanter were once sculpted by a fan and sent on an international tour. They now reside in a small room at the base of the Burns Monument in the middle of the Robert Burns Gardens in Alloway, just steps from the Brig O'Doon where Tam O'Shanter escaped the witches and warlocks.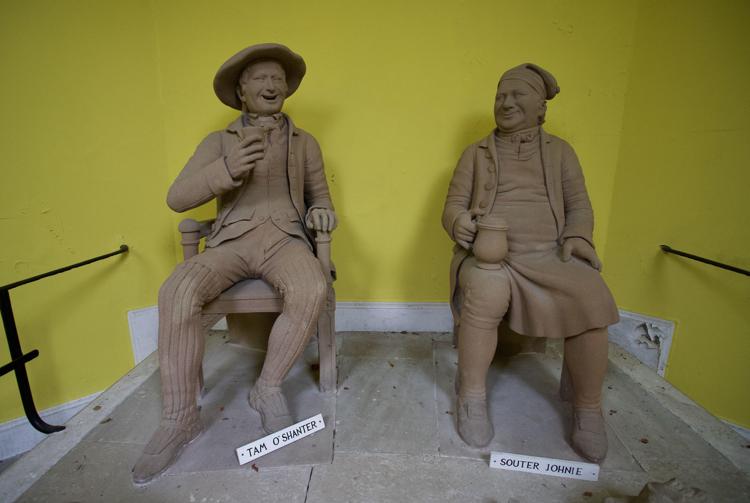 Life on the farm
The Ellisland Farm is about 10 miles from Dumfries, where Robert and Jean lived much of their life together, where he died and is buried. The couple had nine children, including twins before they were married, all accounts indicate that they were very much in love and happily married.
However, as we were walking through Dumfries and slightly lost despite a good map in our hands, I asked directions of a local woman carrying a basket filled with freshly baked bread.
While she cheerily sent us in the right direction, I must say I didn't understand much of what she said, her brogue was so thick. As she gave directions, she proudly pointed to a nearby statue of Jean Armour saying that she had helped raise funds for its repair.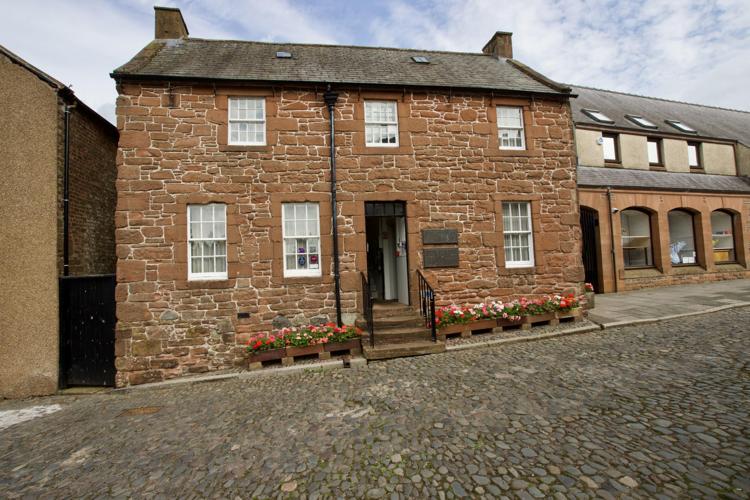 She carried on for a few moments about what a great woman Jean was to have put up with the man, no matter how lovely his poetry. I didn't understand everything, but it doesn't require fluency in a language to appreciate when a man is being called a scoundrel.
Burns had many women in his life, in addition to Jean, and fathered at least six more children.
Then suddenly, the woman was quoting "A Man's a Man for That," which left us shaking our heads in laughter on the cobblestone streets of Dumfries.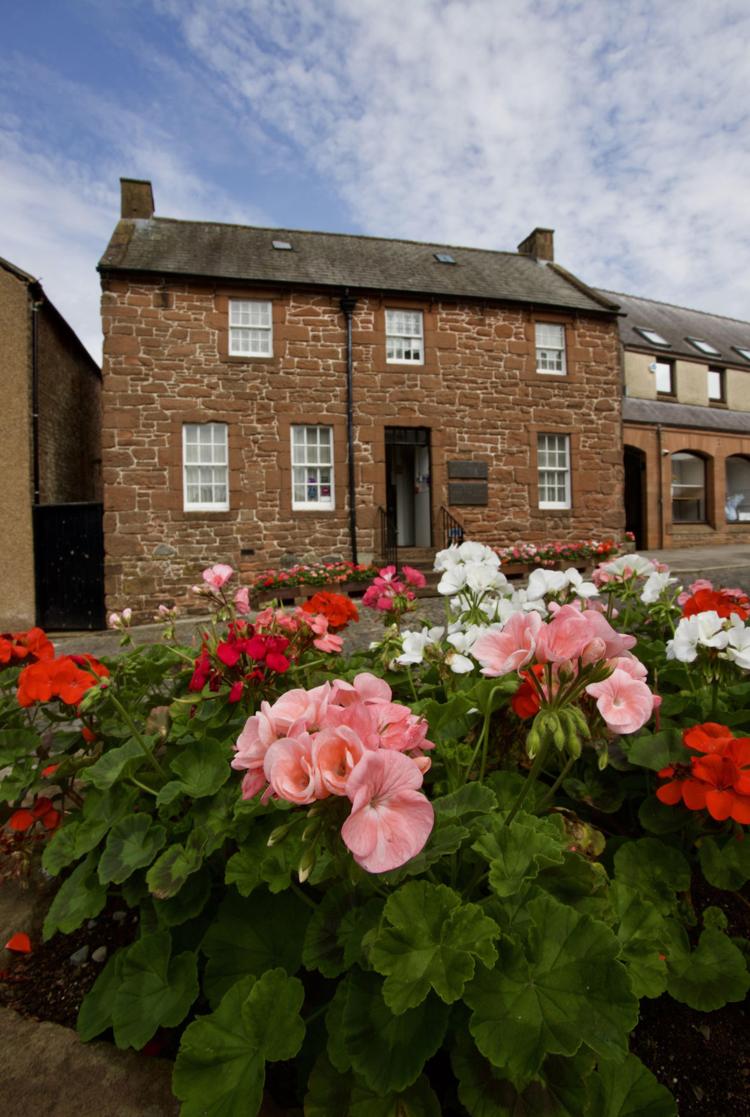 Wandering about the Robert Burns House and Dumfries
We found what we were looking for — the Robert Burns House where the family lived from 1793 on. It's in pristine condition, although most of the furnishings are not original to the house. Burns died here on July 21, 1796.
Across the street a lovely rose garden celebrates one of my favorite Burns poems:
Oh, my love is like a red, red rose

That's newly sprung in June;

Oh, my love is like the melody

That's sweetly played in tune.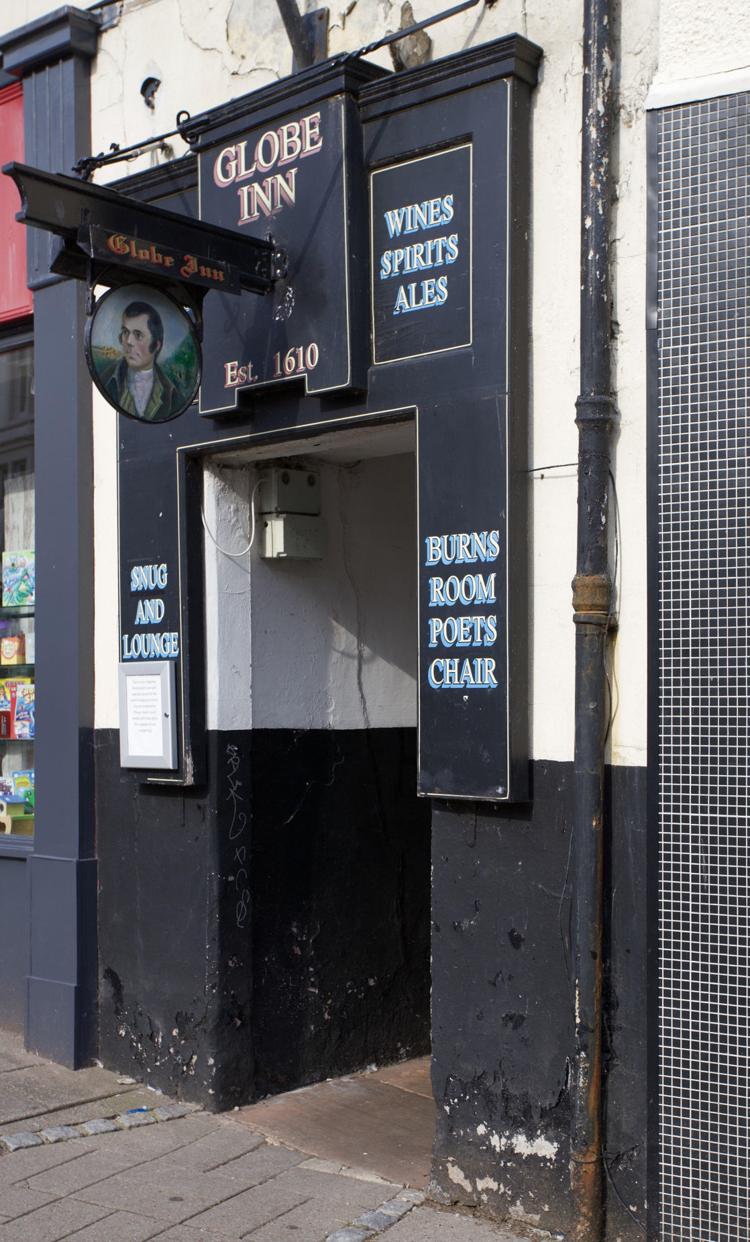 We enjoyed a beautiful afternoon strolling the streets of Dumfries, finding the Globe Inn where Burns spent many an evening finding inspiration, crossing a footbridge that dates to before Burns' time traveling this path, and of course, St. Michael's Church where the Burns family worshiped and where the National Poet of Scotland and his family are buried.
There's been a house of worship on this spot since the 11th century, but this particular structure was built in the 1740s. Take a peek inside for the beautiful Willis organ and stained-glass windows featuring Robert and Jean, installed at the 250th anniversary of Burns' birth.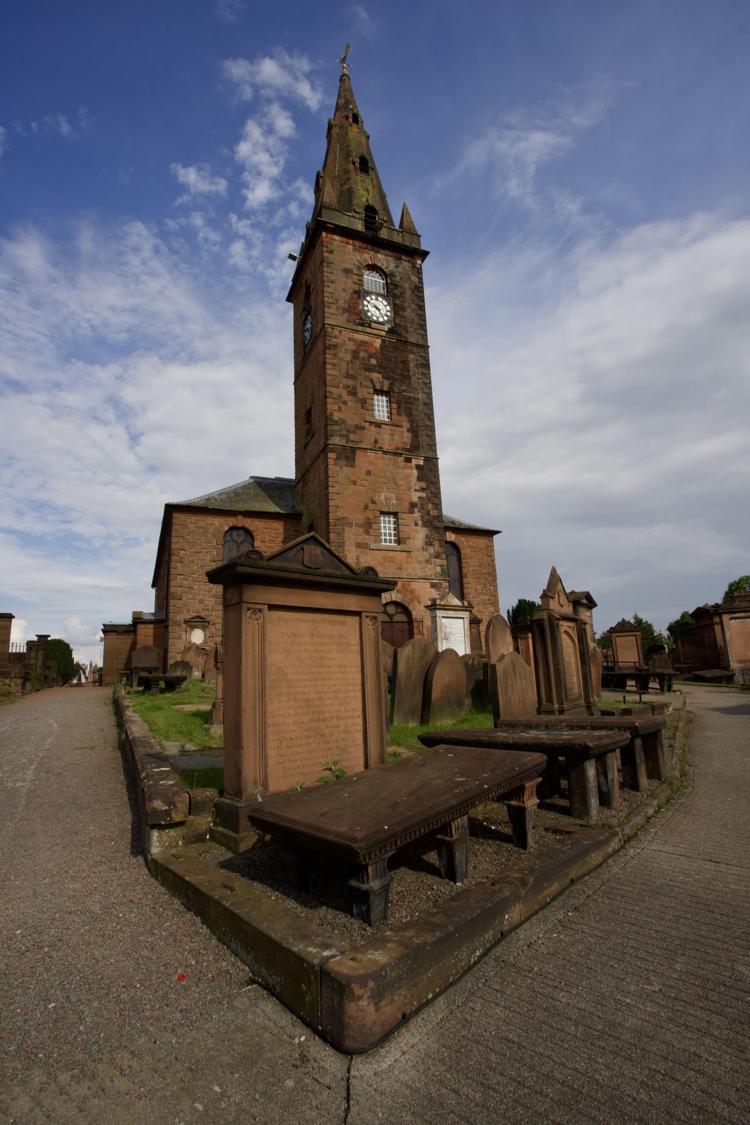 Burns at rest
The cemetery that surrounds the church is a thing of ghost stories. Moss-covered gravestones, weathered and tilting, some completely given way to time and the elements, jumble together in a history of this community. Yet a neat gravel pathway allows visitors to explore with reverence and find their way to the large Italianate Mausoleum in the back corner.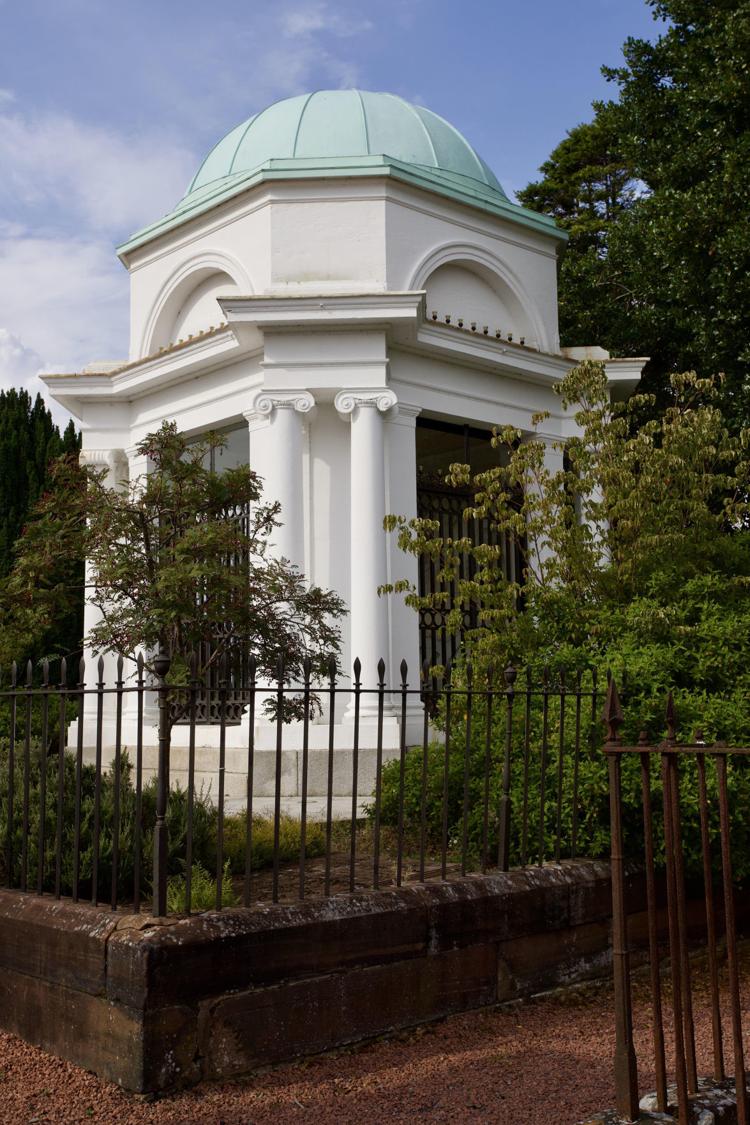 This is the final resting place of Robert Burns, known as Rabbie to his friends. Many of them are buried nearby and their graves identified as friends of the great poet.
Fans from around the world gather here, leaving flowers, pens and notebooks and other trinkets celebrating their old friend they never met. It's a place to lift a cup of kindness yet in days of auld lang syne.