It took a long time to write this story. It was such a personal trip, my anniversary adventure with my husband of 12 years. We had planned it well in advance to have something to look forward to at the end of a difficult year.
There were many reasons for our difficulties, the chief one being the loss of David's mother. She was a wonderful friend to me, and both of us hated watching her get smaller and smaller until she just, left. That was in March, and the rest of the year just added more burdens to the struggle, too many and too personal to recount.
Everyone goes through times like that, when you're tested, when all you can do is keep moving forward, one foot in front of the other. We knew that by the holidays — our trip was at the end of November — we would either be at the end of our respective ropes or near, and in dire need of a getaway.
David and I often stay in local B&Bs for our infrequent mini-vacations, and this year one of us had heard about Timber Ridge Outpost & Cabins and their treehouses. I found their website and booked a two-night stay that would end on our anniversary, Dec. 1. I took it as a sign when I found that a treehouse was available those two days in an otherwise packed calendar. You should take it as a sign to make reservations well in advance.
Stay in a treehouse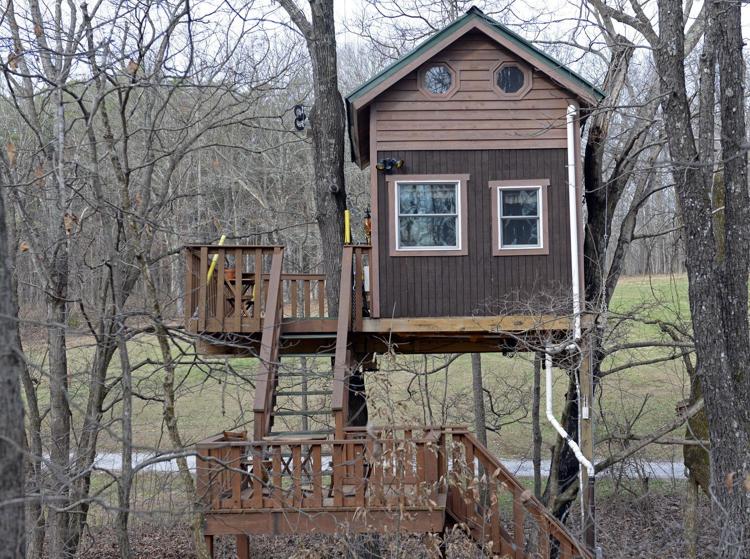 Timber Ridge is Illinois' first and only treehouse and log cabin resort. It's nestled in the hills and the heart of the Illinois Ozarks, in Karbers Ridge. The Shawnee National Forest is literally next door with almost all the outdoor adventures that horseback riders, hunters, fishermen, hikers, bicyclists, bird watchers and star-gazers could dream of.
I'll admit that the star-gazing appealed to us — we are not any of the aforementioned enthusiasts — but the real reason we went was, pure and simple, to stay in a treehouse. If either of us had a bucket list, that would be on it.
And I'm serious about the star-gazing. Did you know that the Illinois Ozarks sits under one of the last remaining "Dark Sky" areas in the Midwest? You can actually see the rest of our very own galaxy, the Milky Way, with all of its suns, planets and shooting stars that are harder to see when we're surrounded by man-made light. We were really looking forward to the glories of the night sky at Timber Ridge.
So, after we reminded all seven of our children that we would be away for a few days, arranged for the care of our cats and hauled the trash to the curb, off we went.
Surrounded by natural beauties
It was a glorious drive from Carbondale to Karbers Ridge that wound through the Ozark hills for a little more than 50 miles. We knew the general area was home to the Garden of the Gods, Cave-In-Rock, the Iron Furnace and One Horse Gap Lake, and learned from the literature that it was also home to some of the best fishing and Whitetail deer and turkey hunting in the region.
Timber Ridge lies between the mighty Mississippi and Ohio rivers and we drank it all in as we drove, pointing and exclaiming like tourists, as if we hadn't both lived in Southern Illinois all of our lives.
We had reserved the smaller of the two tree houses, Maple Oak. It's suspended between — you guessed it — a red maple and a white oak tree. But Timber Ridge accommodations also include another, bigger tree house, White Oak, built in a tree that is more than 200 years old. One of its branches extends into the cabin and another comes up through the deck, 20 feet in the air.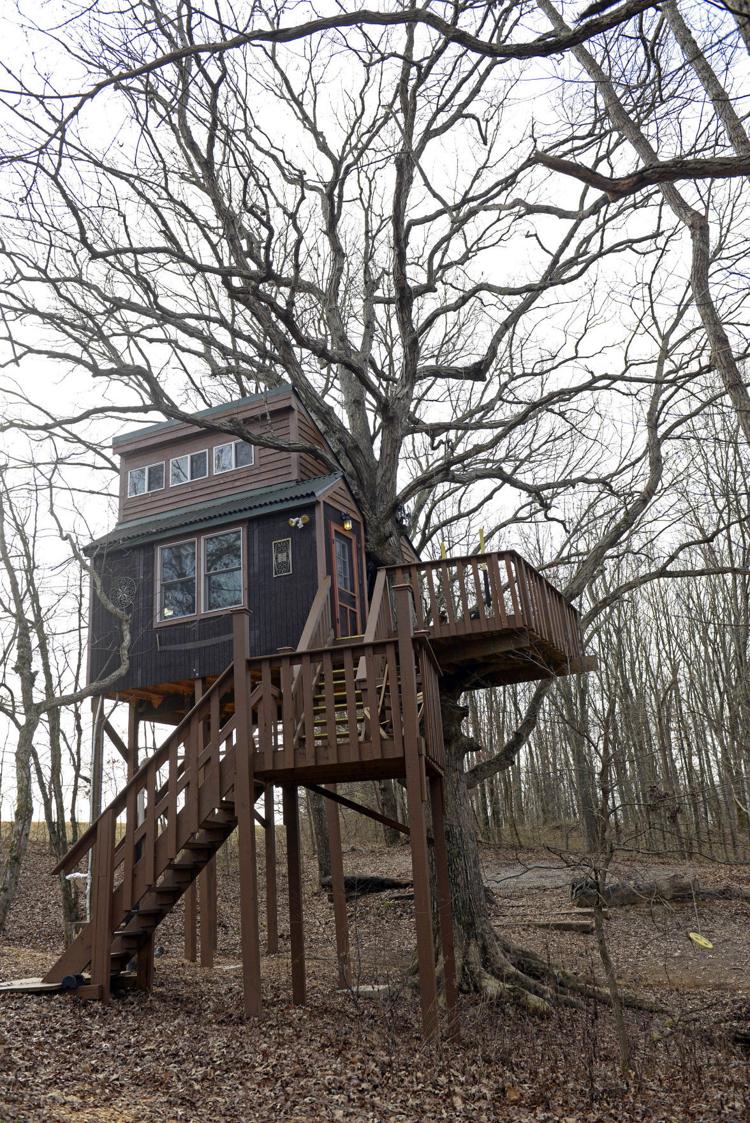 Timber Ridge also includes three modern log cabins and Walnut Hill, a 2,300-square-foot, four-bedroom, two-bath home on 35 private acres on the back side of the resort area.
New addition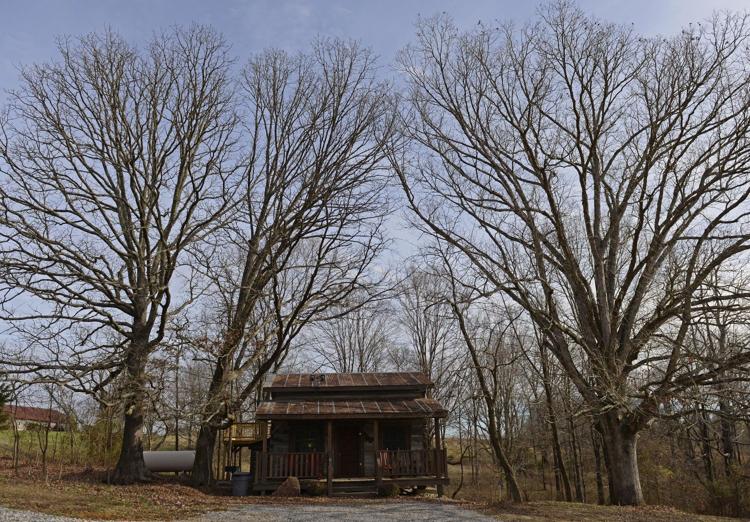 Walnut Hill is the newest addition to Timber Ridge, with room for up to 12 guests. It truly has all the comforts of home, and then some, with a master bedroom and king-size bed, two bedrooms with queen-size beds, and one bedroom with bunk beds that sleeps six. There's a Jacuzzi tub, a large kitchen, a dining area, a game room with a flat-screen TV, a fireplace, a Nordic Track elliptical machine, a laundry room, and a 50-foot deck overlooking the Shawnee hills.
There's a three-quarter-mile hiking trail between Walnut Hill and the rest of the resort, which winds through woodlands, creeks and open prairie. The rates for Walnut Hill depend on the number of guests. But it's also available for special events, retreats and large reunions. Just ask the Canfarellis.
Elizabeth and Marty Canfarelli built this 120-acre complex from scratch. Marty retired from a construction job, having worked for 24 years in Chicago high-rise buildings. Elizabeth was a senior project manager for a building supply company there. They met on a train and in short order decided to travel through life together, Elizabeth and her three children and Marty and his four.
"We wanted out of the rat race," Elizabeth said. "Both of us had always been fascinated with treehouses. My sister and I had traded coffee-table books on the subject. So, when we heard about this property, we went for it. We had an arborist in to evaluate the trees and to make them healthy enough to support a treehouse, before we built a platform and installed the suspension system for our first tree house, Maple Oak."
Elizabeth has roots in Southern Illinois. Her grandfather built drive-in theaters in Du Quoin and Mount Vernon. Those roots, she said, also drew her back to the area.
You have free articles remaining.
Keep reading for FREE!
Enjoy more articles by signing up or logging in. No credit card required.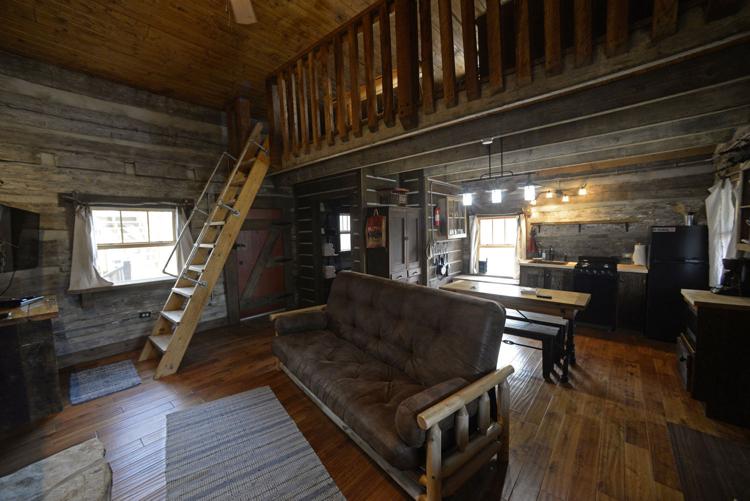 "But when we arrived here on March 1, 2012, you couldn't even walk through these fields they were so overgrown," said Elizabeth. "Marty and I did the majority of the work, planning, clearing, building and landscaping, but it was really the whole family that made all of this a reality."
Piece of history with all the modern amenities
Each of the Timber Ridge units is stocked with lots of fluffy towels in the bathroom; the basic appliances, utensils, pots and pans, and other supplies (including coffee) in the kitchen, and big beds (some made by a local Amish craftsman out of Sassafras wood) with great mattresses. And they all have access to campfire areas with firewood and camp chairs, outdoor grills and picnic tables.
There's a story behind most of the buildings. For example, Twin Oaks is an authentic antique log cabin, circa 1852. The Canfarellis found it in Ford Ferry in Crittenden County, Kentucky, and in 2013 brought it across the Ohio River ferry to their property. It came to rest under a pair of ancient twin Oaks at Timber Ridge, and Elizabeth and Marty have been working on it ever since.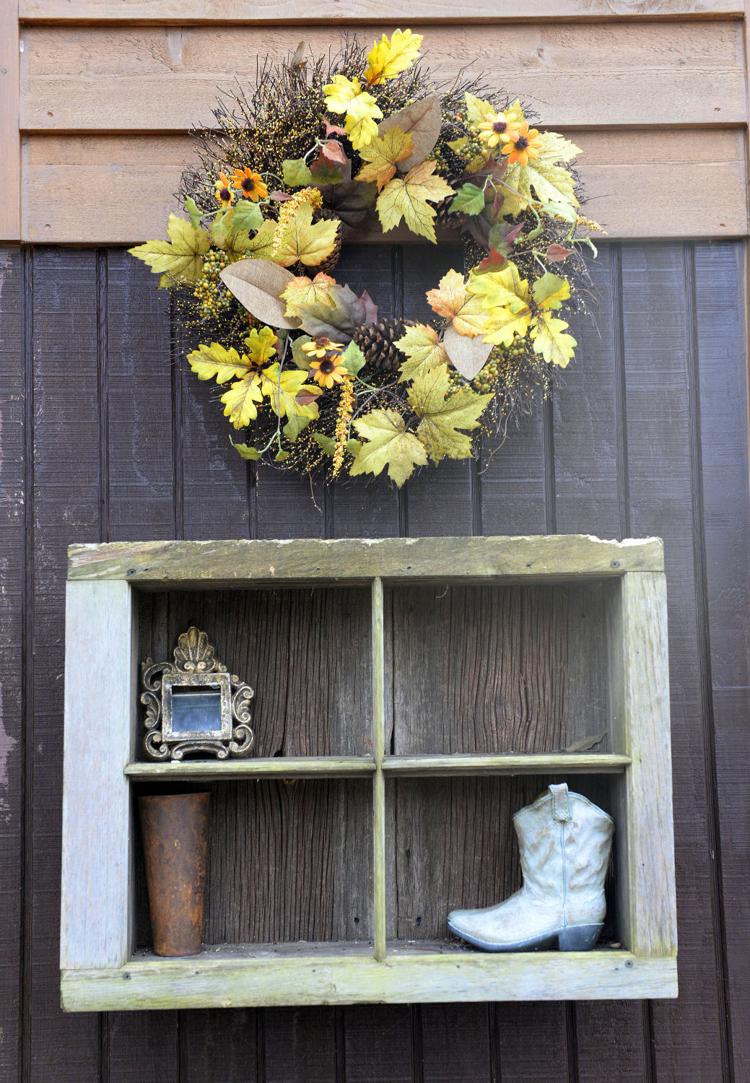 Behind Twin Oakes, Elizabeth and Marty built a 16-foot by 24-foot, two-level tree deck, and inside the cabin, there's a fireplace, a full kitchen, a claw-foot bathtub and shower, two queen-size beds in the loft, another on the first floor, and material you can read about the family that built it and lived in it in President Lincoln's time.
"This is one of my favorite cabins," Elizabeth said. "I am humbled to have rebuilt a piece of American history. If the walls could only talk, they would tell the story of their original occupants, the Flannery family. This is where I spend my summer (rebuilding and refurbishing), and I'm happy to share this piece of history with the public, with all the modern amenities, of course."
The Sassafras Ridge Cabin is two stories and sleeps six to eight, and the Hickory Hollow Cabin sleeps two to four. Elizabeth and Marty recommend the Hickory Hollow log cabin for those needing more accessibility. Just call ahead if you need wheelchair access to the unit.
Rates on their units range from $120 for Hickory Hollow Cabin to $160 for Twin Oaks and from $175 for our little treehouse to $210 for the bigger one, White Oak. The rates are slightly higher on weekends. There's a three-night minimum on holiday reservations and half of what you owe is due up front. Kids and pets are always welcome.
Activities abound
Many activities don't require leaving the property, including archery lessons, kayak rentals, a therapeutic massage, home-baked desserts, and fishing in a pond stocked with sunfish, catfish, largemouth bass and walleye. (It's catch and release.) Bring your own fishing equipment or buy a cane pole in the Outpost Gift Shop.
The outpost is housed in a restored log cabin, circa 1850, that once sheltered a family of 12 in Dixon., Kentucky. It was disassembled, moved and rebuilt, and is now stocked with locally made artisan items, Fair Trade products and some basic supplies.
We were easy guests. While Elizabeth was gracious enough to give us the grand tour of the property, David and I mostly stayed inside our home away from home in the treetops. It was unfortunate that the weather was wet and overcast when we stayed, so star-gazing was not possible. But by the time we left, we considered that weather a gift.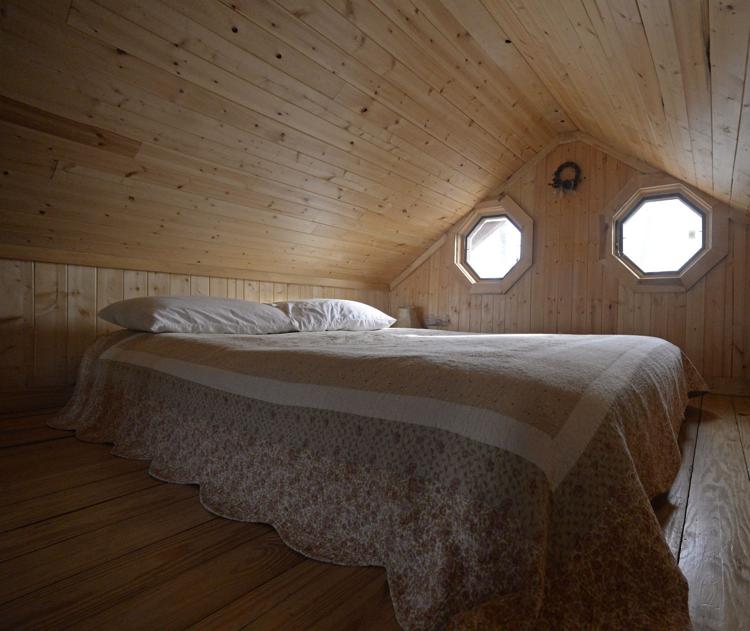 We stood on the top deck of Maple Oak as the sun was going down the second night, hoping for a break in the clouds. Wrapped in fuzzy throws and sipping hot coffee, we watched as the sun started to dip behind the ridge, and the misty fog rolled in. You could actually watch it creep over the landscape and finally surround us until all we could see were the trees, black streaks across a greenish gray canvas.
But it was what we could hear that was even more amazing – absolute and total silence, so quiet that the quiet itself took on a sound. Some animal moved a rock in the creek below, and the echoes of that slight knock bounced around us, making us both smile with sheer wonder.
Elizabeth and Marty are understandably passionate about the area.
"It's an unbelievably beautiful natural area," Elizabeth said. "It's raw nature, as stunning and incredible and unpredictable as nature can be."
In the morning, when we were packing to leave, the sun finally broke through the clouds and set all the birds in the treetops singing and flying about. We took many things home with us besides the sunshine and some great memories. As with any great travel experience, the trip gave us a new perspective on the year we were leaving behind and the new one coming up.
For more information on Timber Ridge Outpost & Cabins, visit timberridgeoutpost.com or call 618-264-9091. It's in Karbers Ridge, but the official address is in Elizabethtown.
Virtual tour: You can spend the night in a treehouse at Timber Ridge Outpost
Timber Ridge is Illinois' first and only treehouse and log cabin resort. It's nestled in the hills and the heart of the Illinois Ozarks, in Karbers Ridge. The Shawnee National Forest is literally next door with almost all the outdoor adventures that horseback riders, hunters, fishermen, hikers, bicyclists, bird watchers and star-gazers could dream of.
Here's a look at some of the accommodations offered at Timber Ridge.
For more information on Timber Ridge Outpost & Cabins, visit timberridgeoutpost.com or call 618-264-9091. It's in Karbers Ridge, but the official address is in Elizabethtown.