Green Earth was established in 1974 for the purpose of acquiring, preserving and providing public access to natural areas in Carbondale. That sounds simple, and, perhaps it should have been, but those early efforts were not easy. The group had to weather strong criticism from political leaders, media and the public.
The idea of Green Earth came out of discussions between former city council member Clark Vineyard and Herbie Beyler, an instructor in Plant and Soil Science at Southern Illinois University and an activist in her own right. She called some people of like mind and the group was born.
"I knew Herbie; she was passionate about natural spaces," said Kathie Fralish, one of Green Earth's founding members. "She was always a strong supporter and adviser. Our members were all very distinguished and respected citizens who had a great deal of difficulty reading that original series of negative newspaper stories."
The newly formed organization was funded by a $102,000 grant from the City of Carbondale. Fralish remembers driving to Springfield to walk the papers of incorporation through the required channels for signatures.
"Like a lot of new organizations, we had a lot of wouldn't-it-be-nice conversations. Those ideas got some energy and became coordinated efforts," Fralish said. "We had this money and responsibility, but people started coming to the board, trying to sell property that wasn't what we wanted at inflated prices. We were trying to spend the money wisely, all the while being criticized for not moving quickly enough."
Fralish served with six other new members of the newly formed board of directors: President George Karnes, Jerry Coorts, Paul Biggers, Allan Bennett, Hiram Lezar and Daniel Sherrick.
They represented a cross-section of the Carbondale community. Karnes was a dentist, Coorts was a department chair at SIU, Biggers was an engineer with the Illinois Department of Transportation, Bennett was a doctor, Lezar was interim president of SIU, Sherrick was a bank president, and Fralish was a speech pathologist.
"None of us had an outdoor education background," Fralish said. "And once we had acquired property, that's what we needed, someone who had passion and vision. We were lucky to find Judy Faulkner, our first director. She was the perfect person."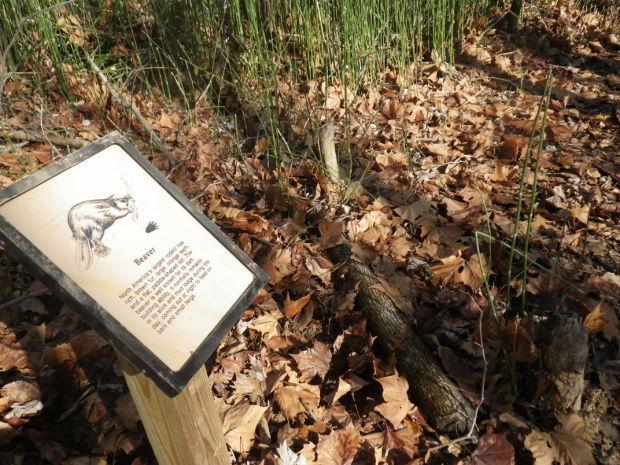 By 1980, public attitude had changes, criticism had ended and the newspaper articles were decidedly positive.
"By the time I left in 1983, we had Green Earth I, our first property, and were making great progress," Fralish said. "My life, by then, included two children and my own business, the Center for Comprehensive Services (now NeuroRestorative), so I left things in what I knew were capable hands, people who were just as committed and passionate. I'm still a member and supporter. I keep up with what they're doing."
Today, Green Earth owns and maintains more than 220 acres. Each of its six sites is open to the public for hiking during daylight hours. Hiking trails are located within each preserve; most are roughly one mile long and are rated easy or moderate in difficulty.
Brush Hill Nature Preserve is Green Earth's oldest preserve, purchased in 1976. The site is 20 acres in east Carbondale and includes the Herbie Beyler Trail. Oakland Nature Preserve, purchased in 1979, is in northwest Carbondale, 20 acres with two trails. Chautauqua Bottoms Nature Preserve, acquired through several purchases from 1990 to 2004, is 37 acres with three trails that connect to SIUC and the Carbondale Park District's property.
Fernlands Nature Preserve – created from donated land – is the most remote in south Carbondale. The woodland is 20 acres and includes one trail. Flaglands Demonstration Prairie – also created from donated land – is the smallest, one acre in a residential setting.
And finally, Pyles Fork Preserve is the newest and largest. It was conveyed to Green Earth in 2009 by the American Lands Conservancy. This 124-acre hardwood bottomland is in northeast Carbondale and includes the Pyles Fork Creek and one trail through upland and lowland woods.
"I really respected the other Green Earth board members," Kathie said. "They stuck their necks out and were willing to do what it took to see Green Earth succeed in its goal to establish green spaces that people – especially the children – can enjoy without having to go miles and miles. I grew up in Cincinnati, so I know what it's like not to have any access to green space."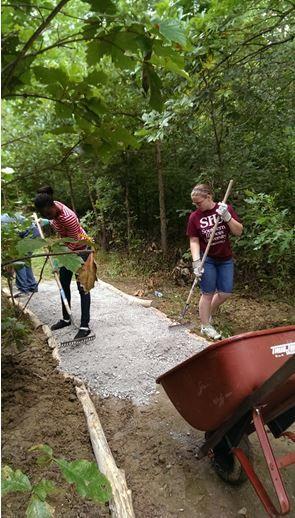 "The more we expose our kids to the environment, the more they will come to value it and the more they will enjoy it," she said. "It's that feeling you get when you're outdoors; that's what I want to leave to the next generation, the opportunity to have that feeling. That's why I'm very proud of Green Earth and all they have accomplished. I'm very proud to have been there, at the beginning."
Green Earth is governed by 13 volunteer board members who meet monthly and run by its executive director, currently Stephanie Eichholz, the only paid employee.
"I feel very lucky to be a part of Green Earth. I strongly believe in the instinctive bond many people feel for nature and wild places," said Eichholz. "My goal in working for Green Earth is to improve the quality of life for people in our community by providing access to these areas, particularly our children."
Green earth volunteers work tirelessly to maintain the natural character of the properties while enabling them to be used for everything from hiking and nature photography to scientific research and outdoor education.
"The community can support Green Earth by getting out on our trails and simply enjoying the absolute beauty of nature." If your time in nature inspires you to do more, why not adopt a trail? Donate your time, expertise, money or land. Even picking up litter and participating on workdays – announced in the quarterly newsletter – would be a huge help to Green Earth and Mother Earth.
"And of course, as a non-profit, we depend heavily on financial support from the community to manage our nature preserves and trail systems, Stephanie said. "Monetary donations in any amount are very much appreciated."