Over the last 36 years, residents of Southern Illinois and beyond have flocked to West Frankfort for the breathtaking display of holiday lights, handmade decor, and presentations of beloved pop culture characters at Candy Cane Lane. The Christmas spirit abounds in these storied six blocks where elves hand out candy canes to visitors of all ages and the oohs and aahs are heard from children and adults alike. Flashing bulbs in every color adorn trees, houses, fences, and posts and according to Tim Murphy, creator and curator of Candy Cane Lane, the pressure to get bigger and better each year is part of the fun.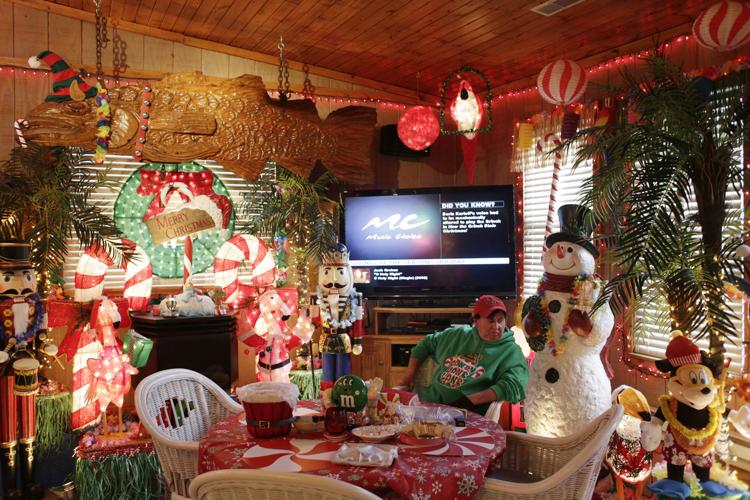 "I've created a monster and everyone expects me to do it. Last year I was putting Christmas up and still mowing grass. I have two buildings full of stuff. But it's worth it to me when I see how happy the kids are," said Murphy.
A tradition begins
Candy Cane Lane started, as many great things often do, as a simple venture just for fun. In his youth, Murphy decided one holiday season to create a Charlie Brown Christmas scene in his father's lot in West Frankfort. He enjoyed it so much that he moved on to create Christmas on the Moon the same year as the moon landing, and other scenes like Sesame Street. The experience brought joy to the surrounding neighborhood and was treasured time spent with his father.
"I always decorated my dad's house. It's something we always did together. We always just did one scene a year," remembered Murphy.
When Murphy bought a home of his own with a large lot, neighbors soon began asking when he would continue the Christmas display tradition on his own piece of property. Thus, Candy Cane Lane was born.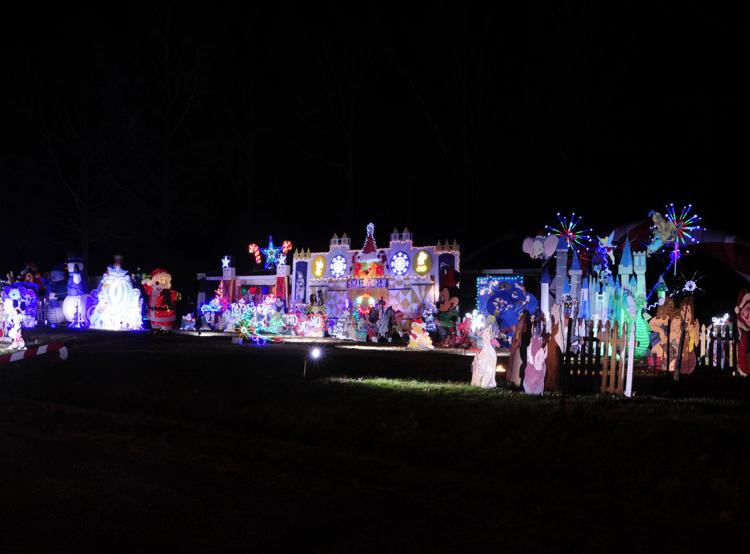 "When I moved over here in 1976 and had this land, one of my neighbors said I should do what I had done at my dad's house. We were tossing ideas around, what to call it, and thought of Lollipop Lane, but candy canes are easier to cut out," said Murphy.
Candy Cane Lane started small, with just six neighbors on one block. Soon, the popularity and participants of the Christmas display grew, and when four more blocks were eventually added and traffic started getting backed up on Main Street in West Frankfort, the course was zigzagged to improve the flow. While those first few projects at his father's home produced a handful of items, Murphy now owns over 600 works of art in the form of characters made from plywood and expertly painted.
Candy Cane Lane now runs the entire month of December and is open from 5:30 to 10 each night, with hours sometimes extended on the weekends. Although Murphy has over eighteen switches to flip at the end of each evening, he won't turn away vehicles already in the neighborhood close to closing time. The traffic increases each day in the month of December, with the busiest time being the weekend before Christmas. The traffic sometimes lines up almost to Interstate 57, and although the ride usually only takes thirty minutes to an hour, it can sometimes be as long as three hours during that one hectic weekend. Christmas Eve and Christmas Day are understandably the second busiest times, as a number of visitors have a tradition of walking through Candy Cane Lane on Christmas Eve night and the Christmas evening crowd is looking for one last bit of cheer.
"It's bumper to bumper on Christmas night. They've all been to grandma's house then they come through Candy Cane Lane," laughed Murphy.
Murphy suggests coming through the week, especially on Monday nights, or even the week between Christmas and the New Year.
While Candy Cane Lane is free to the public, donations are appreciated and help defray the costs of the displays and upkeep. Students from the high school volunteer to dress up as elves and other characters to earn community service hours and work each night, through Christmas night, with four elves working from six to eight and another four working eight to ten. The delightfully decked out teens distribute candy canes and welcome entering vehicles, going through up to 8,000 pieces of candy per season.
"I tell the high school kids, if anyone wants a candy cane, give them a candy cane, no matter if there is a donation or not," shared Murphy.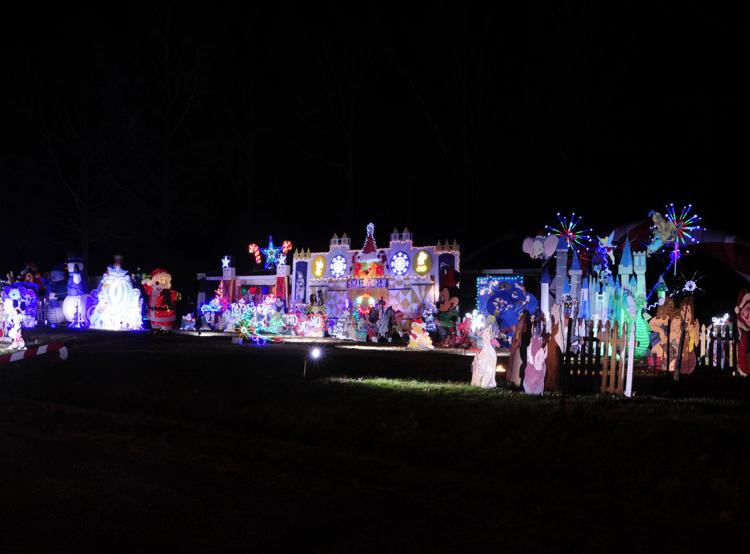 A community effort
You have free articles remaining.
An art teacher of forty-five years, the annual project comes naturally to Murphy, who retired just three years ago. With the more than 600 plywood characters carved, painted and designed by hand through the efforts of Murphy and several West Frankfort High School students over the last 30-plus years, the annual additions of artwork and the lengthy setup process begin in the fall and last until the end of November.
"Last year I was putting Christmas up and still mowing grass. It's getting a little harder as I get older, and I have a lot of energy still, but people can't imagine how much work it is," shared Murphy.
The high school students in the close knit community have for many years been offered school credits for volunteering their time to create the character pieces and assist during the set up, in addition to acting as elves. Murphy wanted to create a service project for his seniors, and with the help of the ambitious teenagers, he adds 20 to 25 new pieces to the Candy Cane Lane character collection each year.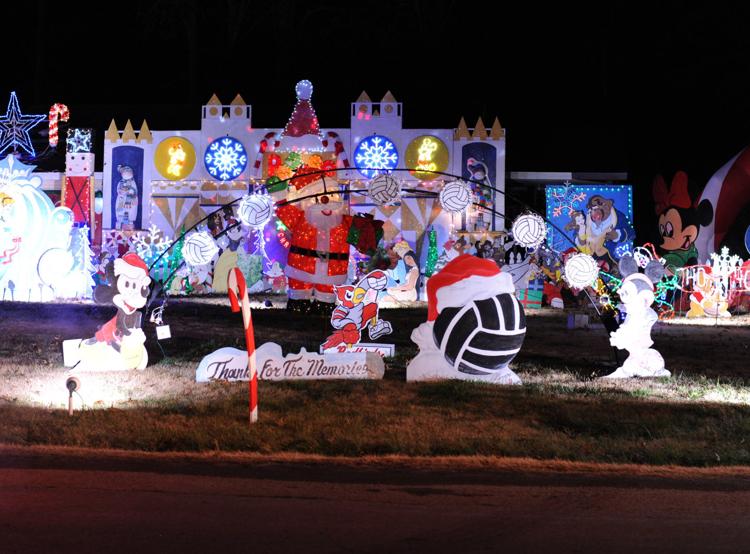 "I was a teacher and I wanted to get out and do something. So we've just added to it every year for 35 years. The kids give up a lot of Saturdays to do this," said Murphy.
Murphy is proud to see many of his students return with their families to revisit Candy Cane Lane and find the wooden characters they created during their time in the program. Along with their spouses and children, the former students of West Frankfort High School will take photos with the pieces — whether it's a professor standing next to his Ninja Turtle or a police officer posing with his Marvin the Martian.
Many visitors to the Christmas extravaganza drive from St. Louis, Cape Girardeau, and central Illinois, revisiting Candy Cane Lane to relive the holiday traditions of their childhoods or simply to experience the fantastic display for the first time. Between these out-of-towners and the faithful followers within Southern Illinois, Candy Cane Lane sees over 100,000 cars per season.
National attention
The continued success of Murphy's annual project has now grabbed the attention of the television network ABC, which chose Candy Cane Lane as one of the contenders for the 2019 season of "The Great Christmas Light Fight." On the show, which airs every Monday night in December, four families compete for the prize of $50,000 with over-the-top lights, decor and storylines.
During the 2018 season of Candy Cane Lane, the show's producers and hosts came to West Frankfort to film Murphy, his students and Candy Cane Lane itself. While the abundant Christmas display was the focus for the camera, the fact that Murphy made Candy Cane Lane into a learning opportunity for his students warmed the hearts of the creators of "The Great Christmas Light Fight" and undoubtedly helped secure his spot in the competition.
"They liked the storyline with the high school students. It's good for the high school art department and good for the town, not just me," said Murphy.
As a longtime viewer of the show, Murphy hopes the exposure will increase the popularity of Candy Cane Lane even more and be an opportunity for more tourism in the town of West Frankfort.
"It's a big thrill for West Frankfort. It was a lot of pressure on me and it was a lot of work. But it's a big thrill to me, too," shared Murphy.
Always improving
Murphy has no plans to slow down or decrease the amount of work he pours into Candy Cane Lane each year and is even debuting 10 to 12 new characters in his 2019 display. With pieces including Toy Story characters and a new Grinch scene, visitors are sure to be delighted by familiar favorites such as Rudolph, Santa Claus, Mickey Mouse and Peter Pan, while also keeping their eyes peeled for new surprises. Murphy thoroughly enjoys designing the displays each year in different formations and takes pride in creating a memorable experience for visitors to Candy Cane Lane.
"It's all about the little kids. Those characters are real to the kids. To me it's a piece of artwork, but it comes alive to the children," said Murphy.
While the power bills get a bit hefty throughout the month of December, and neighbors sometimes have to wait patiently to back out of their driveways, the spirit of the community and the Christmas season is overwhelmingly positive with the efforts put forth by Murphy. What began as a small effort within his family at their father's home, is now a beloved tradition for thousands of people in the Midwest.