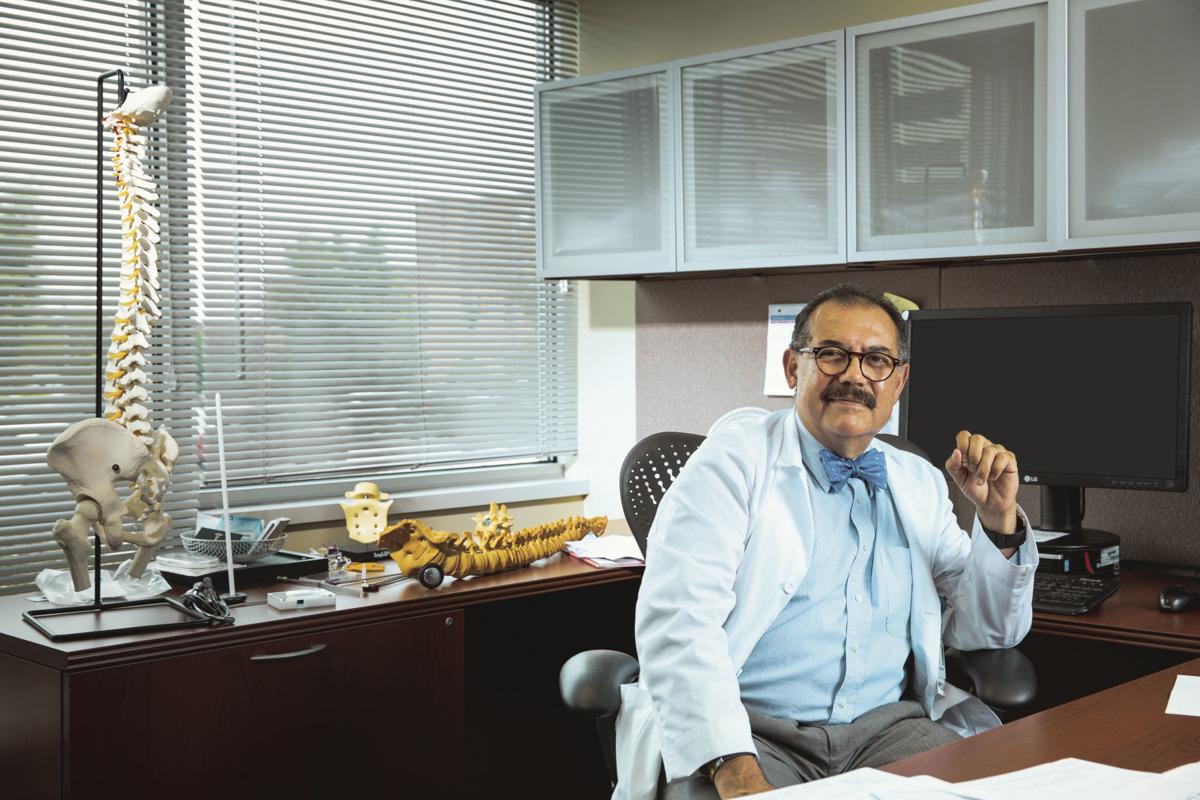 Dr. Eugenio Vargas wants to be known as a regular guy — a normal Southern Illinoisan. After all, he drives a pickup truck to work each day from his rural Carbondale home. He listens to country music and he's a Cubs fan.
But when people introduce him, they usually say, "This is Dr. Vargas — the neurosurgeon."
"I don't like that," he said. "My closest friends know that. I usually just look at them before they say anything."
Eventually, though, curiosity wins out and a new acquaintance will ask, "What do you do?"
Vargas says sometimes he will tell them, hoping they will just move on in the conversation, Or he's been known to say that he's kind of a carpenter, plumber and electrician, which inevitably leads to a "How's that?"
"Then I tell them I'm a doctor — a carpenter for the spine, a plumber working with spinal fluid and an electrician dealing with all of the nerves. But I'd rather just leave it at 'Eugenio Vargas' and let them get to know me without having the bias of my being a neurosurgeon."
He is — and wants to be — one of us. The son of a primary care physician and World Health Organization employee, Vargas grew up all over the world: from his first home in rural Mexico to India, Nigeria, Bolivia, Peru, Venezuela and Washington D.C., imprinting on him a variety of cultures, populations and opportunities.
Drawn to performing, in college, he completed three years as a theater and drama major, but medicine was always a possibility. In fact, Vargas took pre-med classes along with courses in acting. When his father accepted a transfer back to Peru, the younger Vargas decided to go back to Mexico, and exiting the stage, decided to study medicine.
"I always liked the sciences, especially biological science and it was just a natural thing for me to do. I enjoyed it tremendously," he recalled.
It was in medical school that Vargas met his wife Tanya, now a pediatrician with Community Health and Emergency Services in Carbondale. In Mexico, new medical school graduates are required to complete one year of practice at a government facility. For Vargas, that made him the primary care physician at a small, rural clinic.
"It was a very special year because you start to put everything you've learned in medical school into practice," he recalled. "You discover how much you've learned and how much you still have to learn."
Vargas says he remembers how caring and grateful the people were, often paying for care with food: apples, mangos, fish, oysters and lobster.
"They treated us very well. The people were very nice."
At the clinic, Vargas assisted patients who presented with everything from colds to cuts and more. He even delivered a few babies during his year-long assignment. But it was his own inability to help some patients who needed more advanced care which sharpened his focus.
"The year helped me realize that I wanted to do something with surgery," he recalled.
Having an uncle who was a practicing neurosurgeon helped make Vargas' next move clear.
"He invited me to make rounds with him and then he invited me into the operating room and later to assist him with surgery. He was an excellent teacher and made everything seem very straightforward and easy to comprehend. I loved being in surgery with him and that's when I realized neurosurgery was what I needed to do," Vargas said.
He asked his uncle for advice about how to proceed. Looking beyond any desire to have his nephew practice with him, Vargas' uncle recommended further training in the United States.
Vargas says that he and Tanya were lucky enough to both be accepted into residencies at New Orleans Tulane University. Following residency and an internship, neurosurgeon Vargas accepted a position in Oak Ridge, Tennessee, drawn to the Volunteer State by an older peer from Tulane. Vargas practiced in Oak Ridge for more than two decades.
In 2015, Vargas received a telephone call another former Tulane colleague, Dr. Mark Fleming, now practicing neurological surgery at Southern Illinois Healthcare. Fleming was calling to ask about an applicant for an open position in Carbondale. As Fleming described the position and region, Vargas felt a calling.
"Do you mind if I come and interview?" Vargas asked.
Fleming did not mind and Vargas soon joined the SIH Brain and Spine Institute as a neurosurgeon. Immediately, he says, he began to feel at home.
"I think I've had more interaction with my peers socially and been more involved in the community here than I've ever had anywhere else," Vargas remarked.
He's involved in the local arts scene, assisting with fundraisers and enjoying Southern Illinois outdoors, driving his pickup truck.
When asked if the truck helps him relate to his patients, he shrugs.
"I don't know," he answered. "If it does, that's good, but I don't do it for that reason. If my patients see that I drive a truck and it makes them feel more comfortable with me and removes any stigma, that's good. Besides, I like my truck."
Eugenio Vargas is just a regular guy.
Be the first to know
Get local news delivered to your inbox!